Russia helps Turkey-U.S. deal, takes control in Syria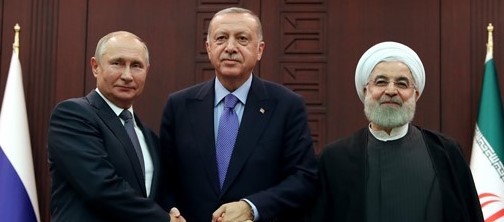 According to diplomatic sources who want to stay anonymous, Russia played a key role in the deal between Turkey and the U.S. on October 17 for a possible Safe Zone in Syria, as the deadline for U.S. to evacuate YPG/PKK militants from Turkish operation area in return ceasing the fire expires on October 22 night. Hereunder, the Syrian Democratic Forces (SDF) officials got in touch with Russian authorities in Syria prior to the Turkish military campaign launched on October 9 and asked for air cover in case Turks and Americans reached an agreement. Russians told SDF that they would not provide protection for them in North-East Syria. Pointing at the role of Turkish diplomatic initiatives on Russia's decision, same sources claimed that the SDF, having its main body and command consisting of YPG/PKK reportedly assessed that hard resistance to Turkish army could give heavy damage to them without air cover so reportedly decided to get into contact with the government halfway instead.
Reuters reported from Beirut on October 8 that "Kurdish authorities in Syria" had contacted Damascus to stand against the U.S. because the U.S. had "stabbed them in the back". On the same day, U.S President Donald Trump praised Turkey's importance to the western alliance NATO in a series of tweets. He also announced his November 13 White House invitation to Turkish President Tayyip Erdoğan.
Trump's maneuvers backfired
One of the aims in this maneuver was to attempt to gain time and hinder Turkey's campaign. National Defense Minister Hulusi Akar had informed Erdoğan on September 30 National security Council (MGK) meeting that Turkish military was ready for the campaign. Erdoğan gave signals of that a day later during the parliament's yearly opening, on October 1. Turkey was to act in harmony with its "NATO allies". Akar pronounced this decision to U.S. Secretary of Defence Mark Esper on October 3 and to Turkish Chief of Staff Yaşar Güler to his American counterpart Mark Miley on October 4. Erdoğan's top Foreign Policy and Security Adviser İbrahim Kalın forwarded the same message to Trump's newly-appointed National Security Advisor Robert O'Brian, the same day. Trump was trying to ease the anti-Erdoğan sentiment in Congress and hinder Erdoğan's campaign decision at the same time.
But something happened a few hours after Trump extended his invitation to Erdoğan, as the day turn from October 8 to October 9 in the Turkish time zone. Trump had a phone call with the SDF official ferg-hat Abdi Şahin, also using nicknames of "General Mazloum", "Mazloum Kobani" and "Şahin Cilo" totalk about possible ways to avoid a Turkish action into Syria. Şahin requested an official "ceasefire deal" with the Turkish government. Şahin's was a double-sided tactic. Should Turkey accept it, the PKK would secure the stay of American forces in Syria, continue to protect them in exchange for them not collaborating with the Russia-backed Syrian government, and also the deal would mean that Turkey would have recognized the YPG/PKK as an official counterpart. Trump sent this proposal as attached to his letter Erdoğan on October 9. On the same day, Kalın had O'Brian on the phone; the subject was announced as being about Erdoğan's visit to White House on November 13. Whether this discussion was a distraction tactic, only time will tell. Because a few hours later, upon Erdoğan's order, the Turkish military campaign into Syria began at 16.00 hours on October 9.
The campaign was conveyed officially to the U.S. Administration via a phone call by Turkish Foreign Minister Mevlüt Çavuşoğlu to U.S. Secretary of State Mike Pompeo. The important detail here is that Çavuşoğlu notified his collocutors in the Astana Process, Russian and Iranian Foreign Ministers Sergey Lavrov and Javad Zarif, before he notified his U.S. colleague, despite being NATO allies, showing the distrust in between.
Putin moved to fill in
Two more developments ensued: Erdoğan called Russian Head of State Vladimir Putin on October 9, told him about the campaign and praised "Russia's constructive attitude". On October 10, Syria's Vice Foreign Minister Faysal Mikdad stated that they would "not enter any dialogue with the Kurdish forces that betrayed the country". Damascus had deported PKK leader Abdullah Öcalan in 1998 with Turkish pressure, thus helping his arrest in 1999 with the cooperation of Turkish intel service MIT and the CIA. Now backed by Russia, Syrian government was forcing the PKK to return home, but this time on its own accord. Indeed, on the fifth day of Turkey's "Peace Spring" campaign, on October 14, SDF announced that they reached a deal with Bashar al-Assad's regime.
Trump approved sanctions against Turkey on that same day, which was found inadequate by the Congress.
Erdoğan declared on October 15 that Turkish troops were about the start the military operation to give an end to the YPG/PKK control over the Syrian town of Manbij. Three other important developments took place on the same day. Troops carrying Russian and Syrian flags entered Manbij. Erdoğan's first reaction was that it was normal, as Manbij was Syrian territory – which was the correct reaction. Secondly, Turkish and Russian troops did a joint patrol for the first time, around Manbij. Furthermore, Putin's Syria Special Envoy Aleksandr Lavrentyev announced that Turkey and Syria were in "real-time" contact foreign and defense ministries and intelligence agencies.
Russia was demonstrating that it would not let a power vacuum manifest itself in Syria. On the next day, on October 16, Trump declared that he will be withdrawing his troops in Syria. He also made mention of the PKK for the first time, saying that they had "taken their money" so far and fought ISIS, but that they were now siding with Russia.
On that same day, on October 16, certain developments in Washington came rather hard upon Turkey. The Halkbank case was reopened and a sanctions projection demanding an investigation of Erdoğan and his family's wealth and assets was proposed to Congress. Another interesting development was that Trump revealed the arrogantly humiliating October 9 letter he wrote to Erdoğan to Congress members he invited to the White House.
Tense talks in Ankara
Meanwhile, US Vice President Michael Pence and his team were on their way to Ankara. Erdogan angrily said he would not meet Pence, but would only see Trump. Trump's letter disclosure and new sanction proposals were heavily discussed among Turkish and American delegations who have been engaged in technical preparations for days. (Sources point out that common acquaintances of former İbrahim Kalın and US Special Envoy to Syria and former Ambassador to Ankara Jim Jeffrey have made a positive contribution.)
Meanwhile, Erdogan had another phone conversation with Putin on October 16. Putin, who invited Erdogan to meet in Sochi on October 22, sent his special representative Lavrentyev to Ankara. On October 17, while Pence and his delegation were waiting to meet with Erdogan, Kalın was meeting with Lavrentyev between delegations in another chamber of the Presidency. The press also learned that Kalın had undertaken the translation in the 1 hour 20 minutes-long Erdoğan-Pence meeting. On the same day, the deal between the U.S. was revealed. The U.S. would withdraw the YPG/PKK forces from the operation zone and, in exchange, Turkey would pause the Peace Spring campaign for 120 hours, which was to expire at 22.00 Turkish time (20.00 GMT) on October 22. Almost at the same time, Russian-backed Syrian troops were entering Kobani (Ayn al-Arab) and Raqqa. Russia was filling the void that might emerge from the withdrawal of the US.
Russia is back in the Middle East
Erdogan-Putin meeting is scheduled to take place in Sochi on October 22, only hours before the expiry of the deadline.
The date given for Putin and Erdoğan's meeting was set to hours before the end of the 5-day deadline, before the Erdoğan-Pence meeting. Let's put this coincidence aside, for now. But it will not be a mere coincidence if Putin asks Erdoğan, to co-operate with Assad regime in Syria, when Erdoğan asks Putin for the extension of the Safe Zone along the Syria border from the river Euphrates to river Tigris by the Iraqi border; 440 km long and 32 km deep to push back YPG/PKK forces, armed and trained by the U.S. Especially not, right before the talks on the writing of a new Syrian Constitution will begin in Geneva on October 30.
It's possible to look at these developments in a different light: Russia ensured the U.S.'s withdrawal from Syria by supporting Turkey's security concerns, unlike to its NATO ally the U.S. It even helped them reach an agreement by turning the YPG/PKK request for air-cover down. Thus, Russia strengthened its control over the whole of Syria. Moscow, which had lost its influence over the Middle East after the fall of the U.S.S.R., made an excellent turn by using the discord between Turkey and the U.S. over the PKK.
International news agencies reported on October 21 about Kurds throwing rotten potatoes and stones at the American forces as they withdrew from Syria.