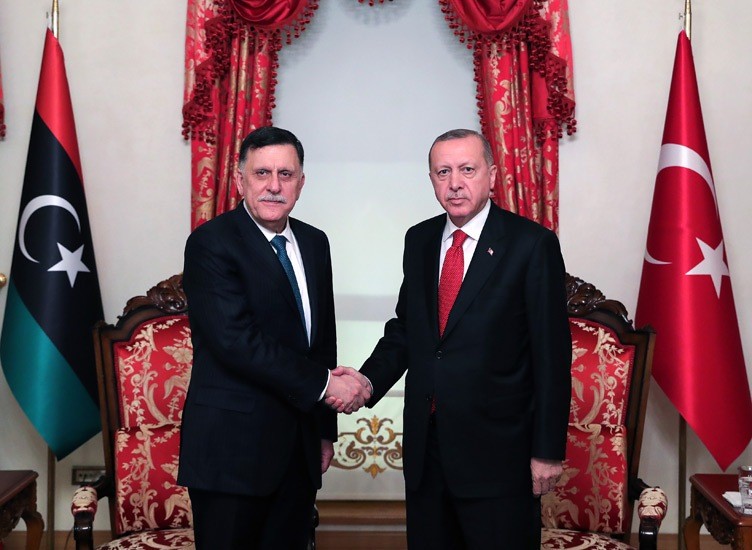 President Tayyip Erdoğan's December 9 statement on the public TRT channel about the possibility of Turkey sending troops if the Libyan government requests it, has shifted the international attention from Syria to Libya. This claim preceded the December 14 presidential decree granting visa exemptions to Libyan passport holders who are "younger than 16 and older than 55". This was interpreted as those civilians who could not take up arms could be evacuated and that Turkey could face yet another wave of refugees after Syria, this time from Libya.
Struck by a civil war since 2011 Libya has been de facto divided in two. The capital city of Tripoli, controlled by the Government of National Accord (GNA) led by Fayez al-Sarraj, who is recognized by the UN, was sieged on December 12 by dissident Khalifa Haftar's Libya National Army (LNA). The situation has turned's serious following Erdoğan's meeting with Al-Sarraj on December 15 in Istanbul and his signing of a Security and Military Cooperation protocol which he sent to Parliament the next day to pass it into law.
The agreement was accepted in the Parliament Committee on Foreign Affairs led by Volkan Bozkır, with the Justice and Development Party's (AKP) and the Nationalist Movement Party's (MHP) votes, despite dissenting votes from the Republican People's Party (CHP), Good Party (GP) and the Peoples' Democratic Party (HDP).
In the meantime, international diplomacy was stirred, mainly around Germany and Russia.
Putin starring also in Libya
On the day of the controversial session in the Turkish parliament, German Chancellor Angela Merkel called Russian Head of State Vladimir Putin. Merkel was asking for Putin's backing on the "Berlin Process" propounded by Germany in September 2019, aiming to gather and reconcile the conflicting parties in Libya.
Russia has been a key player not only in Syria but also in the Libya strife; Putin was backing Haftar who was attacking the Muslim Brotherhood organization, which he saw as terrorists. Also, Putin was among the first people who would be able to halt Haftar's attack on Tripoli.
Among Haftar's supporters were Egypt, Saudi Arabia and the United Arab Emirates, all of which considered the Muslim Brotherhood a terrorist organization. What's interesting here is that Haftar, who had been trained as a military staff officer in Moscow's Frunze Military Academy during the Soviet Union years had then gone to the U.S. and lived in Langley, where the CIA headquarters are located, for 20 years before obtaining U.S. citizenship. On the other hand, the countries openly supporting al-Sarraj against Haftar have been Turkey and Qatar.
Putin responded favorably to Merkel's call on supporting the Berlin Process. This was his response to being left out of the equation in the Libya crisis by the U.S. and EU in 2011; he was no longer an invitee to the table, now he was setting it himself.
The next day, on December 17, two other leaders called Putin to discuss both Syria and Libya. They were French President Emmanuel Macron and Turkish President Recep Tayyip Erdoğan. The surprise here was that Erdoğan, too, backed Merkel's initiative following his discussion with Putin. Macron, on the other hand, had already backed Process. Now, a Libya Conference is expected to be held next month in Berlin after Erdoğan and Putin meet on January 8 for the TürkAkım natural gas pipeline inaugration ceremony in Istanbul.
The debate on sending troops
The debate started after Al-Sarraj and Erdoğan met in Istanbul on November 27 and signed the Maritime Boundary Delimitation Agreement in the Mediterranean Sea. The agreement was first seen as only related to oil and gas exploration disputes between Turkey and Cyprus, and the Kyriakos Mitostakis government's retorts from Greece. It was true that Turkey was looking for a way out of being locked out of the Mediterranean and being confined to the Aegean coastline. But the fact that Erdoğan mentioned the possibility of sending soldiers to Libya on December 8, just a day after the agreement entered into force, and the military agreement on December 15 on top of that, brought the matter into Parliament.
During a session closed to the press, chaired by senior diplomat and a former minister for the AKP, Volkan Bozkır, opposition representatives had harshly objected to the proposition even though Foreign Minister Mevlüt Çavuşoğlu had formerly said that the agreement did not entail directly sending troops but rather bringing the issue up in Parliament to agree on in case a request was made by Libya. CHP's Ünal Çeviköz and GP's Aydın Sezgin, both seasoned diplomats, have said that the Libya crisis, unlike Syria, posed no direct threat to Turkey's national security and that the agreement would drag Turkey as a party into the Libya civil war. Both CHP and GP voted against, just like the HDP. MHP leader Devlet Bahçeli, on the other hand, pledged in a written notice to support Erdoğan even if he decided to send the troops.
The mention of "civilian" constituents in the agreement led opposition representatives to question whether Erdoğan's government was planning to send unofficial militia to Libya instead of the Turkish Armed Forces if the request comes. Erdoğan when asked whether soldiers would be sent, during a meeting in Ankara, on December 10; he answered that Russia had a private security crew in Libya and that this type of "crew" might be sent if Libya requested.
"Private armies" debate and SADAT
This statement was the peg that endorsed the suspicions that the opposition had. Ankara speculates that he might be implying private security companies such as the American Blackwater (which resulted in serious human rights infringements during occupation of Iraq) or the Russian Wanger company that was used during the Ukraine Crisis, generally labelled as "private armies", although Erdoğan did not mention any names.
The name of International Defense and Consultancy Company (SADAT) was mentioned by the opposition MPs during the debate in the Parliamentary Commission. SADAT's founding president is retired Brigadier General Adnan Tanrıverdi who is still part of the Presidential Foreign policy and Security Council with his Senior Presidential Adviser title. SADAT was not something unheard of; it was previously brought up when training the Free Syrian Army (FSA) to overthrow the Bashar Al-Assad regime was still being considered. Tanrıverdi states that SADAT itself does not constitute a special force and merely takes on military training and consultancy. However, it's worth noting that government-backed media does confirm that Tanrıverdi is not opposed to sending special "civilian" forces to Libya if need be.
In July, the Turkish Foreign Ministry had categorically denied the reports in Arab media claiming that some Turkish military personnel were arrested by Haftar forces in Libya, adding that six Turkish civilian seamen working in Libya should be released. They were released after the statement was endorsed by Deputy President Fuat Oktay warned that otherwise those holding the Turkish citizens would be directly targeted by Turkey.
It would be good for the government to avoid making Turkey become a party in the Libya civil war, and steer clear of any moves that would trigger an immigration influx from Libya (considering the massive wave that came from Syria), or any moves that could create new security risks; better solve the issues through diplomacy.