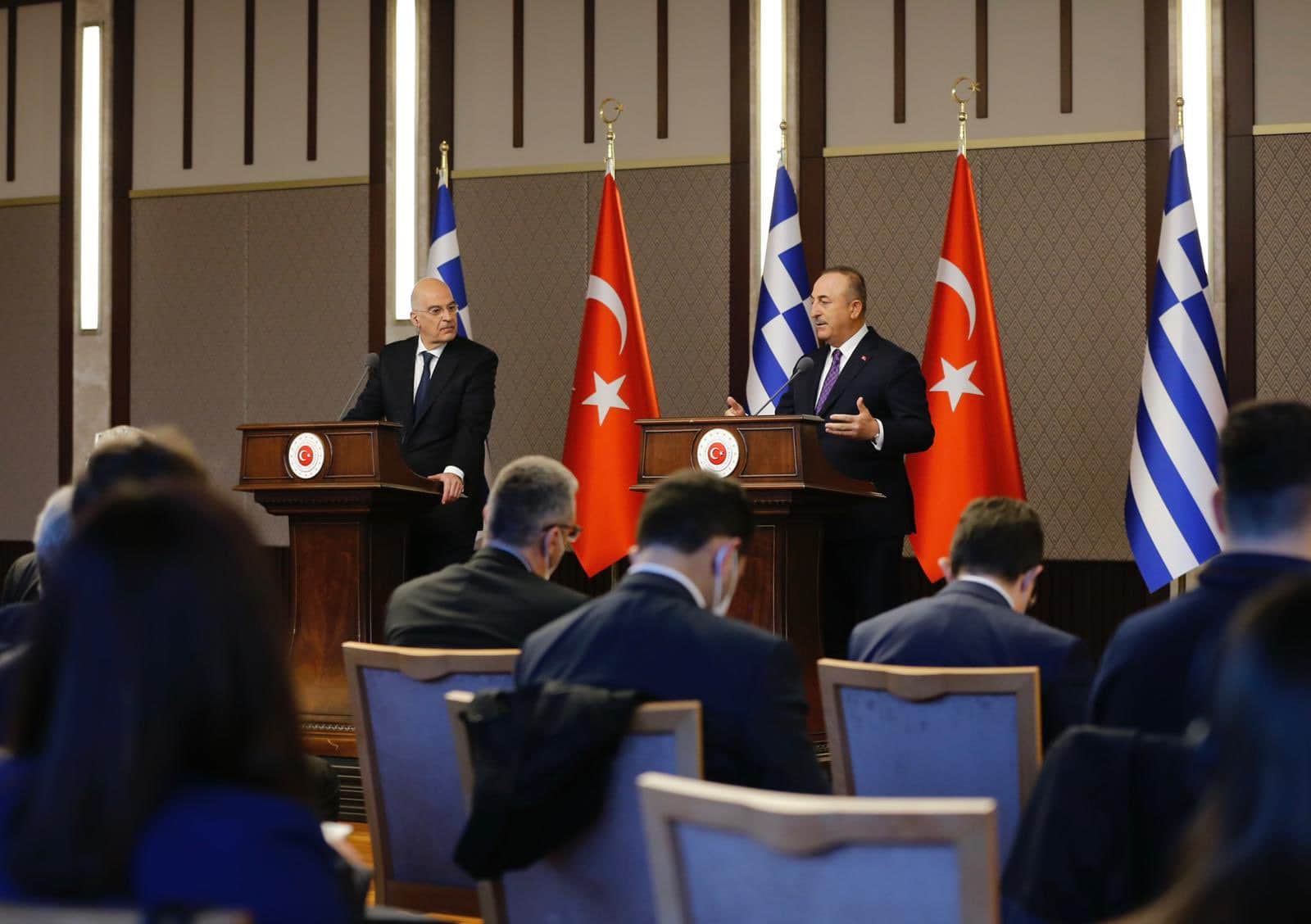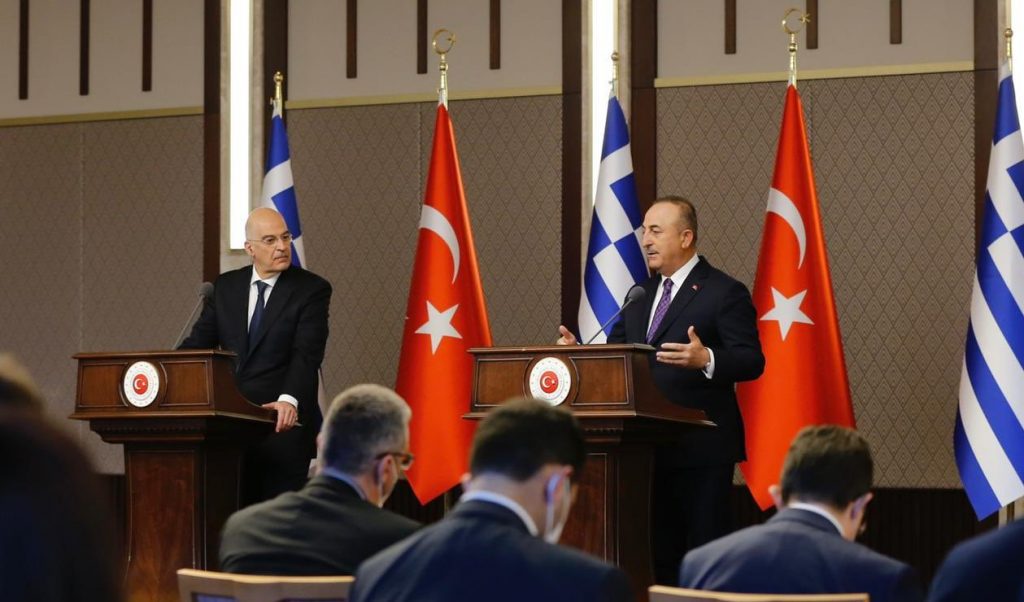 The Ankara contacts of the Greek Foreign Minister Nikos Dendias on April 15 ended in a scandalous way. When Dendias brought up heavy accusations against Turkey during a joint press conference, Turkish Foreign Minister Mevlüt Çavuşoğlu clapped back and we witnessed a duel of words live. Watching the video of this press conference would help U.S. Secretary of State Antony Blinken, EU Security and Foreign Policy High Representative Josep Borrell and other EU foreign ministers understand what else lies under the problems in the Eastern Mediterranean.
One-third of the 35-minute press conference was spent on messages of "positive agenda" and bid to continue the dialogue and reduction of tensions.
However, the "host smile" on Çavuşoğlu"'s face froze when Denidas "otherwise the EU sanctions are on the way" on the 16th minute. The next minute Denidas said Turkey violated the sovereignty of Greece with threats of war and Çavuşoğlu began to frown. When he said Turkey's maritime border agreement with Libya was unlawful Çavuşoğlu gathered his brows and started taking notes. Finally, Dendias asked Turkey to retread the move to open Hagia Sophia as a mosque again, Çavuşoğlu bit his lips in anger.
Price of accusations before the press
"I did not use remarks accusing Greece in my speech," Çavuşoğlu told Dendias, the minister he addressed as "my friend Niko" just a few minutes ago. "If you heavily accuse my country and people before the press, I have to be in a position to respond to that" he began.
First, he denied that Turkey violated Greece's sovereign rights. He said the maritime jurisdiction agreement with Libya was on U.N. records and he "didn't care" what non-competent EU bodies said. Çavuşoğlu also told Dendias during the meeting that Greece had "pushed back" 80,000 refugees in four years in violation of agreements, and it sank their boats, but had he repeat this at the press conference?
Just time moment one would think that the press conference ended in this icy weather, Dendias said that he wanted to speak again and started by accusing Çavuşoğlu and his team of being 'more royalist than the king". Perhaps Dendias was expecting that the foreign minister would be on a different page with President Tayyip Erdoğan. He said if Turkey wanted to be an EU member, then it should admit that Greece is a part of it and it represents EU principles.
"If you want to keep the tension…"
Çavuşoğlu got even angrier to these words of Dendias, who exhibited a patronizing stance with his body language throughout the press conference. He no longer needed to hide his reaction. He talked about the Aegean islands that Greece deployed arms in violation of the 1923 Lausanne Treaty, continental shelf issues and airspace disputes. He reminded that the two countries could solve these issues within a bilateral plan, not through the EU, and that was why the exploratory negotiations resumed. Didn't Greece see that the influential countries of the EU supported it only to a point and then left it all alone and that their concern was selling weapons?
"If you want to keep the tension, we'll continue," he said.
But Dendias obviously wanted to show the Greek voters how he forced the Turks at their own home. Perhaps he wanted a strike a blow to Greek Prime Minister Kryiakos Mitsotakis through Ankara because he finds him too passive against Turkey, and show himself to Biden administration in the U.S. He again took his turn to speak and implying that he was speaking on behalf of the EU, he claimed Turkey should accept this situation.
The word duel ended with the words of Çavuşoğlu, who said "We will not accept unilateral impositions".
Is Dendias' real problem Mitsotakis?
A diplomatic source I spoke to after this duel commented that the impression at the press conference badly overshadowed the constructive meeting.
Dendias seemed to come to Turkey to ignite new tensions rather than starting a tension-relieving dialogue.
Perhaps, Ankara's decision to postpone the meeting, which was originally scheduled for April 14, because Çavuşoğlu had to attend an extraordinarily convened NATO Council in Brussels contributed to tensions. While Çavuşoğlu was talking about the Russia-Ukraine tension and Afghanistan with the NATO Secretary-General and the foreign ministers of the U.S., the U.K., Germany, France and Italy in Brussels, Dendias was meeting with the Greek Orthodox Patriarch Bartholomew in Istanbul. Perhaps the Greek minister wanted to compensate for the missed opportunity to go to Ankara and "teach Turkey a lesson" in front of the public after a visit to the Patriarch.
Perhaps he actually achieved its purpose. It is difficult to say that Dendias' remarks contributed positively to relieving tension in the Eastern Mediterranean, but it is likely that he earned scores in the eyes of the Greek voters. As Çavuşoğlu was able to address the Turkish voters properly by giving his answer, perhaps Mitsotakis, who had promised his partners in the U.S. and the EU to relieve the tension, ended up in the most difficult position due to the tense press meeting.