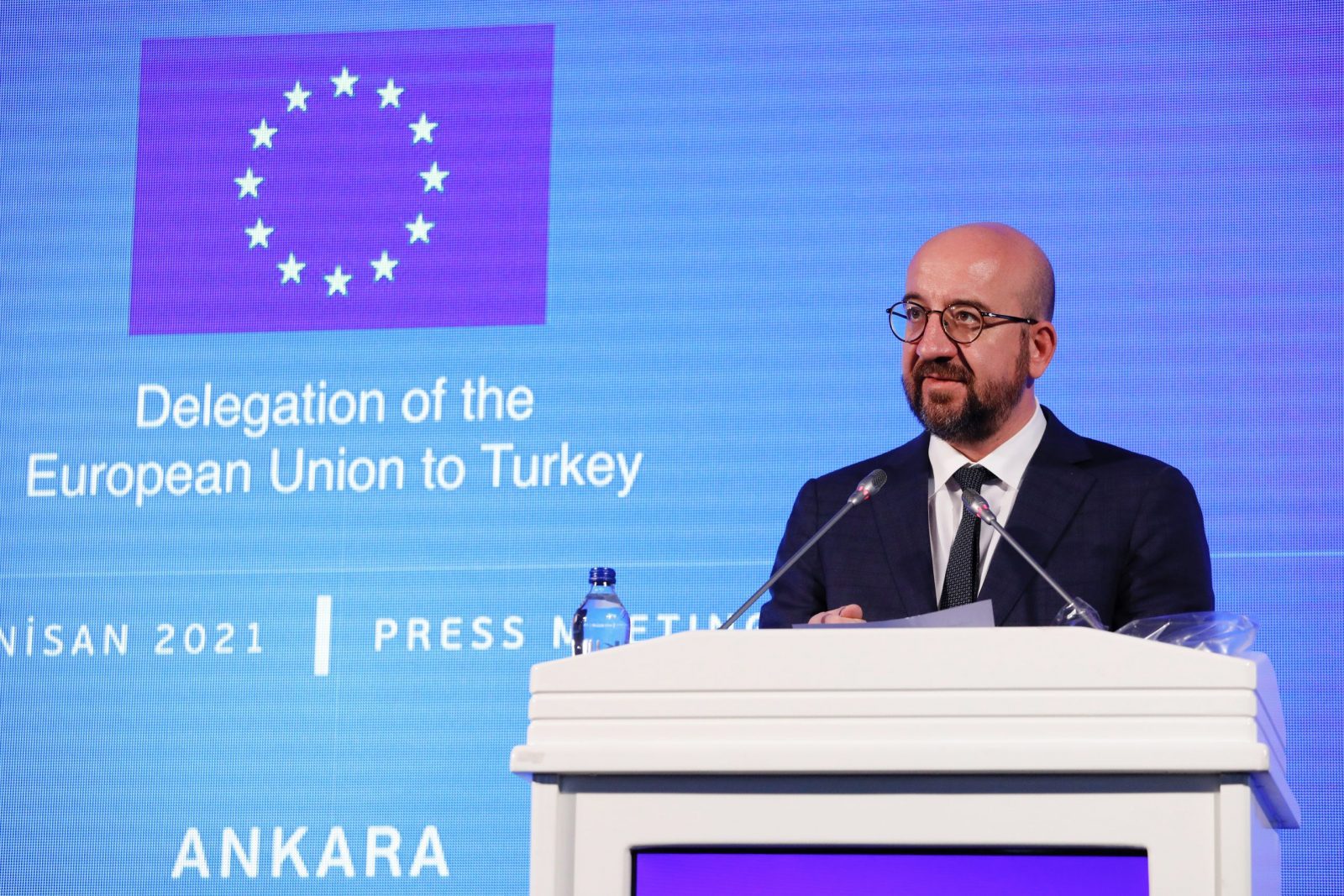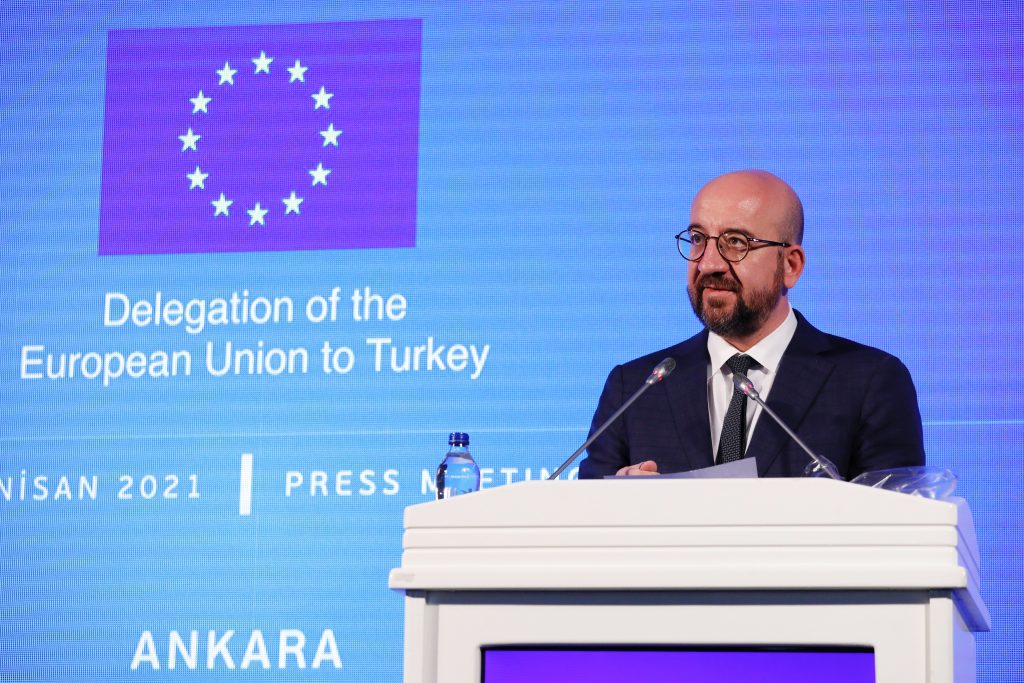 For the past decade whenever I heard a Western friend expressing sadness on Turkey's slide to autocracy and wishing me "good luck," my response was usually, "Good luck to you too. Things do not look good either in your part of the world."
This was not an irritation against something touching on a nationalist nerve. It genuinely reflected a worry about the delusion on the overconfidence that advanced democracies of the West were immune to democratic backsliding. The rise of populist leaders and four years with Trump proved my worries.
When European Commission President Ursula von der Leyen was not offered an equal sitting position during the trilateral meeting with European Council President Charles Michel and Turkish President Recep Tayyip Erdoğan, during their April 6 meeting in Ankara, both local and international observers blamed the Turkish side as a natural reflex.
Having worked as a diplomatic reporter in Ankara for at least 15 years, I followed hundreds of high-level visits both inside and outside. I am a first-hand witness to the meticulous work of the Turkish protocol. Every detail is rehearsed on a scenario agreed by all sides, ahead of the meeting.
Ottomans using protocol to give political message
(Let me also recall that the Ottoman Empire had the diplomatic sophistication of using the protocol to give the message that it did not accept the partition of Poland in 1795 by Russia, Prussia, and Austria. The place of the Polish ambassador was preserved in palace protocol and on formal state occasions when it will be the turn of the Polish Ambassador, an official would declare "he was delayed on his journey and therefore unable to attend.")
As reality surfaced, it appeared that many, both inside and outside, had fallen victim to an oriental approach. The cartoons depicting Von der Leyen belly dancing in front of both Michel and Erdoğan reflected that orientalism.
After all April 6 visit came two weeks after Turkey announced it withdrew from Istanbul Convention, an important document on women's rights. Turkey fitted well into the "usual suspect" profile.
Out of Istanbul Convention, Turkey now the usual suspect
What happened has shown how gender equality issues can negatively affect a country's image. But it has also shown that gender inequality does not know borders or higher status.
Turkey's image became the victim of competition between von der Leyen and Charles Michel.
The Turkish side was not quick enough to denounce Michel's team; worried this might overshadow the real issues. The press was told everything was agreed "by both sides." They resorted to ambiguity; since in this case, the other side had "two sides," and what we did not know at that stage is that one side (Von der Leyen's protocol) was missing.
Mishap due to rivalry between EU leaders
We only learned about it the next day; from the Commission's spokesperson. The Commission did not at first say "Charles Michel is naked." The spoke person tried to fend off the questions on the culprits, by saying Von der Leyen's protocol did not accompany the delegation due to Covid19 restrictions and that the question on "what went wrong," should be asked to the Turkish presidency and European Council presidency.
Smart move on their part? Blame the usual suspect – Turkey- and avoid confrontation with Michel.
Not so smart. When pushed by journalists, the spokesperson said "we are not making an issue out of it." "But why aren't you making an issue out of it," insisted another journalist.
Spot on. That's exactly the point where it went wrong; both in terms of Michel and Von Der Leyen.

It is problematic that von der Leyen did not make a problem out of it. The incident spiraled into a crisis only when social media reacted to it. And Charles Michel reacted precisely because of public reaction.
After all, even if his protocol is to blame, the Belgian seasoned politician should have known better and do something to avoid having Von der Leyen being treated unequally. Looking at his body language, he did not look irritated at all.
Michel tries to save face by still blaming Turkey
And while he said he is sorry in his Facebook account; he did not apologize. He still tried to save face by again putting part of the blame on the Turkish side. "The strict interpretation of the protocol rules by the Turkish authorities gave rise to a distressing situation," said Michel. Direct the finger at Turkey; after all, there is a European public opinion that is ready to accept that in a majority Muslim country; things like that -giving unequal treatment to women can happen.
I guess this was a sad reality that some in Europe had to wake up; that even those at the top of the institutions that are supposed to embrace gender equality suffer from patriarchal reflexes.  
In this respect, I applaud those women in Europe who signed a petition to call for the resignation of Charles Michel.
Women, have to realize that they should remain vigilant at all times. That includes those women at the top as well. Von der Leyen could not say "#metoo." So I advise those women in France who went with chairs to protest in front of the Turkish embassy in Paris to do the same in front of von der Leyen's office as well.
I can not but help thinking that the incident was a punishment for Von der Leyen's lack of immediate reaction the very day Turkey withdrew from Istanbul Convention.
Institutional memory
This crisis has revealed one more time the importance of protocol. The Turkish side can't just say, "We did what we were told by the other side." Especially in such cases with "multiple heads of state," officials need to take into account potential rivalries, think of every possibility. At least they should have checked the archives. Had they checked the archives, they would have seen that in the previous visit involving both the head of the Commission and Council, the seating was different. They could have checked how this duo is treated in other countries.
That's why institutional memory, knowledge based on centuries-old experience is so vital. It saves you from making mistakes, from falling into traps.
In the parliamentary system, the Foreign Ministry was the one to set and execute the rules of protocol. In the presidential system, it is under the presidency's responsibility to establish the rules, while the Ministry is responsible for executing them.
Turkey's ruling elites are fond of eroding some of the deeply rooted traditions that had stood the test of times. They are in the delusion of knowing everything better than their predecessors. Turkey ends up looking like a third-world country thanks to that arrogance mixed with ignorance.