Merkel's Turkey visit: an impetus to EU ties?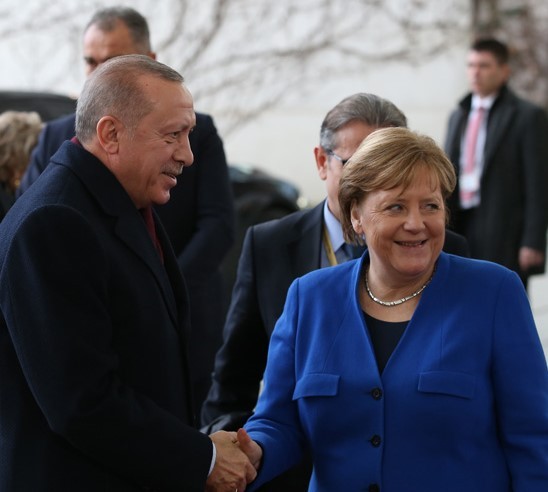 It's only a coincidence that German Chancellor Angela Merkel's meeting with Turkish President Tayyip Erdoğan in Istanbul on January 24 is taking place a day after Queen Elizabeth II's ratification of Brexit, the UK's exit from the European Union (EU); not a loss that can be ignored. Planning for Merkel's visit to Turkey has started months ago, when Germany invited Turkey to the Berlin Process for the future of Libya and when the EU has condemned Turkey because of its military operation into Syria last October; the high level political dialogue was already put into the fridge. This is Merkel's first visit to Turkey since 2017.
Merkel and Erdoğan are scheduled to open new facilities of the Turkish-German university in Istanbul, which gives a good reason for the visit; diplomats (and business circles) of both countries have been prepared for this visit to talk about important bilateral and EU issues. Both Erdoğan and Merkel have expectations from this visit.
There is one goal in common: to keep Turkey anchored to the EU. Both leaders need that for different reasons.
Turkey has half of its foreign trade with the EU countries and needs European investors for the resumption of the growth of its recently slowed down economy. Simone Kaslowski, the head of Turkish industrialist's club TUSIAD Tweetled on January 23 that he hoped Merkels' visit could be a positive turning point in Turkey's relations with Germany and the EU with a particular focus on resumption of membership negotiations and updating the Customs Union agreement.
Different expectations
In addition to that Erdoğan's major targets are likely to include the revival of the high level political dialogue, more cooperation against terrorism, more support for control of immigration and visa flexibilities. For the resumption of negotiation chapters, even if they are 23rd and 24th about judiciary and freedoms as Kaslowski hopes, would be an overly optimistic expectation. Under the current circumstances, without any reform steps by Erdoğan, only cooperation on migration issues and partly counter-terrorism measures seem likely.
Merkel is likely to open up the deficiencies regarding the quality of democracy in Turkey, the need of more reforms, especially in the field of judiciary, to enable a new convergence between Turkey and the EU. Those topics include the long arrest periods without conviction, with names like Selahattin Demirtaş end Osman Kavala, freedom of media and speech in general and appointing government officials as caretakers to replace elected mayors. Merkel might also present a list of German citizens who are either in prison or banned from leaving Turkey, probably knowing that a similar list could be presented by Erdoğan about the extradition of certain names in Germany who were granted shelter following the 2016 military coup attempt, indicted to be masterminded by the U.S.-resident Islamist preacher Fethullah Gülen.
Hot international issues like Cyprus and the East Mediterranean, Syria and Iran are likely to come up; the January 19 Berlin Conference on Libya might have taken that load on Merkel-Erdoğan talks, giving more space for bilateral and EU issues.
Germany is to assume the six-month EU term presidency starting from July 1, 2020. Despite pessimism in Turkish and European public opinion about Turkey's ties with the EU, mainly due to the state of rights and freedoms in Turkey, there have been a number of positive steps taken from both sides.
More contacts, but for what?
The first step after a long time, some 20 months at that level came from new head of the EU Commission, Merkel's former Defence Minister Ursula von der Leyen who called up Erdoğan on the very first day of her mission, on December 1. They mainly talked about migration, Syria, Libya and Iran, and briefly on Turkey-EU ties, according to diplomatic sources. Erdoğan's call for going back to high level dialogue could not find much echo. That was the first contact at that level after 20 months.
Then on December 6, two EU commissioners, Margaritis Schinas, European Commission vice-president and commissioner for protecting the European way of life, and Ylva Johansson, commissioner for home affairs visited Ankara. On December 22, Foreign Minister Mevlüt Çavuşoğlu had a telephone conversation with EU's foreign and security policies High representative Josep Borrell, again with an emphasis on Libya, East Mediterranean, Syria and Iran, according to diplomatic sources.
On January 11, President of the EU Council, Charles Michel was in Istanbul to talk to Erdoğan. The focus was again on Libya and the Middle East according to the Council statement and Turkish EU ties were "addressed".
On January 19, Erdoğan met with Von der Leyen once again in the premises of the Berlin Conference on Libya.
As it can be observed in all of those contacts the focus have not been on Turkish-EU ties but Turkey's role as a –so to say- shield for the EU.
Nowadays, European Parliament's new Turkey rapporteur Nacho Sánchez Amor is in Turkey. Served as the head of the ESC observer team in Turkey in June 2015 elections and then the State Secretary for Regions in his home country Spain, Amor gives the impression of a European politician having an in-depth knowledge about Turkey and a pragmatic approach to the Turkish-EU problems. His visits to mayor of Istanbul, Ekrem İmamoğlu from the opposition CHP and mayor of Gaziantep, Fatma Şahin from the ruling AKP shows that Amor wants to show new faces and voices from Turkey to the European parliament, not only of Erdoğan's.
Yes, there are more contacts from the EU and there are expectations from Merkel's visit, but for what? Is it only to soothe Turkey and give Erdoğan more PR material to tell people that the relations with EU are now OK, too and get whatever is needed to keep Syrian, (and now partly Libyan) immigrants away from the EU? And keep Turkey away from Russia as much as possible at the same time? Or is it really for closing the growing gap between European democracies and Turkey for a healthier peace and stability atmosphere in greater Europe? Let's hope for the latter.