Syria hits Turkish troops when Russians were in Ankara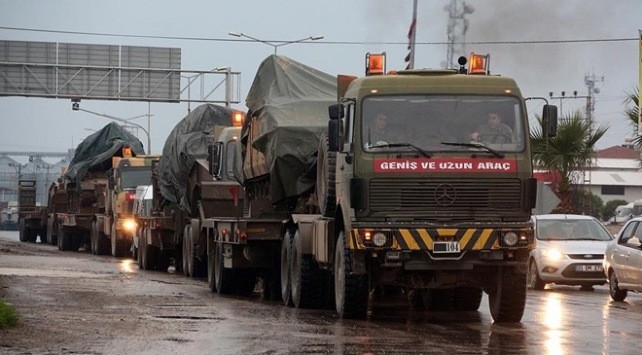 When the news of Russians demanding another round of talks on Idlib on February 10, right after the one -with no result- on February 8 in Ankara, Turkish officials hoped that there could be a breakthrough. Following an attack of pro-Assad forces in Syria killing 8 Turkish troops on February 2, Russian President Vladimir Putin and Turkish President Tayyip Erdoğan Syrian regime forces had a phone conversation over the crisis. Then Putin had sent his Special Syria Envoy Aleksandr Lavrentiev and Deputy Foreign Minister Sergey Vershinin to Ankara with military and intelligence experts to talk to their counterparts in the Turkish delegation, headed by Deputy Foreign Minister Sedat Önal. Russians did not answer to Turkish demands to redraw the Sochi line and freeze the situation around Idlib on Saturday; perhaps now, they would come with an answer.
The Russian delegation was in Turkish Foreign Ministry by lunch time to meet Önal and team and then went to Presidential Palace to meet İbrahim Kalın, Erdoğan's Chief Security and Foreign Policy Adviser. There was nothing new in what Russians said, according to a high rank source talking to YetkinReport on condition of anonimity but there was this bitter news coming from Idlib; five Turkish soldiers were killed and five other were wounded in a Syrian mortar attack at Taftanaz air strip near Islib, literally when Russian diplomats were talking to Turks in Ankara to lower the tension. Turkish officials, starting from Erdoğan made strong statement condeming the attack and said all the positions of the attackers were destroyed in retaliation and more than 100 pro-Assad troops were killed.
"I think Russians want us to give in to their imposition" the same source said; "But we won't."
On the other hand, two attacks in ten days, killing at least 13 Turkish soldiers brought the issue of security of Turkish soldiers in 12 ceasefire monitoring posts and their auxiliaries near Idlib.
Security of soldiers in monitoring posts
"Like those watchtowers in Western movies", said a military insider source, asking not to be named; "the Nevada Rangers' watchtowers in the middle of the desert, circled by Native Americans letting out war cries: that's what our situation looks like right now".
It was already known that two of the 12 military ceasefire observation points that the Turkish government had placed in the Syrian town of Idlib following the Astana and Sochi agreements with Russia and Iran are besieged by militia backed by the Syrian regime. But things took a turn when the military convoy was attacked in Idlib's Serkaib district on Feb. 2, resulting in the fall of 8 Turkish soldiers and now 5 more in Taftanaz.
Akdoğan Özkan, who does thorough research on the region, wrote in his piece for the Turkish news site T24, that 11 of the 12 observation points were currently under Russian air-cover and controlled by official and semi-official forces connected to Bashar al-Assad. Instead of those 12, new observation points were being set up further behind, says Özkan. Fehim Taştekin, on the other hand, wrote in his article for Duvar, another online news platform, that the Turkish Armed Forces (TSK) were no longer aiming to claim control over the M5 and M4 highways connecting Aleppo to Damascus and Latakia respectively, in attempts to secure Idlib.
Taking notice of the warnings…
But there were warnings in Turkish public opinion that things could turn nasty long before. For example, Nihat Ali Özcan, specialist on military and terrorism affairs had drawn attention in his article in Milliyet newspaper last February that the observation towers were scattered and lacking Turkish air-cover support. "Tactical positioning such as observations towers could be hard to control and escalate to 'political crisis'", Özcan had predicted.
Last year, around this time, Good Parti (GP) MP Aydın Sezgin, who had served as Turkey's Ambassador to Moscow in the past, had spoken in the Turkish Parliament as follows: "Idlib is Turkey's most troubling and pressing issue. Recent developments show that Moscow is insistent that the Damascus regime launches military operation to Idlib." A year later, in another speech delivered Feb. 5 in the Parliament, Sezgin questioned whether Turkey was being drawn into a trap for due to claims of failing to keep its promise to fight sufficient enough against "the Al-Qaeda-derived Hayat Tahrir al-Sham (HTS)" militants.
Another senior diplomat, current Deputy Chairperson of the Republican People's Party (CHP) Ünal Çeviköz, had pointed out this past September that Iran and Russia were warning Turkey for not "carrying out its duties" in the region, and said: "We see Turkey's observation spots in certain parts of the region being besieged as a serious security threat". This threat will affect not only the security of life of our soldiers but also poses a serious threat to our national security with yet another wave of migration to Turkey".
Have the the predictions proved true? Unfortunately, yes. Were the warnings taken seriously? No, they weren't. On the contrary, whenever opposition parties attempted to bring up the Syria issues at Parliament, it was rejected by the votes of Erdoğan's ruling Justice and Development Party (AKP) and its current ally, the Nationalist Movement Party (MHP).
Troop deployment without air-cover?
It looks like the Syria policy of Erdoğan's government presents Turkey with much more serious problems. In addition to a new influx of migrants, there is the possibility that Russia may severe the ties between the U.S. and the outlawed Kurdistan Workers' Party (PKK)-related People's Protection Units (YPG) in Syria, and make YPG reach a deal with the Syrian Government. And there's another issue: how to bring the Turkish soldiers in the besieged observation points in Syria back home, safe and sound? And in fact, that is becoming a top priority…
The situation is serious, yet TSK is still deploying troops to Syria. Most recently, on Feb. 9, the news came out that a military convoy comprising tanks, howitzers and rocket launchers had entered Syria. It's hardly believable that such entries would be made without notifying Russia and therefore the Syrian government, especially after the meeting with the Russian committee on Feb. 8.
Therefore, despite the hollow heroism pumped by the pro-government Turkish media, it's not likely the Turkish soldiers went into Syrian territory to teach Syria's Assad government a lesson. Besides, it's impossible to carry out any meaningful military operation without air-cover control. Responding to the news of the deaths of 8 soldiers, Ankara stressed that Turkish F-16 fighter jets didn't violate the Syrian airspace. One has to keep in mind that the Jarabulus and Afrin operations were only possible with Russia's guarantee that there wouldn't be any airstrikes.
Who pushed the military into Idlib?
What seems most probable now is that the reasoning behind this deployment was to rescue the besieged troops from the observation towers and bring them closer to the Turkish border without more casualties. Nihat Ali Özcan wrote for Milliyet, last week, that Turkey was trying to unilaterally alter the function of the observation points but that this was proving challenging. And as a matter of fact, it is.
We've already quoted Özcan twice so we might as well quote him a third time. Last year, around this time, he asked who had thrown TSK into Idlib. This question, today, is more burning than ever.
Countering the threat outside of Turkish borders can be a security policy; but who thought first to send Turkish soldiers into the quicksand before taking necessary measures? I don't mean Erdoğan, he's the final decision-maker; who was the one who brought this idea into the system? Who talked the decision-makers into it? Once we weather this storm and the soldiers are home safe and sound without any further loss, this too will surely be a topic of discussion.