What really happened in the Kavala case in Turkey?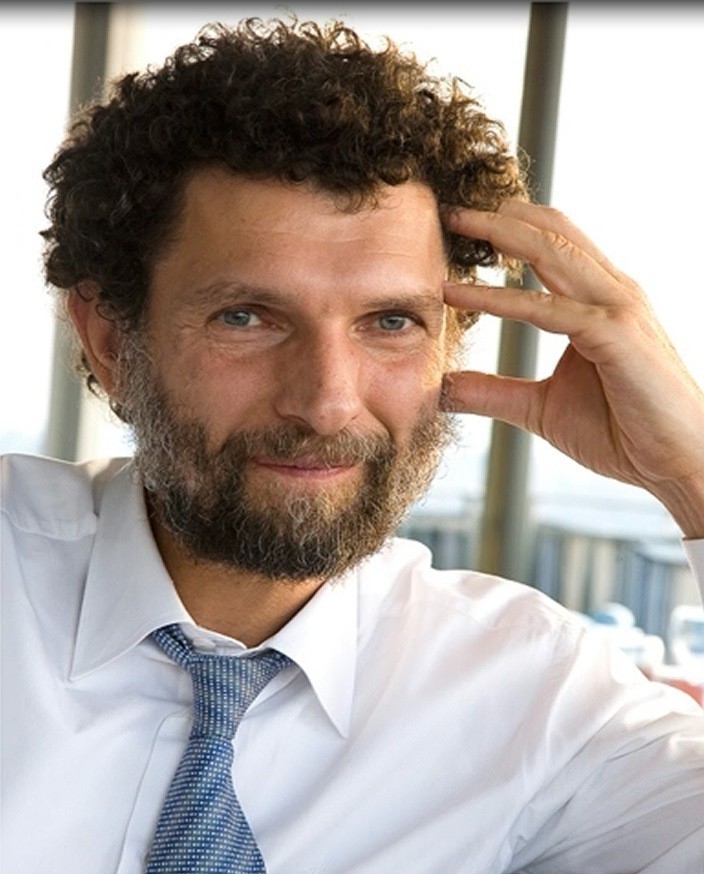 Social activits businessman Osman Kavala, accused of attempting to overthrow the -now President Tayyip Erdoğan's government through the Gezi protests in 2013 was acquitted by an Istanbul court along with others on Feb. 18, 2020 after being kept 840 days in prison. But only a few hours later, another arrest warrant was issued against him, this time accused of having joined the July 15, 2016 military coup attempt. He got arrested on Feb. 19 and turned back to jail without stepping out of it. The ruling has fuelled up court independence debate in Turkey while causing a number of scenarios about what has really happened regarding Judiciary-politics relations in Kavala case.
In fact, a court has said on Oct. 11, 2019 that the evidence was not enough to keep him in prison that he had joined the coup attempt which was indicted as masterminded by the US-resident Turkish Islamist preacher Fethullah Gülen. Now, it looks like that the court had not closed the case. And the accusation is still the same as before: being at the same restaurant in Istanbul, at Karaköy Lokantası, with the US citizen Henri Barkey on June 18, 2019, three days after the coup attempt.
We'll get to Kavala being wrongfully kept in prison but first, let's resolve an important point here. With these recent acquittals, the allegation that the Gezi Park protests, which had begun in May 2013 and lasted throughout June, were an attempt to overthrow the Justice and Development Party (AKP) government of President Erdoğan — who then was Prime Minister — has been affirmed as unjustified. This recent court ruling also invalidated Erdoğan's theory that the Gezi Park protests had laid out the foundation for the Gülenist conspiracy against him. Indeed, following Erdoğan's "they dared to acquit him of the accusations" reaction at the Grand National Assembly on Feb. 19, the Council of Judges and Prosecutors (HSK) launched an investigation against the three judges of the court which had issued the acquittal. Besides, Istanbul Chief Prosecutor Edip Şahin, too, had objected to the decision. The annulment of the acquittal ruling by a superior court, taking place in the way Erdoğan desires, sadly, would surprise no one in today's Turkey.
About the reason for Kavala's arrest
Now let's consider the accusation of linking with the July 15 coup attempt, which led to Kavala's re-arrest; the claim that he met with Barkey, not before but three days after the coup attempt. Kavala had said in his interrogation that he had not met with Henri Barkey, but he had coincided with him as he was dining at Karaköy Lokantası with a group of friends and introduced him to his own friends; "that was all" he said. Four months ago, the court had decided that this was not enough proof to keep Kavala in prison. Flash forward to now, Kavala gets interrogated and then arrested again, right after being acquitted of the Gezi park charges.
Barkey's presence at a meeting in Büyükada (Princes' island near Istanbul) on the day of the coup attempt, been put forth as proof that the Gülenists were in cooperation with the CIA in the coup plot. The reasoning was that Barkey, between 1998 and 2000, during Bill Clinton's presidency, had served at the US Department of State Policy Planning and worked on the Middle East and the Eastern Mediterranean (comprising Turkey), with a focus on intelligence as a specialist/advisor.
This was the period when the CIA had helped Turkish intelligence MIT in the capture of Abdullah Öcalan, leader of the outlawed Kurdistan Workers' Party (PKK) in 1999. It was also when Fethullah Gülen had gone to the US and gotten his residence permit. (Current CIA Director Gina Haspel was then working undercover as the number two at the CIA's Ankara station, official title being an energy specialist for the Baku-Tbilisi-Ceyhan oil pipeline project.)
Another link that was alleging Barkey with Gülen has been shown as a book he wrote with e retired senior CIA officer, Graham Fulller, titled "Turkey's Kurdish Question" in 1998. The foreword of the book was written by a former U.S. Ambassador to Ankara, Morton Abromowitz. Fuller and Abramowitz would later in 199 be among the signatory guarantors, helping Gülen get a US residency permit.
Barkey, who's leaning towards the Democrats, was terminated when Clinton's administration ended; he, therefore, started teaching at Lehigh University. But he hadn't lost interest in Turkey. After all, he was born in Istanbul to a Jewish family from Izmir, and had only later immigrated to the US; Istanbul was his town, too. Now, due to court rulings in his name, he can no longer visit but before, when he used to come, he'd give me, among other colleagues and friends a call and we'd meet if we both had time. Likewise, when our schedules fitted, we'd meet in the used, too, during my visits to the U.S.
Is meeting with Barkey a coup evidence?
I remember, in one of our conversations, Barkey had criticized my criticisms of Erdogan's government and accused Turkish secular intellectuals of not giving a chance to Erdogan and the changes he wanted to bring about. Now, too, if we coincide, I would speak with him — why shouldn't I as a journalist? Indeed, anyone who is interested in Turkish-American relations and who respects the work they do, used to speak and would speak to Barkey.
Would you like another example? Here it is. Nov. 21, 2013. Only a month to go for the corruption claims put forward by prosecutors and judges (all being either in jail or on the run dur to their role in the Gülenist organization) on Dec. 17-25, 2013. It has been voiced by Erdoğan as being the "milestone in the struggle against FETÖ" (the outlawed Gülenist organization). On Nov. 22, Deputy Prime Minister Bülent Arınç was scheduled to meet with then-Vice President Joe Biden in Washington. The appointment was not taken through Foreign Ministry as official sources recalled to YetkinReport, but "private channels". The Washington office of the pro-government think-tank SETA had organized a meeting for Arınç, in order for him to meet Turkish-US specialists in Washington to get their views. The Washington coordinator of SETA than was Erol Cebeci who had serves as an MP on AKP list two consecutive terms before between 2002 and 2001. Below, you see a photo from that meeting.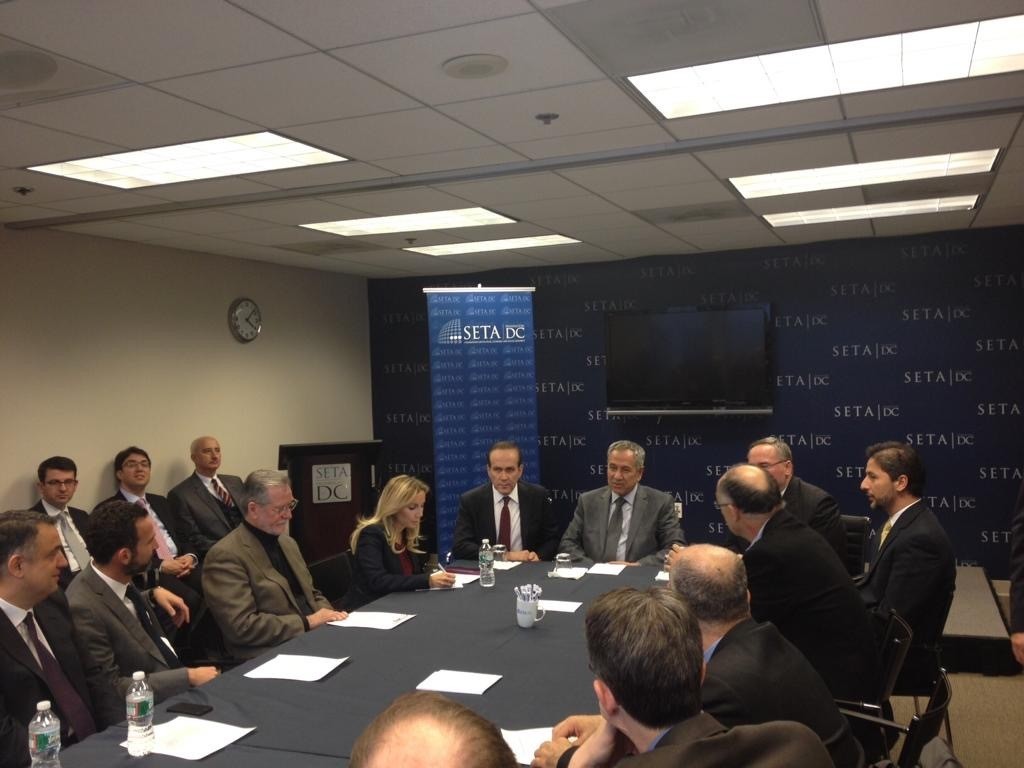 On Arınç's right, we see Turkey's Ambassador to Washington at the time, Namık Tan; he was accompanying Arınç as a part of his job. On Arınç's left, the person whose face is not entirely visible is Cebeci. To Cebeci's left is SETA's current coordinator in Washington DC Kadir Üstün. Next to Üstün, we see Henri Barkey from the side, attentively listening to Arınç.
There's another detail. Six months before this meeting, in May 2013 — just a week before the Gezi Protest erupted — Arınç had declared to the media that he had met with Gülen, with Prime Minister Erdogan's approval, and asked Gülen if he had "any instructions or wishes". As the Deputy Prime Minister of the time, who is also currently a member of the Turkish Presidency High Advisory Board, Bülent Arınç, had travelled to Pennsylvania on a four-hour journey by car with his spouse, to have a three-hours meet and greet with Gülen, thus brushing off any insinuations of "coldness between the government and the Congregation".
So what happened to Kavala and why?
I'm sure that, Erdoğan knows, as much as the judge that issued the decision to arrest Kavala, that meeting with Barkey, let alone having simply seen him on the spot like Kavala testifies, is not sufficient proof of being part of the July 15 military coup attempt.
Then, there is the Kavala-Soros link; Erdogan, too, had met with George Soros in the past – even though he now targets him as the "Jewish billionaire"- and had strived to make Soros bring some of his investments to Turkey. This too, on its own, is too weak to be considered proof.
I'm also sure that Erdogan doesn't believe that Kavala, who once had been nicked by the media as the "Red billionaire" was involved in orchestrating a military coup attempt with an Islamist preacher. But there must be a reason why Erdogan wants to see Kavala in prison, despite facing domestic and international accusations of having "taken hostage" of the businessman. It's easy to guess, more or less, the reasoning behind keeping Peoples' Democratic Party (HDP) former Co-Chair Selahattin Demirtaş in prison: Erdogan doesn't want him in the field as a political rival. This is also the wish of Nationalist Movement Party (MHP) leader Devlet Bahçeli, who's currently acting like Erdogan's unofficial coalition partner.
But why Kavala?
And what happened during the few hours between his acquittal and demand to arrest him again and keep in prison? Why only Kavala was singled out, got arrested again?
There are a few theories circulation in the jurisdictional and political spheres.
The first one is that the court board decided to acquit all of the defendants based on conscientious reasons because there has not been a single legal proof that could realistically be used against them in the past two and a half years, but that the Chief Prosecutor had then made a top-down interference. This is the simplest explanation, even though it points out the serious political pressure put upon the judiciary system.
The second explanation is that the government wanted to give the European Court of Human Rights (ECHR) the impression of complying with their conditional release decision for Gezi defendants on Dec. 10, 2019 even though there was a possibility of reversal upon objection. Meanwhile, the ECHR is still waiting for a resolution from the Constitutional Court of Turkey on the July 15 matter. This scenario is based on the suggestion that justice, now, makes decisions based on political needs of the government.
The third theory is that all of this chaos is a result of warring factions from within the Judiciary. Which factions? I'm still collecting information on this; I'll write about it when it's ready.
But it looks like the Kavala situation is becoming obsessional for Erdogan. Perhaps, in Erdogan's eyes, Kavala is the embodiment of everything he stands against. Or maybe Erdogan wants to dissuade any non-governmental initiative that doesn't thrive outside of his authority. But this situation does not only harm Kavala and the civil society movements anymore; it's destroying the what has left of the Judiciary's dignity, and it harms Turkey as a whole. This needs to be acknowledged.