Women protest Erdoğan's retreat from Istanbul Convention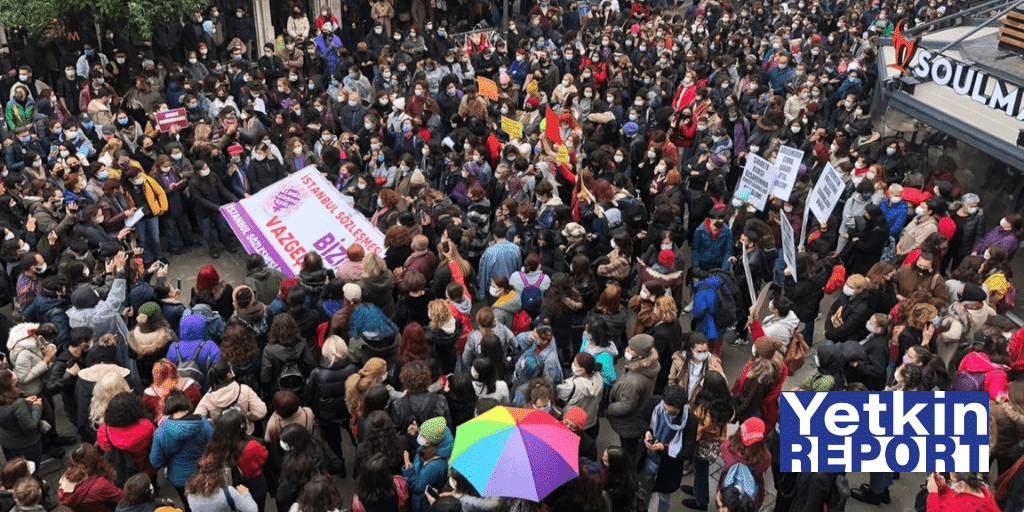 Women in many cities across Turkey took to the streets on March 20 to protest President Recep Tayyip Erdoğan's decision to retreat from the Istanbul Convention that introduces liabilities to prevent violence against women.
In Istanbul, a large group gathered in the district of Kadıköy upon the call of the We Will Stop Femicide Platform and the Women's Assembly.
"You will not be able to erase the struggle we have been fighting for years," chanted the women, asking President Recep Tayyip Erdoğan to withdraw the decision published in the Official Gazette on March 20.
Speaking on behalf of the platform, Fidan Ataselim said, "Equality and justice will come with women. We will push back the decision that came in the middle of the night. We want women to live more equally and freely. Those who are enemies of equality and freedom think that they can abolish the Istanbul Convention. We will never give up this right."
In İzmir, protesters gathered in the central neighborhood of Alsancak, in front of Türkan Saylan Cultural Center.
"We, the women, won this contract by struggling with our teeth, nails. We will not allow you to take away our rights or condemn us to violence and murder," said Pınar Çetinkaya at the protest.
Main opposition Republican People's Party (CHP) lawmakers Utku Çakırözer and Jale Nur Süllü, also attended the protest in the Central Anatolian province of Eskişehir.
Protests were held also in Çorum, Balıkesir, Diyarbakır, Konya, Denizli, Ankara and Şanlıurfa.
People attending the Nevruz protests in several cities on March 21 also called on the government to abolish the bid to leave the Istanbul Convention.