Fallen Turkish soldiers in Syria, Libya and tough diplomacy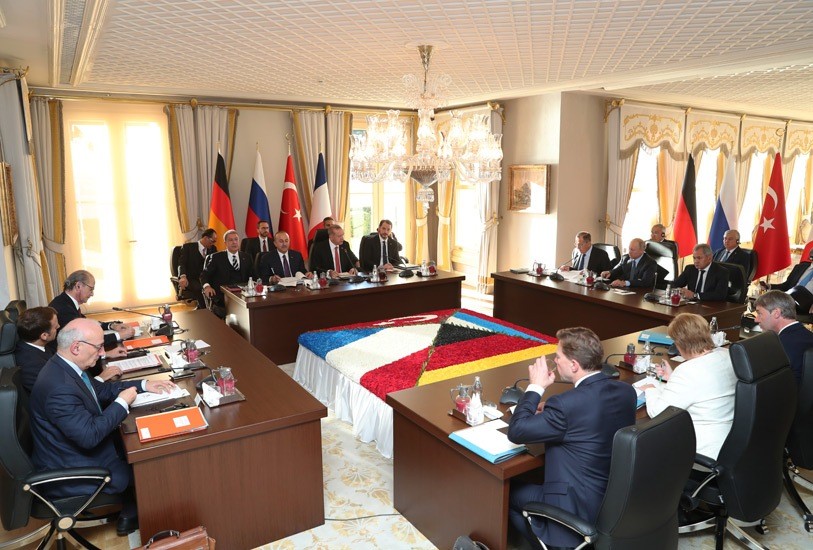 Only a few hours after announcing in the Aegean province of İzmir on Feb. 22 that "a few Turkish soldiers were martyred" in Libya, President Tayyip Erdoğan said in the nearby district of Bergama that he would meet with the Russian, French and German leaders on March 5 to talk Syria. It is still uncertain if or when a formerly reported March 6 summit with the Russian and Iranian leaders will be held as part of the Astana process.
In the meantime, the number of fallen Turkish soldiers in Syria's Idlib increased to 16 after two tanker soldiers were killed. Both the Russian air force-backed Syrian regime siege in areas around the observation points near Idbil and Turkey's soldier deployment to Syria continues. The social media accounts of Batuhan Çolak and Murat Ağırel, two journalist from Daily Yeniçağ which claimed that the two casualties in Libya were retired Colonel Okan Altınay and Sinan Caferler, has been deleted and the related news report has been removed from the website of the newspaper. Responding to a YetkinReport question, a Defense Ministry source said "No Turkish Armed Forces members were martyred" in Libya. The two casualties are believed to be linked with the training, coordination and intelligence teams sent from Turkey to Libya. However, Ünal Çeviköz, a deputy chair of the main opposition Republican People's Party (CHP), said on his twitter account that he had received information on claims that a Turkish brigadier general was also wounded in attacks by Libyan rebel Khalifa Haftar forces.
The reports on Turkish casualties in Libya emerged after Haftar claimed on Feb. 18 that a Turkish ship carrying arms to the Fayez Sarraj government was hit in the port of Tripoli. Following the reports, Turkish presidential spokesperson İbrahim Kalın said no Turkish ships were hit. Security sources say this information is not wrong and the target hit by artillery fire was a depot in the port, where the load of the ship was stored. The same sources also say the "nearly 100 legionaries" who, according to Erdoğan, were "neutralized in return" were on the payroll of the United Arab Emirates to fight for Haftar forces and most of them were members of the Sudan-based Janjaweed militia.
Pushing the boundaries of diplomacy
It is worth mentioning that two days before the Tripoli attack, on Feb. 16, a delegation under Foreign Minister Mevlüt Çavuşoğlu attended the follow-up talks of a Jan. 19 Libya meeting in Berlin within the framework of the Munich Security Conference.
Following the Tripoli attack, Haftar announced he would agree to a ceasefire if Turkish soldiers pulled back and Sarraj said they would allow the U.S. to re-open a Tripoli base, which was closed after a Washington ambassador was killed in Benghazi in 2011. All parties are playing trump to the limit.
It is known that Kalın said after the Turkey-Russia talks in Moscow on Idlib on Feb. 17 and 18 that Ankara "did not get what it wanted." Only a few hours after Erdoğan told his ruling Justice and Development Party (AK Party) parliamentary group on Feb. 19 that an "Idlib operation is a matter of time," Russian leader Vladimir Putin's spokesperson Dimitry Peskov said "a Turkish attack on the Syrian army is the worst scenario for Idlib." In the wake of all these statements, the clashes in Idlib heated up and a Turkish lieutenant and two private soldiers were killed in a Feb. 20 attack on a tank.
The next day, on Feb. 21, German Chancellor Angela Merkel and French President Emmanuel Macron –the leaders of the two countries worried of a new wave of migrants from Idlib to Turkey – called Putin to tell that they are ready to move forward to ease tensions. These four leaders, including Erdoğan, had met in Istanbul on Oct. 27, 2918, to ease Idlib tensions. An agreement was reached after an Erdoğan-Putin phone talk late on Feb. 21. Before the talk, Putin convened his national security council.
The talk began in the evening. At the same time, a Defender of the Fatherland Day reception was being held at the Russian Embassy in Ankara. It was impossible not to notice how tense Russian Ambassador Aleksey Yerhov was at the reception. He was constantly texting and telling curious reporters the talk was "ongoing." Finally we learned that the talk was over but Erdoğan would reveal the outcome the next day: An Idlib meeting would be held on March 5.
Libya and Syria a War of Independence
It is today obvious that the Syria and Libya issues are elements of an equation with multiple variables.
Thus, it has been announced that Libya was also on the agenda in Putin's phone talks with Merkel and Macron.
President Erdoğan names the military moves in both Syria and Libya a new War of Independence. Elaborating on reasons for such a metaphor, he discusses that Turkey will pay the price if it does not act in these countries today. This is in line with Nationalist Movement Party (MHP) leader Devlet Bahçeli's discourse to avert threats when they are still outside the borders. However, such a stance bears some judicial and political problems, considered the fact that just outside the Turkish borders starts the soil of other countries and United Nations rules are valid. Still, Ankara takes a risk of sending land forces to the line of fire before securing the air space security in the name of implementing such policy. This is what we want to point to when we speak of tough diplomacy in the shadow of fallen soldiers' funerals.
Such a discourse is also in a way hurting the meaning of Turkey's War of Independence that ended in 1923. It was a fight to survive against foreign forces that invaded the soil of the country and the Ottoman palace that collaborated with the invaders. Sorry to tell President Erdoğan, matching the developments in Syria and Libya – regardless of how crucial they are – with the War Independence under the leadership Mustafa Kemal Atatürk and his friends to save the country from invading armies and found the Republic is not right.