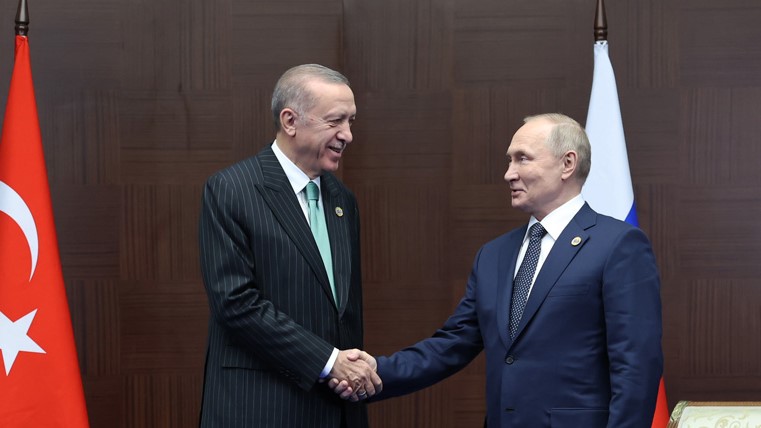 Turkish President Tayyip Erdoğan asked Russian President Vladimir Putin for a unilateral ceasefire in Ukraine to support peace and negotiation efforts, in a written statement by the Turkish Presidential Office on January 5. The statement was issued following a telephone conversation between Erdoğan and Putin.
Türkiye has been in contact both with Putin and Ukrainian President Volodimir Zelensky since the beginning of the war on February 24, 2022, and helped a major grain deal, and a prisoner swap between the two countries, as well as cooling down the tension over Zaporizhzhia nuclear power plant.
In another foreign policy move on the same day, Erdoğan said a tripartite meeting could take place soon between him, Putin, and Syrian President Bashar Assad while addressing a meeting of his ruling Justice and Development Party (AKP). The move came a day after a statement by the US said it was not the time to normalize relations with the Assad regime.
Putin and Erdoğan
Putin has been promoting a Turkish-Syrian normalization for some time which could also help take pressure off his shoulders in the Middle East.
Türkiye has started talks with Syria mediated by Russia recently. On December 28, 2022, Turkish National Defense Minister Hulusi Akar and the Director of the National Intelligence Organization (MİT) met with their respective Syrian counterparts Ali Mahmoud Abbas and Ali Mamlouk in Moscow as hosted by their counterparts Sergei Shoigu and Sergey Naryshkin. Turkish Foreign Minister Mevlüt Çavuşoğlu said that a tripartite meeting between Russian Foreign Minister Sergey Lavrov and Syrian Foreign Minister Faisal Mekdad was possible in the second half of January. Çavuşoğlu is expected to meet with the US Secretary of State Antony Blinken in Washington on January 18.
Terrorism and migration
In the tripartite talks, there are three main topics. Terrorism, migration, and finally a lasting solution to the crisis in Syria. Türkiye has been hosting more than 4 million Syrian immigrants since the beginning of the civil war in 2011 and it is one of the biggest headaches of President Erdogan as the country heads for a critical election, scheduled for June 18. Both the US and Russia are also trying to stop Turkey from a massive military operation into Syria against the outlawed Kurdistan Workers' Party (PKK) and its affiliates in Syria, PYD and YGP as the backbone of the Syria Democratic Forces (SDF); US partner against the ISIS in Syria.
Natural gas hub
In the Turkish Presidential Statement, it is also said that Erdoğan and Putin have discussed completing a road map to establish a natural gas hub in Türkiye.
On January 3, Bulgaria signed a 13-year deal with Turkey to buy gas by cargo ships via the Black Sea of using the existing pipeline network of Türkiye.