Turkey-EU: Tough talks, no result yet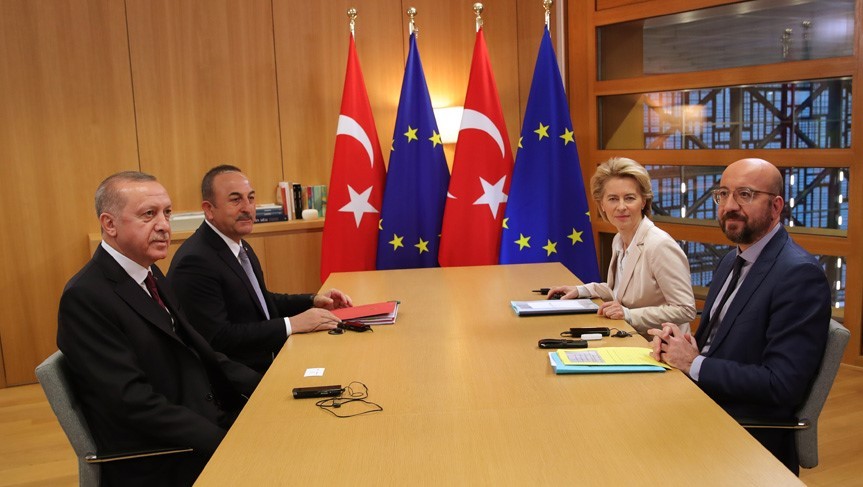 President Tayyip Erdoğan arrived in Brussels on March 9 for a series of top-level meetings. But the public influence of a video report by the Russian state broadcaster Rossiya, which claimed that Russian leader Vladimir Putin "kept him waiting for two minutes," was in the back of his mind. It was no coincidence that the Russian television broadcast the footage from the meeting of March 5, days later, on March 8 and 9, also displaying a chronometer onscreen, revealing the Turkish committee's wait for Putin. Thus, main opposition Republican People's Party (CHP) and Good Party (İYİ) built their criticism against Erdoğan on the negative image of the Turkish foreign policy, as Erdoğan's election ally, the Nationalist Movement Party (MHP), stood by the president. Speaking to journalists aboard on his way back from Russia, Erdoğan said "The Turkish-Russian relations cannot be sacrificed to such manipulative reports". But he didn't mention that the manipulation didn't come from the Russian opposition but a state channel instead.
Because, he was en route Brussels with two key issues that concern Russia seriously, and could weaken its position.
The first of these was the talks on a new agreement with the European Union (EU) about the migrants who have been pushing the borders of Greece. Erdoğan's list of demands from the EU was not limited to utilizing such a deal to mend the Ankara-Brussels ties; he was also there to suggest a joint Syria policy in a bid to re-include the EU into the Syria equation, where it was absent for a long time. Putin, who wants to conduct whatever happens on the Syrian stage all on his own, would not benefit from such a scenario.
A second agenda of the Brussels talks was about concretely shaping the NATO support to Turkey, which was delivered by NATO Secretary-General Jens Stoltenberg on the Syria issue. Installing Patriot missiles to Turkey's border to Syria was among options and such a move was signaled at a Feb. 28 NATO meeting; some promises were already made. Such an incident would also hurt the Russian move of selling S-400 missiles to Turkey, a NATO member.
Tough talks at meetings
Erdoğan's first meeting was with NATO Secretary-General Stoltenberg, an event which was cautiously announced to be held "in case the schedule of the duo would be appropriate." (Erdoğan's visit to Brussels was not a scheduled one. It was planned on an invitation by European Council chair Charles Michel during his visit to Ankara but finally settled on March 6, one day after Erdoğan's Kremlin meeting with Putin.) Now we can understand that Stoltenberg told Ankara that NATO's support continues but that countries could only individually decide on the nature of the support and the secretary-general could only give them his advice. This was the reason why Erdoğan attended a joint press meeting with Stoltenberg but reluctantly, did not want to attend another joint briefing after a meeting with Michel and European Commission chair Ursula von der Leyen.
No concrete result yielded from the meetings that began in high hopes. It was like the visit itself turned into the biggest development. This was Erdoğan's first Brussels trip since March 2017.
Diplomatic sources told YetkinReport that participants raised their voices to each other during the tense meetings. The EU officials reportedly told Turkey to "pull back migrants from the border," and Foreign Minister Mevlüt Çavuşoğlu said in his response that "We will not block them anymore. Tell Greece to accept them." The European side said "do not use migrants as a threat and we will boost the financial support," with Ankara saying that "You have not kept your promises. The issue is not about money from now on," according to sources. The EU administration wanted to renew the March 18, 2016 deal on migrants, with improving the missing items, as Erdoğan bid not to limit the issue to a migrants deal and to take the EU into broader cooperation.
Steps ahead for Ankara, Brussels
A tense atmosphere was not the sole reason why the meeting did not produce any results. Michel and von der Leyen said they noted down Turkey's verbal suggestions and needed to have the approvals of all 27 member countries following talks at both the European Commission and Council, as the EU procedure requires. Erdoğan, for his side, wants to finalize both issues, the Syria-migrants matter and giving a new direction to the Turkey-EU ties, within this year. As a result, the matter is now addressed to a commission that will be founded under Çavuşoğlu and Josep Borrel, the high representative of the EU for Foreign Affairs and Security Policy. The commission will work on a joint proposals list until the March 26 EU summit Brussels.
A few details are worth mentioning. First is the form of the meeting. Erdoğan and Çavuşoğlu on the Turkish side, and von der Leyen and Michel on the EU side. This time there were no crowds of officials who sit around a very long table that reminds us of tribal wedding ceremonies. This means that both parties know who their real counterparts are; this might also be interpreted as an indicator of the rising influence of Çavuşoğlu and his ministry in shaping Turkey's foreign policy.
Time to remember the 'Ankara Criteria'
The second detail is about the EU side. The new EU administration has a structure that prioritizes geopolitics and strategies much more than its predecessor. The outcome is a less prejudiced evaluation of Turkey. If they can manage to quit a policy that constantly shows Turkey the stick and thinks of only financial support when it speaks of carrot, then both sides may gain. Thus, the Turkey-EU relations would have reached a much higher level if the coup attempt of July 15, 2016 had never happened and no steps back from basic rights and freedoms had been taken during the state of emergency rule in the aftermath. In addition, Europe should find a way to bypass the constant vetoes by Greek Cyprus, which became a full member of the EU in 2004, a very unfair decision against Turkey.
A third detail is about the Turkish side again. In 2016, the relations with the EU were rather reduced to burden-sharing for migrants, which means financial support. And this was wrong, it produced no results. Now there is a problem that peaks at the border to Greece and this problem also offers an opportunity. Actually, this was that opportunity that took Erdoğan to Brussels. But this time he would better avoid limiting the relations to a joint Syria policy and visa freedom for business people. Turkey should practice reforms for EU accession. Not only because it made a promise to the EU, but also for its citizens. A judicial reform, reversing the step-backs that were introduced with the anti-terror law and making the financing of politics more transparent are some of the possible moves that would comfort us the citizens and ease the country's international relations.
"If they have their Copenhagen Criteria," Erdoğan once said, referring to the EU accession code, "we have our Ankara criteria." He was highlighting that reforms are actually for the citizens. Isn't it the right time to remember that?
As one last note, the rapid reforms between 2002 and 2004 were made possible thanks to the cooperation and consensus of the ruling Justice and Development Party (AKP) and the CHP. Maybe it is also the right time to remember that.