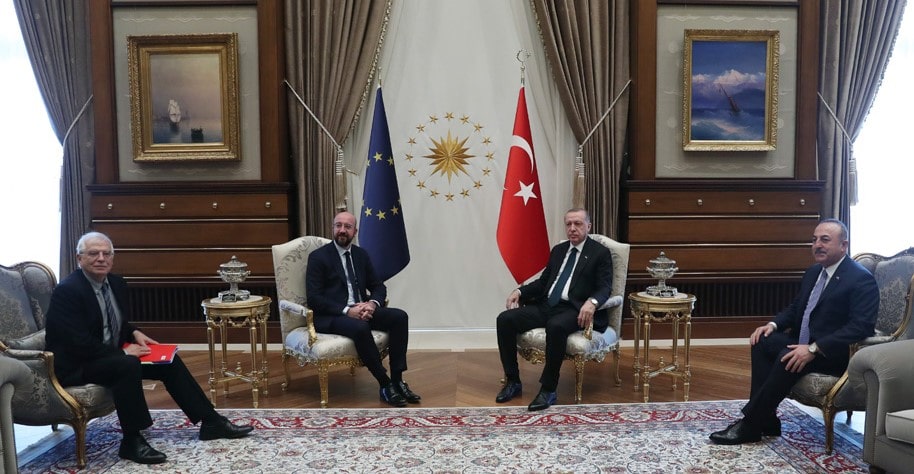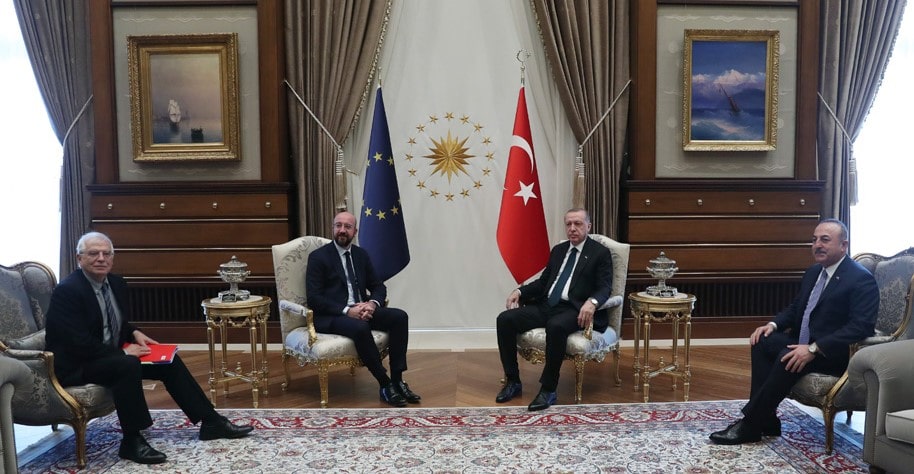 Greek Prime Minister Kyriakos Mitsotakis said on March 6 that Europe was "not going to be blackmailed by Turkey over this problem", meaning the Syrian (and other) refugees piled up on the two countries' common border. He was also saying that the 2016 agreement to curb "irregular migration" was "dead" because Turkey ceased to stop them at the Gates of the European Union, amid spreading reports of the Greek border police teargassing and even opening fire on the migrants. Ursula von der Leyen, the President of the European Commission has praised the Greek stance and said Athens was protecting the European territory. That is not against enemy armies, but desperate immigrants who had to leave their country because of their oppressive regimes.
Erdoğan can be criticized because of letting Syrian refugees -whose lives were saved when Turkey let them in from Syria- to go to Europe as a leverage in his foreign policy. But isn't that an example of hypocrisy to accusing Turkey of "blackmailing" the European Union (EU) while trying to stop them at its borders with fire? Doesn't Europe draw some lesson of its near history? Thankfully, there are sensible people in Greece, in Germany and some other European cities who stand up against racism and xenophobia.
But call it a blackmail or threat, it seems it is working to a certain extent.
Because on the same day Mistotakis made these strong statements in Athens, it was revealed in Ankara that Turkish President Tayyip Erdoğan is going to go to Brussels on March 9 to carry out high-level contacts with EU officials. The visit was placed on Erdoğan's agenda following a visit by European Council President Charles Michel to Turkey on March 4. Apparently, Michel called Russian President Vladimir Putin the next day, March 5, right before Putin was going to host Erdoğan in Kremlin for a crucial meeting regarding the crisis over Syria's Idlib where 34 Turkish soldiers were killed by Syrian air forces on Feb. 27.
Turkish and EU demands differ
Diplomatic sources in Ankara said upon YetkinReport's question that Erdoğan could meet with NATO Secretary-General Jens Stoltenberg as well, "if their schedules allow", which means that the main purpose of Erdoğan's visit will be to sit around the table with top EU figures in search of a new deal with them; and not only limited to Syrian refugees.
Von der Leyen and Michel are among those who are expected to meet with Erdoğan and Turkish Foreign Minister Mevlüt Çavuşoğlu, as well as with Josep Borrell Fontelles, the EU's foreign and security policies chief.
What the EU wants is mainly to go back to the March 18, 2016 agreement with Turkey. That agreement suggested that Turkey should stop irregular migration, mainly in cooperation with Greece, and that the EU should share the burden with its longtime membership candidate Turkey, whilst upgrading its political relations with Ankara. German Chancellor Angela Merkel had played a key role in casting the deal, since the most attractive country for immigrants from Syria to Afghanistan who made their way up to Turkey, was Germany because of its liberal migration laws.
Erdoğan had threatened the EU several times, that if Brussels did not keep its promises and share the burden with Turkey, not only in financial terms but in terms of political support, Turkey would "wave goodbye" to the immigrants. Those threats were taken as hollow bluffs by the European capitals. But when Erdoğan really open the gates, following the escalation of the Idlib crisis, which caused hundreds of thousands more refugees piling up on Turkish borders, the EU capitals understood how serious the problem was.
Ups and downs
That is one of the major purposes of Erdoğan moves: he wants the EU leaders to feel the pain of what has been going on in Syria since the break of the civil war in 2011. Ankara is no longer after the renewal of the 2016 agreement and asking only for burden-sharing, mainly money to stop the flow of migration into the EU. It was inappropriate to link care for refugees with money at the first place anyway. And Turkish people have already paid for hosting refugees partly with the increase in inflation and cost of living. Erdoğan wants EU leaders to share the responsibility and at the same time show a bit of empathy and treat the country as a candidate, not an adversary.
Of course, there have been a series of unfortunate events since the 2016 agreement. A few months after the deal, there was a military coup attempt in Turkey on July 15, 2016. The state of emergency declared after the suppression of the coup attempt has caused deterioration in certain fundamental rights and freedoms and also delayed the necessary reforms — mainly judiciary and administrative — that Turkey had undertaken to fulfill the necessary conditions to open up the remaining chapters to be a member. Some 5 months after the coup attempt, Turkey has launched its first military campaign into Syria. Then came the second, the third and now the retaliatory — and the biggest— one into Idlib. Turkey's moves in the East Mediterranean are being made to counter the moves by the Greek, Egyptian, Israeli and Greek Cypriot governments which caused Turkey to feel cornered.
And then came the maritime and military agreements with Libya after which the EU has decided to stop military sales to Turkey.
The killing of Turkish soldiers in Syria has seemingly changed the game. Not only the U.S. but NATO stood by Turkey and endorsed its retaliatory move against the attacks by the Russia-backed Bashar Al-Assad regime in Syria. It is no secret that neither the U.S. not the major European powers want to lose Turkey in spite of all discrepancies in between. That is evident from a recent statement by NATO Secretary-General Jens Stoltenberg who said that the EU has to find a way to solve its problems with Turkey.
A window of opportunity?
High-level visits have already started from Brussels to Ankara despite the isolative moves under pressure of local politics. Von der Leyen, Michel and Borrell paid visits to Turkey and talked to Erdoğan. A visit by Merkel on Jan. 24, only a few days after the Berlin conference on Libya that she had initiated, gave first signals of a shift in the EU policies. For the first time, Germany has promised to give a symbolic amount of 25 million Euros to Turkish temporary settlement efforts on the Syrian side of the border.
That is exactly one of the major requests of Erdoğan from the EU bodies: to contribute to Turkish efforts on Syrian territory to take care of the Syrian people fleeing for their lives not in Turkey but in their own land. That would mean sharing a policy -regarding Syria on this case- with the EU, and also a major breakthrough.
Now there is an opportunity for both. It is actually a reverse chicken and egg story. Erdoğan moves away from the EU and its -currently very badly damaged- standards as the European capitals push Turkey away, and the vice-versa.
A new deal between Turkey and the EU can reposition Brussels as a major player in the future of Syria in cooperation with Turkey. EU needs a new story after the exit of U.K., the Brexit anyway. A new deal between the two could incent the Turkish government to go back to resume its reform promises which would help the improvement of democratic rights in Turkey.
This can be a window of opportunity both for Ankara and Brussels and it should not be wasted.