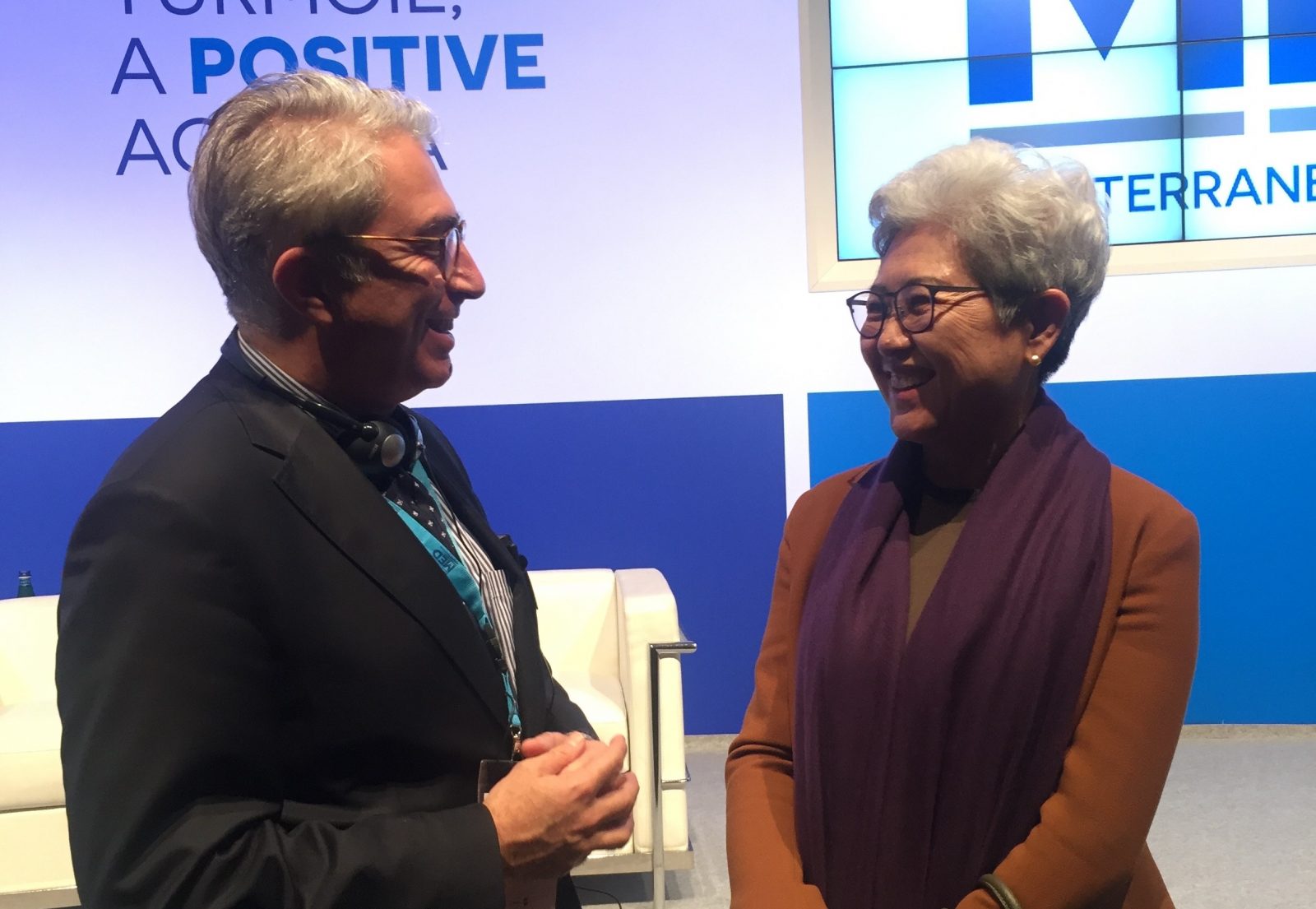 Fu Ying, one of the most prominent figures of Chinese foreign policy, said that the coronavirus epidemic "taught a hard lesson" and "costed dearly" to China a, and that the Chinese people would expect "further reforms" from the Communist Party administration. After the spokesperson of the Chinese Communist Party's spokesperson as the National People's Congress and Vice-Minister of Foreign Affairs, Fu Ying said that the public's expectation of reform will focus governance and healthcare system in the country.
In a exclusive interview with YetkinReport, Fu Ying gave first hints of China's strategic targets, changes in its foreign and security policy in the post-coronavirus world. She also answered questions about China's approach to the Middle East, the Mediterranean Sea and Turkey, including the effect of reports about human rights violation allegations against the Turkic origin Uighur minority on Turkey-China relations.
Fu Ying, who is known in international politics as China's Madeline Albright said that the most important challenge for Beijing is the "bashing China" policy of the U.S.
Here are Madame Fu Ying's answers to YetkinReport's questions.
China's target: democratic socialism in 2049
-How would you describe the fundamentals of China's current foreign and security policy today? What are the priorities, regions and themes of your strategy?
-Diplomacy is an extension of domestic affairs. China's domestic task is to achieve its two centenary goals, that is, to build a moderately prosperous society by 2021, while also developing China into a modern socialist country that is prosperous, strong, democratic, culturally advanced, harmonious and beautiful by 2049. China's diplomacy needs to serve the purpose of domestic development and help maintain a peaceful and cooperation-oriented external environment. Moreover, as its national strength grows, China should also start shouldering some regional and international responsibilities. If there is any priority, it should be that China attaches more importance to cooperate with its neighboring countries. At present, multilateral dialogues and cooperation within East Asia see the active role of China. As for the theme, President Xi Jinping's call for building a community with a shared future for mankind is at the core of China's diplomatic philosophy. This is well embodied by China's assistance to other countries against COVID-19.
U.S. as China's "strategic rival"
-What are the differences of China's foreign and security policy before and after the presidency of Chairman Xi Jinping? Were there any exterior factors urging the change?
-China's foreign policy has been consistent. We believe peace and development remain the prevailing trend of our times, and China's foreign policy is formulated on this base. The first decade of 21st century saw China growing into the world's second-largest economy, and the international community has growing expectations of China. As the world is experiencing profound changes unseen in a century, China has increased its presence in foreign affairs. However, China faces the challenge of how to get along with the US, a world leader that has long dominated international affairs. The US government has taken China as its main strategic rival and has taken a bashing China approach. It has also increased military presence and conducted provocative activities around China. Therefore, China hopes to and is making an effort to build a new partnership with the US, while still needing to fight back at its unreasonable rhetoric and actions. Whether the two powers can resolve their disputes within the existing system is one of the major challenges and risks in the current international political landscape.
Role of economy and UN in security strategy
-What kind of a role China's growing economy and international trade play in the shaping of the diplomatic and military agenda and strategy?
-China's security policy and diplomacy are deeply rooted in its history and ideals. History tells us that it's the backwardness that made China a victim of foreign aggression. Therefore, as China's economy grows, it's better-positioned to pursue modernization, including that of national defense. In terms of diplomacy, China has left economic footprints as it engages with other countries. This not only gives China more influence, but also leads to higher expectations for responsibilities. Therefore, China needs to explain its views and offer ideas to the world. President Xi Jinping's proposal to build a community with a shared future for mankind not only reflects the worldview of the Chinese people, but also assists in the future progress of mankind.
However, China is still a developing country, and its focus is at home. To reform and develop remain the country's top priority. Militarily, China pursues a defensive policy which anchors on national security. As to international security affairs, China plays its role mainly through UN. For example, as of September last year, China had engaged in 24 UN operations and deployed more than 40,000 peacekeepers. Moreover, through its Chinese naval escort fleet, China has just actively participated in its 34th mission in the Gulf of Aden.
Moscow-Beijing: from rivalry to partnership
-The conflict between Beijing and Moscow used to be a major political and ideological rift in the past, contributing to the collapse of the Soviet Union. Nowadays they act as strategic partners, as we see openly in the Syria case. What does China seek from partnership with Russia? Is it a reflex against the U.S. or how would you describe it?
-The most important element in China-Russia relations is our strategic mutual trust. Both countries regard each other as reliable partners rather than threats. When I was young, I worked on a farm in Northern China, which was less than 400 kilometers from the border. We were always on high alert about Soviet invasion. From that experience, I know what tensions were like and understand why peace and trust with neighbors are so important. When China and Russia established their comprehensive strategic partnership in 2019, our cooperation in economic, trade, investment, energy, culture and local areas have been greatly promoted. The two sides also share similar views on international affairs, including the Syrian issue. However, the strategic cooperation between the two countries does not target any other parties. China believes in the principles of objectivity, justice and morality and take position on international affairs based on the merits of the matter itself.
Belt-and-Road and Turkey
-Belt and Road initiative has been described by Beijing as a major connectivity project but also criticized in the West as a one-way globalization attempt, a market domination move. Why do you think there is such a criticism and what are the next steps of this project?
-The core of the Belt and Road Initiative (BRI) is to improve infrastructure and connectivity. China has accumulated rich experience and technologies in this field and wants to share with other countries based on the principle of reciprocity and mutual benefit. However, this is not charity, but commercial cooperation and China needs to assess investment risks and returns. Turkey has its plan to revive the Silk Road. Our two countries signed a Memorandum of Understanding in November 2015 to link the Middle Corridor Initiative with the BRI. The BRI has been welcomed by more and more countries and international organizations. However, as conditions vary from country to country, we still have to be cautious as we progress the various BRI projects. Some in the Western countries are criticizing China for having expansionist ambitions just like they themselves did. But China has followed a path of peaceful development. Time will tell that this path is more desirable for the 21st century.
Middle East and the Mediterranean
-In 2017, we have seen the first Chinese warship in Istanbul in history as a sign of China's presence in the Mediterranean and the Middle East. What is your Middle East and Mediterranean policy? What are your priorities in this part of the world?
-May be what you saw was a Chinese naval vessel sent for a goodwill visit, as China has maintained sound partnerships with Mediterranean countries. I attended the Mediterranean Dialogue in Rome in 2017 and found that countries in the region hold high expectations for cooperation with China. China's growth is not built on gunboat diplomacy and we have no interest in competing for spheres of influence in the Middle East and the Mediterranean region. Most in the region are developing countries, for whom peace and development remain the most important theme. China stays committed to promoting reconciliations and peace in the region and advancing the BRI to strengthen economic cooperation and boost regional economic growth. Both the Chinese civilization and the Mediterranean civilization are brilliant and their ties have a long history. The ongoing "dialogue of civilizations" is an important component of the modern exchanges between China and the region.
How does China see Turkey?
-How does Beijing consider Turkey and Turkey's role in its region with its complicated relations with both its NATO ally the U.S. and Russia? Which fields do you see a fruitful cooperation or collaboration with Turkey in benefit of the two countries?
-I like Turkey very much and am mesmerized by its beauty at every visit. Bridging across the Eurasian continent and linking the East and the West, Turkey has a geographically important position. It has diversified its diplomatic engagement over the recent years by not only growing relations with the United States, Europe and other allies, but also actively working with Russia, Western Asia, Africa and other countries in the region, and its role in this part of the world has gained increasing importance in the international community. China follows closely the situation in this region and when differences arise, we hope the parties concerned can resolve them through political dialogues. As Turkey, like China, is an important emerging market, its stability and development is conducive to regional peace and stability.
Since the establishment of the diplomatic ties in 1971, China and Turkey have seen a steady growth in their bilateral relations. President Xi Jinping and President Recep Tayyip Erdogan met or held telephone conversations on many occasions over the years, and reached a lot of important consensus, which has served as guidance for further progress of China-Turkey relations in the new era.
Now the two countries already have extensive exchanges and cooperation in investment, finance, engineering, humanities exchanges, and other areas. People in China are keen on deepening exchanges with Turkey and there is great potential for us to grow our ties. Both China and Turkey are against extremism, separatism and terrorism. It is expected that the two sides will strengthen their strategic cooperation, enhance mutual trust and understanding and support each other on major issues related to safeguarding sovereignty, security and unity.
Meanwhile, the two countries have deepened cooperation in many other fields, for example, the synergy of the BRI and the Middle Corridor Initiative is accelerating, partnership on transport, power, energy, telecommunications, etc. is bolstered, people-to-people ties are strengthened, and coordination in international organizations including the G20 has increased.
The Uighur debate
-The human rights violation claims regarding Uighur minority has always been an issue casting shadow over Turkish-Chinese relations. How do you consider President Tayyip Erdoğan's policy about that, does it affect political and economic relations?
-Both China and Turkey are developing countries and we refrain from interfering in other countries' internal affairs, and respect each other's right to choose their own path. Last year, I attended a conference in Turkey, during which participants from Turkey and other countries expressed their concerns about the Xinjiang issue. They showed me YouTube videos in which some people tearfully complained about the "persecution". But it was clear that the videos were staged, and some person was playing different roles in two videos. I explained the policy and development to my counterpart. Ever since the astounding Urumqi riots killing many on July 5, 2009, Xinjiang had been haunted by terrorism. The Central and local governments have taken measures to address the issue, including poverty alleviation, job creation, and education for helping people to eradicate the extreme ideas and return to normal live in the society. Now, people in the region are living in peace, and the economy is prospering. It can be realized that there is the need for China to provide first-hand information more timely and communicate with the outside world to increase understanding.
Corona costed dearly, might trigger reforms
-What kind of an impact has the coronavirus outbreak have on Chinese economy, political outlook and credibility? What do you think as the biggest damage of it? What kind of systemic changes can one expect from the lessons to be drawn from the outbreak in domestic and international scene?
-Currently, the outbreak in China has been basically kept under control, but it has cost us dearly and will leave lasting pain for many. Impact on the economy is emerging, and life is recovering slowly from the two-month standstill. The service sector and small and medium-sized enterprises are in a particularly tough spot. The Chinese government has introduced measures to stabilize employment and support enterprises, but the economic fundamentals remain strong. The outbreak taught us a hard lesson, and the Chinese people will expect further reforms in the governing process and improvements to public health facilities, emergency responses to diseases and relevant laws and regulations.
In early February, we were deeply grateful when medical supplies from Turkey arrived in Wuhan. Now China is helping other countries to fight the outbreak by donating supplies, sending medical personnel and providing remote support. At the March 26 G20 virtual summit, President Xi Jinping put forth four proposals: to decisively contain the spread of the virus; to establish a joint prevention and control mechanism, and cooperate to speed up research and development of drugs, vaccines and testing capabilities; to support international organizations in playing their active roles and enhance anti-epidemic information sharing; and to enhance international macro-economic policy coordination and take actions like cutting tariffs, removing trade barriers and facilitating unfettered flow of trade.
Any review in the Communist Party policies?
-What kind of an evolution would you for see in the domestic and international policy of the Communist Party leadership in near future? Where should we look at to see a change?
-Next year will mark the 100th anniversary of the founding of the Communist Party of China (CPC). Under its strong leadership, the Chinese people have made tireless efforts and have transformed China into the world's second-largest economy, blazing a path that suits China's conditions. The original aspiration of the Party has never changed, which is to seek happiness for the Chinese people and rejuvenation for the Chinese nation and uphold the people's interests. The Party boasts a strong ability to inspire the people. Many of its members stepping forward and many applying for Party membership in the fight against COVID-19.
The top priority for China now, while keeping the epidemic under control, is how to resume work and production and avoid too much damage in the economy. We remain committed to attaining the goal of completely eliminating poverty and building a moderately prosperous society in all respects. Certainly, more importance would be given to the public health area. As for international policy, China would remain focused on safeguarding a peaceful and cooperation-oriented international environment. China is committed to building a community with a shared future for mankind and will try to contribute more to the world's prosperity, stability and development.

https://www.toutiao.com/i6813982267552039432/?tt_from=weixin&utm_campaign=client_share&wxshare_count=1&from=singlemessage&timestamp=1586505794&app=news_article&utm_source=weixin&utm_medium=toutiao_android&req_id=2020041016031401001808514720091092&group_id=6813982267552039432