Turkey-U.S. update: S-400s, medical aid and SWAP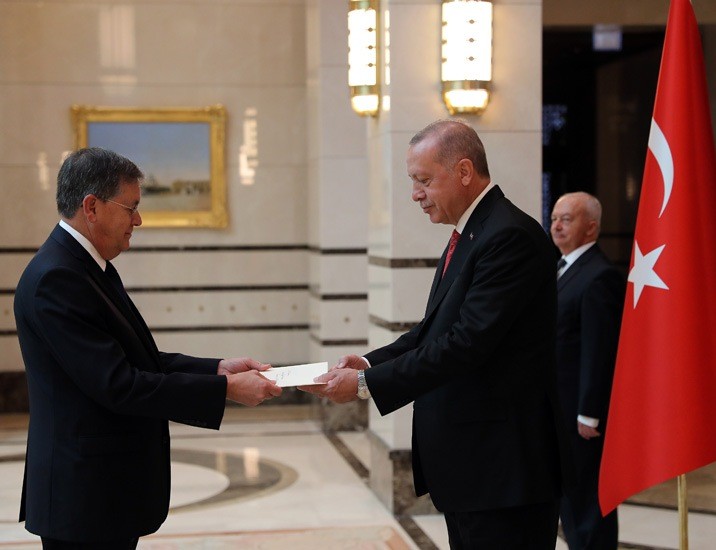 Prominent U.S. think tank, the Atlantic Council, held a remarkable video conference on April 30, looking into Turkey's relations with the U.S. as well as its economic trajectory. The meeting was striking because of two main reasons. The Turkish government wanted to be among the countries benefiting from the convenient SWAP option to ease the entry of foreign currency into the country. The U.S., on the other hand, wanted Turkey not to launch the Russian S-400 missile program so it can stay within the joint F-35 program, and avoid Congressional CAATSA sanctions.
Among the participants were President Tayyip Erdoğan's Security and Foreign Policies Chief Advisor and Spokesperson Ibrahim Kalın, U.S. Ambassador to Ankara David Satterfield, and U.S. State Department's Syria Envoy James Jeffrey. Since Kalın joint the video conference about 40 minutes late, the talks revolved mainly around Jeffrey's statements on Syria. According to my notes, three main points came forth in his statements, which are listed below.
1- Jeffrey said that the U.S. had no intention of completely withdrawing from Syria or the Middle East. Because according to Jeffrey, this was one of the major areas of competition for the U.S. concerning the presences of Russia, Iran, and China. Furthermore, U.S. NATO ally Turkey and U.S. long-time partner Israel were in this region.
2- Jeffrey said that the U.S. had no agreement with the Syrian Democratic Forces (SDG) formed by the outlawed Kurdistan Workers' Party's (PKK) Syrian branches PYD and YPG, other than fighting ISIS. He referred to the October 17 agreement between President Erdogan and U.S. Vice President Mike Pence, saying that Turkey was notified of every issue related to the SDG (including weapons deployed as it was understood).
3- When asked about the Astana Process, Jeffrey answered that its only upside was that "U.S.'s ally Turkey" was in the Process. This was interesting because, so far, the public perception created both in Turkey and the West was that Turkey had joined the Astana Process despite the U.S.
SWAP, S-400 and tricky issues
The flow of the meeting was mainly in this direction until a question came up about Turkey's SWAP deal demands. Turkey had postponed the activation of Russian S-400 missiles (following Erdogan's April 20 phone call with President Trump). It also delivered medical equipment such as masks and surgical gowns to the U.S. to help fight the COVID-19 pandemic. Would latest developments have a positive effect on a potential SWAP deal? Satterfield answered this question. As a Middle East expert and former U.S. observer of the Astana Process before his appointment to the Ankara Embassy, Satterfield said:
"Turkey has been in direct contact as have many states with the Federal Reserve. There are certain requirements set by the Open Markets Committee of the Fed with respect to potential eligibility. They are financial, monetary requirements and conditions; they are not politically linked."
The Ambassador was diplomatically stating that whatever is done on the political front would not affect Turkey's SWAP demand. Is that really so? Have the U.S. administrations always been so principled? Have they never altered the rules for political or economic interests? That's another issue. But what the Ambassador said was something along the lines of "if financial and monetary conditions are not met, whatever is done politically will have no effect."
Satterfield had unswerving statements about the S-400s too: "We made our decision quite clear to President Erdoğan, to all the senior leadership of Turkey and that is: the operational S-400 system is not compatible with Turkey's participation in acquisition of the F-35 program. And it exposes Turkey to a very significant possibility of congressional sanctions both those that involve the CAATSA legislation and additional free standing legislative sanctions. We do not have in our possession the assurances from the government of Turkey that would allow us to mitigate those concerns,"
Almost at this stage, Kalın's other commitments were out of the way and he was able to join the video conference.
Turkish-U.S. joint constructions in Syria?
Kalın explained the complexities of trying to move forward with separate alliances in the East and the West of Syria. Turkey was experiencing differences in opinions on PYD/YPG with the U.S., and on the support of Assad's regime with Russia. Nevertheless, he said that the truce was generally observed around Idlib following Erdogan and Russian head of state Vladimir Putin's agreement on March 5. He also said that Erdoğan had looked for alternatives when the U.S. didn't want to sell the Patriot missiles under "Turkey's conditions". He expressed that people thought this was a bluff and that it had now become clear that it wasn't. "Besides", said Kalın, "CAATSA became law after we signed the S-400 agreement with Russia. We have to discuss these with no preconditions".
Right at that moment, an unexpected question came up. The one asking wasn't a journalist but a diplomat. It was Matt Bryza; he had previously worked at the U.S. State Department and the National Security Council, contributed to the realization of the Baku-Tbilisi-Ceyhan project. He had remained in the international relations network after leaving his official duties. His question was whether Turkish and American contracting companies could undertake joint construction projects north of Syria. The question was like an alluring reference to the Turkish construction contractors, industry superstars in the era of Erdoğan's ruling Justice and Development Party (AKP).
It was interesting to see the same expression suddenly appear and fade on the faces of both Kalın and Jeffrey, who both have played a key role in reaching the Erdoğan-Pence agreement on October 17. "Of course", responded Kalın. Turkey, by principle, would like to do joint projects with fellow nations. But according to the U.N. Security Council's Resolution No. 2254, this would not be possible before reaching a political solution. "Of course, we wouldn't want to invest millions of dollars only for the Assad regime to come and destroy it", he added. Jeffrey also took the floor and expressed that he agreed with Kalın, and the priority was to reach a political solution in Syria.
Thus, we've learned that even though there is no political solution on Syria yet, infrastructure investment plans have already started to be discussed in certain quarters.
And we've learned one more thing: that Satterfield hadn't met with Kalın for a while. "I'm very pleased to see you", said Satterfield rather reproachfully, in front of everyone; "of course it's not like talking face to face". Kalın smiled apologetically; "I'd also like to meet", he said, "in Ankara, Istanbul, anywhere in Turkey. Once we're over with this thing…" He was probably talking about the COVID-19 outbreak, at least that's how I perceived it.