Turkish-Greek talks: one small step…well, that's it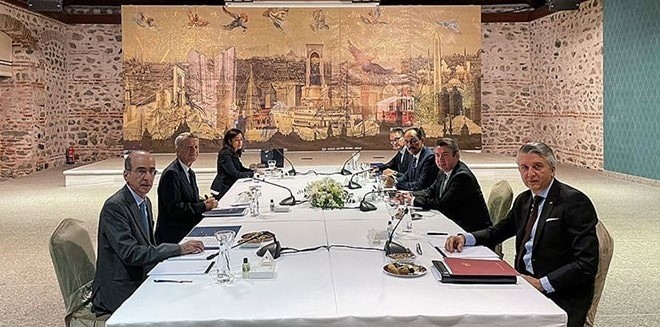 The 61st round of "Exploratory" talks between Turkey and Greece was held in Istanbul on January 25, after a pause of 4.5 years. As in the case of the former 60 rounds, no solid result came out of it except the fact that diplomats of the two countries decided to have the next round of talks in Athens. It was a bit hard for Turkish journalists to convince some of their Greek colleagues before the 3-hour meeting that there isn't much around to be too hopeful. I'd like to borrow Neil Armstrong's famous quote when he stepped on the moon and say, "One small step for Turkish-Greek relations, but a giant leap for Turkish-European Union relations". Well, it's a small step, but I'm afraid it's a small step for both.
Not easy to overcome the mistrust
I don't want to be pessimistic, but more talks and more steps are needed to overcome the mutual mistrust between Turkey and Greece and Turkey and the EU. Contrary to what is promoted in the Greek media the East Med sovereignty debate is only a part of problems waiting to be solved between Turkey and its Western allies, especially the US. To be frank, if Turkey had not pushed the status quo to its limits in the East Mediterranean by sending its oil and gas exploration (and drilling) ships escorted by its navy, perhaps the exploratory talks wouldn't have been resumed.
Cyprus on the horizon?
EU welcomed the resumption of the talks. Josep Borrell, the EU's security and foreign policy chief said he hoped the UN-sponsored talks on Cyprus could resume soon, EU participating them as an observer "as before." But during the last Cyprus talks, the UK, as one of the three guarantor states of the 1960 Cyprus Agreement, was still a member of the EU, the balances have changed. Secondly, how will the EU, while Greek and Greek Cypriots governments being a part of it, stay bipartisan between Greek Cypriots and Turkish Cypriots? How many double and triple checks are needed to understand that unless equal political rights for the Turkish Cypriots, there is no likely solution on the horizon.
Let's see the glass half-full
Yet the resumption of Turkish-Greek talks can be an icebreaker if followed by steps going beyond the Turkish-Greek rift. EU has already decided to coordinate the issues related to Turkey with the US. Turkish Foreign Minister Mevlüt Çavuşoğlu's contacts in Brussels, both with EU and NATO on January 21-22 have covered several key topics. Those included the purchase of Russian S-400 missiles. That was responded to by the US by seizing Turkish F-35 jets, despite Turkey being a co-producer and number three biggest client.
Joe Biden started his job on January 20. It is not logical to think that the US or EU would like to alienate Turkey further. Turkish President Tayyip Erdoğan recently stated that Turkey wanted to stay in NATO but would not let NATO dictate its defense priorities.
So, we cannot underestimate the small steps, like the Turkish-Greek technical talks, knowing that more of them are needed.