Soylu case: Keep your head low in Erdoğan's cabinet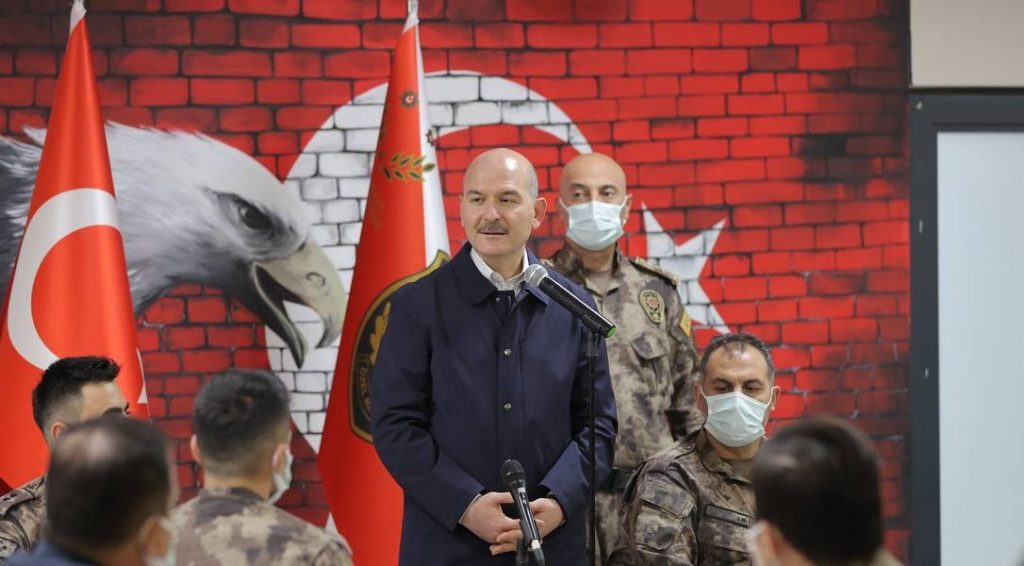 With the outbreak of the Covid-19 pandemic, the level of public appreciation of President Tayyip Erdoğan soared at this time of last year, but this was short-lived. In the first months, the level of appreciation of the Health Minister Fahrettin Koca, who was giving confidence with his kind and respectful attitude, surpassed Erdoğan for a short time, according to surveys.
Then came the resignation of Internal Minister Süleyman Soylu, and things got messed up. Nationalist Movement Party (MHP) leader Devlet Bahçeli stepped in as the ruling Justice and Development Party's (AKP) election ally. Erdoğan called Soylu back telling him that "We need you"; which was big surprise. Then we watched the rise of Soylu, who is already the star of the People's Alliance of the AKP and the MHP grassroots, in polls mainly due to his anti-terrorism performance.
In the given period, Defense Minister Hulusi Akar was also one of the prominent names. Soylu and Akar were among the top five popular politicians in Metropoll's "Turkey's Pulse" polls, like early summer 2020.
Ankara Mayor Mansur Yavaş and Istanbul Mayor Ekrem İmamoğlu from the ranks of the main opposition Republican People's Party (CHP) were also pressuring Erdoğan, but this was the first time two politicians had become almost as prominent as Erdoğan within the AKP. Moreover, neither of them had political Islamism roots.
Koca and Akar are no longer in the foreground
A year after, today Health Minister Koca almost seems so disgraced that he may regret he became a minister in the first place. In the latest lockdown, President of Religious Affairs Ali Erbaş announced that mosques would not be closed, Tourism Mehmet Ersoy declared that the lockdown would not be sustained and Foreign Minister Mevlüt Çavuşoğlu said tourism workers would be vaccinated. It was not Koca who announced all this crucial information.
There was a reason why Akar became one of the prominent figures in the AKP grassroots. First, he shined in the fight against the outlawed PKK in Syria and Iraq, then during the Libyan unrest and the Eastern Mediterranean dispute with Greece, and most recently thanks to Turkey's support to Azerbaijan to reclaim its soil from Armenia. However, Akar found himself in a difficult situation when the PKK killed 15 Turkish soldiers, 13 of whom were taken hostage, during Turkey's Gara operation. The confession that they did not have the correct field intelligence came from the Chief of General Staff Yaşar Güler at the joint press conference. An admiral appearing at a religious cult meeting in his uniform, the declaration of retired admirals against it, and the debate on Montreux Convention, the historic deal that regulates the sovereignty rights on the Bosphorus, eroded Akar's public image. Due his long bureaucracy experience, it is seen that he is no longer appearing in public that often, pulling himself back.
Soylu's bumpy graphic
Soylu enjoyed yet another rise after the resignation of Berat Albayrak, the son-in-law of Erdoğan, as the Treasury and Finance Minister. Albayrak's departure was not because of him, the economy had come to the edge of the abyss due to internal and external factors. But it was not a secret that the two fellow citizens from Trabzon could not get along.
Then the Sedat Peker investigation started. Mob leader Peker went abroad and started his salvos in early May. His long video speeches had two leading targets: Süleyman Soylu and former Interior Minister Mehmet Ağar.
Moreover, it is also known that Soylu and Ağar are also not on good terms. The duo was engaged in a duel after Peker's allegations, which ended up in Ağar's apology.
Meanwhile, Peker accused Soylu of "disrupting his relationship with Mr. Berat", also claiming that it was Soylu who gave him protection while an investigation was ongoing, moreover, the one who assigned official guards to protect him and helped him treated like a statesman during his travels abroad.
Although late, Soylu asked for an investigation into the allegations, but the CHP's Özgür Özel said such charges should be investigated at parliament, not by prosecutors.
All these incidents eroded Soylu's image in the eyes of both the public and the AKP voters. He might be as powerful as he was two months ago but he is not that effective.
Those who go up finally go down
The AKP figures whose popularity near Erdogan go down one by one Ahmet Davutoğlu, the head of the Future Party, pointed to this fact when he said Erdoğan took him down despite he won 49.5 percent of the votes in the prime ministry race. Erdoğan used Davutoğlu to prevent former President Abdullah Gül from coming forward again in 2014, and Binali Yıldırım to prevent Davutoğlu from coming forward in 2016, especially after the migrants deal he signed with the European Union.Then he took Binali Yıldırım from the parliament speaker seat and put him in a highly risky race for Istanbul mayor seat, a failed attempt.
Nowadays, those who have experience with bureaucracy prefer not to stand out. For example – although he is the architect of reconciliation with Egypt– National Intelligence Organization (MİT) chair Hakan Fidan is not seen around. He tries to stay on the sidelines even in photographs.
Another figure with bureaucracy experience is Lütfi Elvan, the Treasury and Finance Minister who replaced Albayrak, broke his silence to defend the ministry against the opposition questions over the $128 billion spent in a failed attempt to defend the lira but he also regretted it because of reactions from his own party.
Naci Ağbal, another experienced bureaucrat who became the Central Bank governor when Albayrak resigned, preferred to speak up and his tenure lasted only four months.
Another name who goes cautiously despite not coming from the bureaucracy and prefers to remain silent even at times that he should speak is Justice Minister Abdulhamit Gül. He seems to have accepted that he would not draw reactions from Erdoğan or his close circle if he does not speak.
So isn't this another way to look at recent incidents to understand what is going on in Turkey?