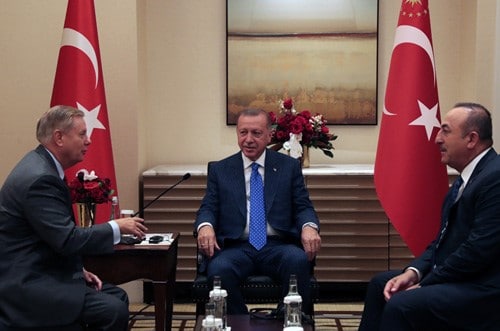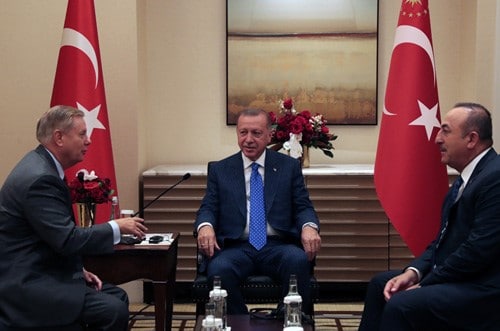 What US Senator Lindsey Graham said during a video conference on June 24 was perhaps not what Turkish business representatives wanted to hear. But they were clear enough not to create any empty hopes about the future of Turkish-American relations, especially in the field of economy and trade. 
Nail Olpak, head of Turkey's Foreign Economic Relations Board (DEIK) and Mehmet Ali Yalçındağ, head of the Turkey-US Business Council (TAIK) have been expecting a target volume of more than $100 billion a year. That was five times the volume in 2019 that the two Presidents, Donald Trump and Tayyip Erdogan, have been wishing for in the pre-COVID days. Graham did talk about a possible Free Trade Agreement: "integrating economies," instead of simply selling more goods to each other. They could even work together in Africa to balance China. But not without conditions.
The best-case scenario for the Turkish businessmen would be Graham saying that Turkey's purchase of Russian S-400 missiles and the US blocking the sale of co-produced F-35 jets in return was still a problem that Trump and Erdogan could resolve together. But Graham named it as the biggest problem for the Congress, especially in this election year. And there were more.
Working in Africa against China?
The second problem was also political: Syria. Graham said that the US wanted to "make sure that Damascus is not run by Tehran," Iran being Turkey's partner in the Astana Group with Russia. Being one of the closest Senators to President Trump, Graham also said that they respected Turkey's security problems with the PKK affiliated groups there. But he added that the Kurdish situation there must resolve.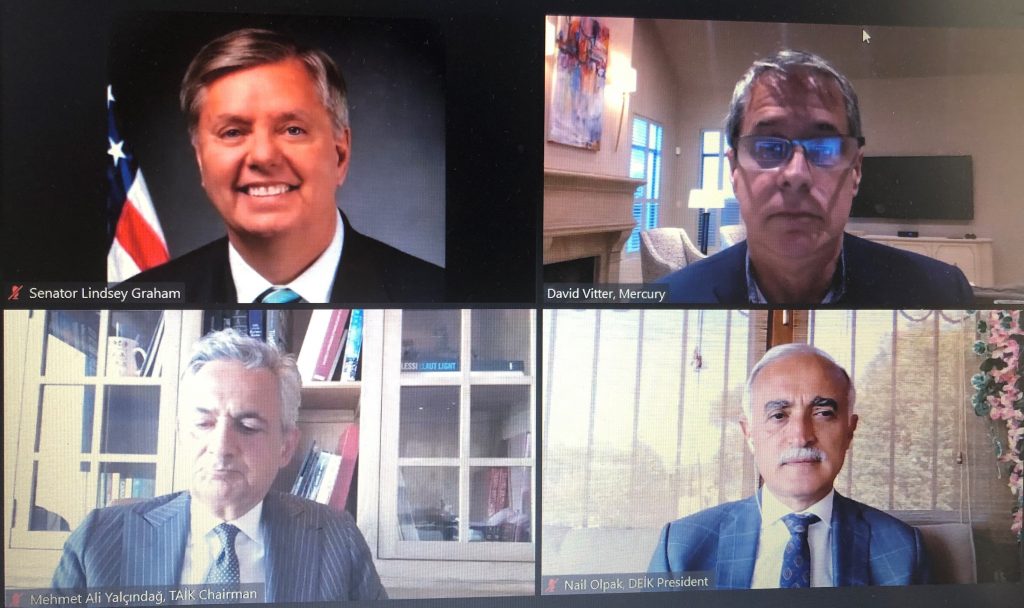 China was the third condition Graham pointed to. There were questions about working in Asia or the Pacific together but Graham simply said "No"; Asia was too big and the Pacific was too far away from Turkey. Africa was the target that the US wanted to work together with Turkey as an "alternative to China products and Chinese influence." "That is my goal" he added. He briefly mentioned Libya and Turkey's confrontation with Russia and Hafter there, as if hinting to Libya as an opening gate to Africa against China, perhaps with Turkey. But he did not elaborate.
Graham put particular emphasis on two possible sectors of cooperation with Turkey if political problems resolve. There were the commodities, too, but a more important one was the supply of medical equipment and pharmaceuticals. "Turkey can help America and the world to end Chinese domination in the medical equipment supply chain," he said.
China, NATO, Huawei, Turkey
One could have thought that Graham was simply obsessed with China. But he was trying to make sure that Turkish investors who want to do more business with the US understand its new priorities clearly. He was also trying to herald that a US-China confrontation across the World in the coming post-COVID era was. China says it's ready for that.
And that's not going to be only in the field of economy and trade.
According to the influential Republican Senator, if Turkey wanted to improve its credibility in the Administration and Congress nowadays, it should take a stance against China.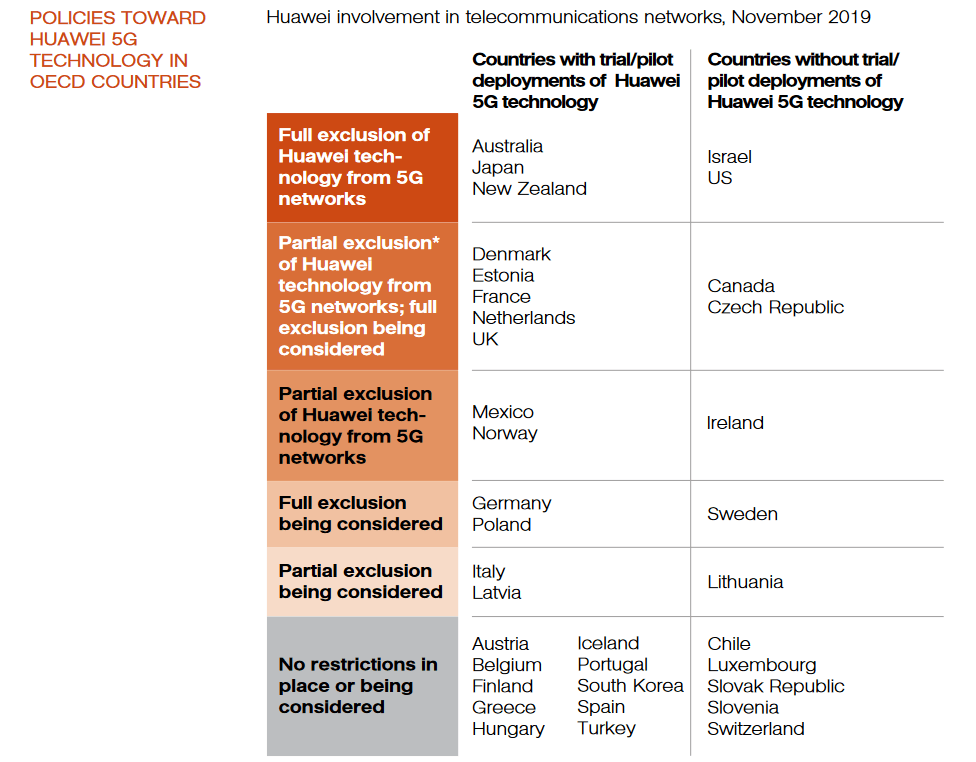 Policies toward Huawei 5G technology in OECD countries – Munich Security Conference 2020 report
"Turkey is a NATO ally, and we value that," Graham said. Turkey could "push NATO" not to let China pass through the gates into Europe. Huawei was a major issue. He thought Turkey should not let Huawei in if it wanted continued intelligence sharing and more trade; it was almost a threat. Turkey, which has still not banned the use of Huawei in government agencies, should push other NATO countries for that as well.
Not only Russia anymore
Only six months ago, there was one big problem before Turkey's desire for more trade with the US: the S-400/F-35 issue. It seems it is still the number one issue. And without it resolved, a remarkable boost in the trade volume is unlikely. But there are two more now: Syria and Huawei.
The S-400 issue is about Russia, the Syria issue is about Russia and Iran, and Huawei is about China. DC wants to force Ankara to pick a side, whereas Ankara doesn't want to put all its eggs in one basket in keeping its alliance ties with the US and NATO alive. But it's clear from the fact that Graham repeated those three points, three times in a half-an-hour video-conference. The post-COVID world will be a tougher one in political terms as well.