Hagia Sophia and Erdoğan: Why now? What is next?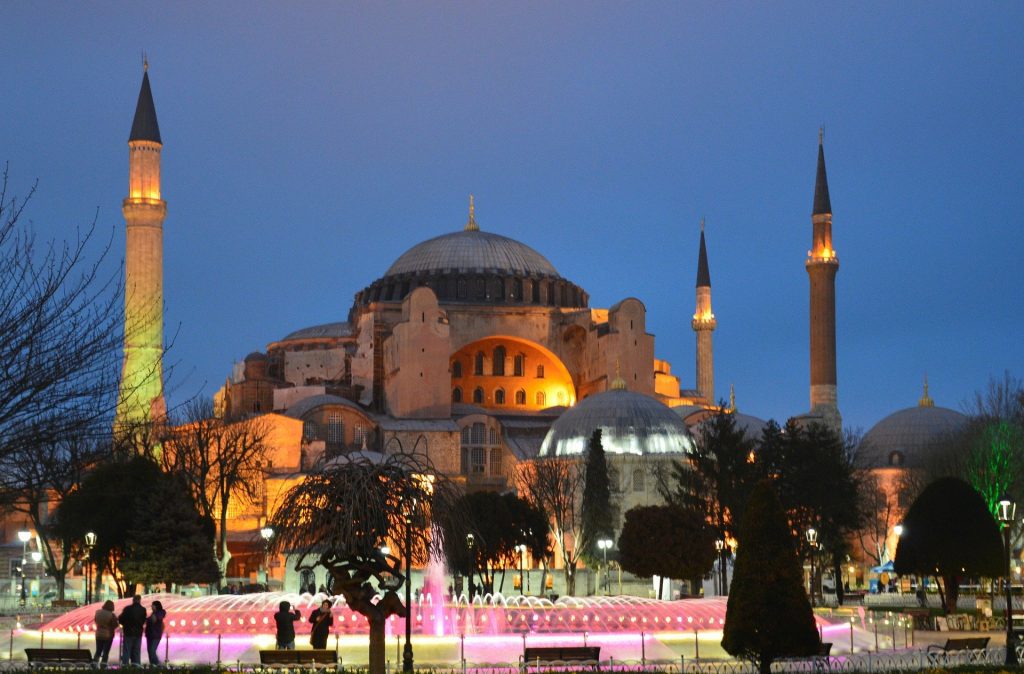 On July 10, the 10th Chamber of the Council of State declared that "it's the government that decides." Minutes later, President Tayyip Erdoğan issued the decree to reopen the Hagia Sophia to worship as a mosque. The date was set: July 24. This was a historically-charged decision. It meant annulling Mustafa Kemal Atatürk's 1935 decision to turn it into a museum after Fatih Sultan Mehmet converted it into a mosque in 1453.
Three main points came to the fore in Erdoğan's public address on the evening of that same day. The first was that this was a political goal on both Islamist and conservative/nationalist agendas since the 1930s. Secondly, this decision was a warning to the outside world: Turkey was exercising its right to sovereignty. The third and final point was a promise to preserve Hagia Sophia's World Cultural Heritage features. That meant the preservation of mosaics depicting Mary, Jesus, and the Seraphim; the UNESCO statement implied that Hagia Sophia could be off the World Heritage list. This final point, in reality, was a warning to the people, who in the joy of victory, might vandalize and destroy these works.
Parliamentary Speaker Mustafa Şentop best summarized the issue. "In my generation and the ones before," he said, "Hagia Sophia reopening as a mosque was always a cause." "It was our dream," he continued. "'Break the Chains, Open Hagia Sophia' was one of the principal slogans of our generation", meaning the generation of conservative and Islamist students in the 1960s and '70s.
A political analysis: Why now?
Not long ago, while addressing the public before the 2019 municipal elections, Erdogan silenced that slogan. "First fill the Sultanahmet mosque right in front of it; we won't fall for provocations," he had said. A few days later, on March 18, his words were even clearer during his three-channel live interview. Here is what he said:
"Overcoming these is not an issue for us. We can overcome it. But what's the payoff? (…) The toll for us [of reopening it as a mosque] would be much heavier. Let's not forget that we currently have thousands of mosques in many countries across the world. Do the people who say these things think about what would become to our mosques over there?"
"They don't understand the world or their interlocutors. But as a political leader, I haven't lost my way in this game (…) And that's why, we shall be sensible and careful, and not fall into this trap."
So what happened in-between in the past 15 months? The president who hadn't "lost his way in this game" and wouldn't "fall for provocations" now took s step that shook the outside world. So we need to look for what has changed in the meantime.
All politics is local
Three changes occurred in the meantime. 
President Erdoğan's ruling Justice and Development Party (AKP) suffered a serious defeat in the March 31 municipal election. The Istanbul repeat-election on June 23 was yet another defeat. And that was despite Devlet Bahçeli and his Nationalist Movement Party's (MHP) support. With the support of Meral Akşener's IYI Party, Istanbul and Ankara municipalities shifted from AKP to Kemal Kilicdaroğlu's Republican People's Party (CHP) led by. The opposition gained access to a wide range of voters for the first time in years. And this also deprived AKP of the advantages of having all municipalities under its thumb. 
The coronavirus epidemic worsened an already suffering economy. The decline in sectors like tourism and transportation made the entry of real money difficult. According to a MetroPoll research company survey, the public doesn't believe inflation and unemployment rates that the Turkish Statistical Institute (TUIK) announces. This includes AKP members.
In addition to the IYI Party, which affected MHP's voter base, two new parties from within AKP emerged. The Future Party (GP) led by former Foreign Minister and PM Ahmet Davutoğlu and the DEVA Party led by Erdoğan's former economy captain Ali Babacan. 
These three developments triggered a dissolution in the voter bases of both AKP and MHP. 
The Hagia Sophia move is a call upon the voter base:" stay, don't leave."
Reactions across the world
Truthfully, Ankara doesn't take the reactions coming from Athens very seriously. Greece could indeed hurt Turkey through the EU. However, Turkey's relations with the EU are already at rock bottom. And that is precisely why the EU won't burn the bridges with Turkey. The Ankara-Brussels relations have been on the "no, I won't be the one to reject" axis for the last ten years anyhow.
The US's reaction is serious. Donald Trump needs to take into account the anti-Turkey lobbies in Congress (including the Greek one) before the elections. But US-Turkey relations are grappling with such a plethora of big issues that Ankara thinks one other sanction won't make a difference. So it seems like an acceptable risk. Some rumors in Ankara suggest a new step that would enable Trump to soothe Congress on this issue could be underway. We'll come to that.
Russia's warnings and reactions are also serious; perhaps the most serious. The Turkish-Russian cooperation in Syria isn't in great shape. Furthermore, the two countries are in opposite camps in Libya. And meanwhile, the Turkish economy needs tourists coming from Russia. Erdoğan, who is in constant contact with Vladimir Putin, seems to have taken this risk too. In Erdoğan's perspective, the COVID-19 pandemic showed that those countries that are assumed to be all-mighty, were not that powerful; their leverage on Turkey were lesser than presumed.
What's next?
In this context, it's safe to say that every step Erdogan takes in the upcoming period will aim to reverse the dissolution of his voter base. Within AKP first of all, and then in its alliance with MHP. The Hagia Sophia move might appear successful viewed in this context. But there are two points worth noting.
The promise to open Hagia Sophia to Islamic prayer has been a major election propaganda tool for the Turkish right-wing. Now, it's ceased to be a promise and became a reality. And the tool now only belongs to the AKP, so they can say "we did it." Bahçeli and MHP could take some credit too.
But how long will the effect last? How much of the excitement generated will turn into actual votes? With no drastic economic improvement expected, will Hagia Sophia suffice to win the 2023 elections Erdoğan was so confident about?
Internal and external possibilities
Looking at it this way, we notice that the weather is ideal for Bahçeli to call for an early election. Before the reveal of the true scale of the damage the corona-virus has done to the economy, and before the Hagia Sophia craze wanes. If you ask me, it wouldn't be reasonable given the economy's current state, but it would just be one unreasonable thing amid many others. 
What about the exterior? There is a less common rumor circulating in Ankara. Erdoğan could, right now, allow classes to be held in the Greek Orthodox Clergy School in Heybeliada, Halki. And this could attempter the reaction coming from abroad. It's just rumors and the stakes aren't very high. But it's worth it to watch out.