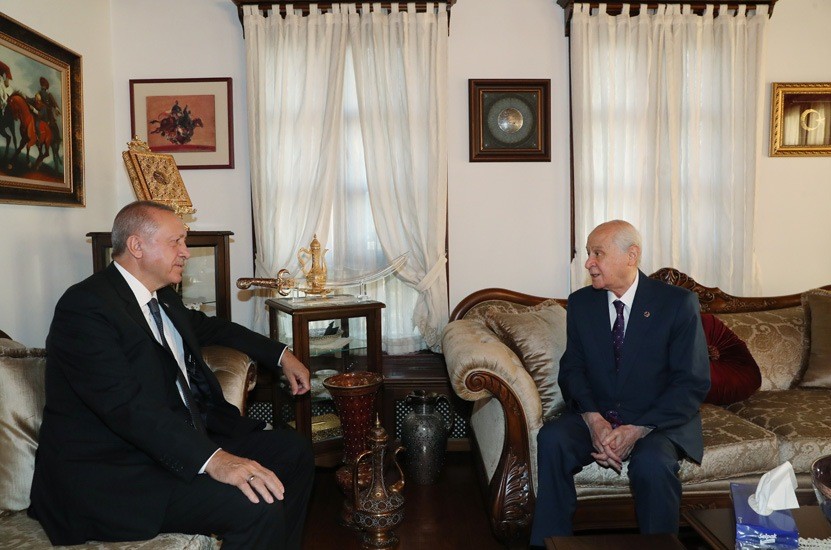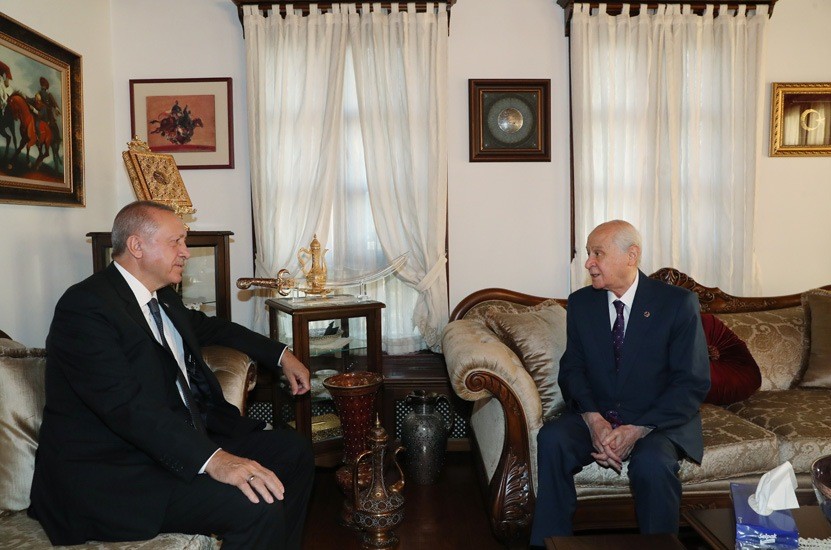 Devlet Bahçeli, leader of Turkey's Nationalist Movement Party (MHP) always gets what he wants. No, I'm not only saying this because of the release of Alaattin Çakıcı, an organized crime leader from jail in the framework of the partial coronavirus amnesty. Nor am I saying this because of the role Bahçeli played in rejecting Interior Minister Süleyman Soylu's resignation; I will nevertheless touch on these issues. What I'm trying to say is, even President Tayyip Erdoğan, the sole executive authority in the country, doesn't always get what he wants. But Bahçeli, somehow, can do so. And he was able to do so even before Erdoğan's ruling Justice and Development Party (AKP) had come into power. He was, in fact, the political actor that had triggered AKP's rise to power. Let's remember.
Halting the ruling to execute Öcalan
Abdullah Öcalan, leader of the outlawed Kurdistan Workers' Party (PKK) got captured on Feb. 15, 1999 during Bülent Ecevit's minority election government in a joint operation by the CIA and the Turkish intelligence MIT. After the election a triple coalition between Ecevit's Democratic Left Party (DSP), Bahçeli's MHP and Mesut Yılmaz's Motherland Party (ANAP) had been formed. After Öcalan was sentenced to death, the Turkish Grand National Assembly had to approve the sentence for execution. In the meantime, the EU had accepted Turkey as a member-state candidate at the Helsinki summit held on Dec. 10-11, 1999. The file had been sent to the European Court of Human Rights. With Bahçeli's vote, it was decided not to send the execution file to the parliament and to leave it on hold at the Prime Ministry. Death penalty was abolished afterwards.
2002 early election
Cracks were forming in the triple coalition. Kemal Derviş, who invited back to Turkey from the World Bank to find a solution to the 2001 financial crisis, and his reforms, were disturbing Bahçeli. The reforms had begun to yield results but the DSP was divided. Bahçeli suspected that Derviş, Yılmaz and Hüsamettin Özkan (Ecevit's right-hand man up until then) were plotting to oust him. On July 2001, Ecevit publicly criticized Özkan on live TV, in the program Mete Belovacıklı and I hosted. This triggered Bahçeli to break the coalition; he demanded early elections be held on November 3. In the election, the AKP came to power alone while the Republican People's Party (CHP) became the sole opposition power, with the leadership of Deniz Baykal. Bahçeli resigned upon seeing himself out of Parliament but his party elected him back as their leader.
2007: Gül's Presidency
President Ahmet Necdet Sezer's mandate was expiring in May 2007. The voting held in Parliament trampled on the 367-majority rule by a single vote. CHP took the matter to the Constitutional Court. On the same evening, on April 27, the General Staff published the "e-memorandum" which was perceived as "we don't want a president whose wife wears the headscarf". The government decided on an early election. But a single vote could once again disable the Parliamentary vote with the rule of 367. But with Bahçeli's support and with 411 votes, Gül got elected as the new President. MHP also backed AKP in the referendum on whether the people should elect the President.
2015 snap election
Erdogan and AKP lost their majority in the 15 June 2015 elections. The Kurdish-problem-focused Peoples'Democratic Party (HDP), for the first time, got more votes than MHP. As soon as the AK Party-CHP "Great Coalition" comments on television started, Bahçeli gathered the MHP staff and called for the renewal of the election at midnight. This call, which wasn't taken seriously at first, became reality. Elections were held on November 1, 2015, and Erdogan regained the majority of the Turkish Grand National Assembly.
2017 referendum
Bahçeli had previously claimed that Erdoğan couldn't become President without first "accounting for Dec. 17-25, 2013" the corruption probes were closed later on, because of being considered as a part of a conspiracy by the illegal network of the U.S.-resident Islamist preacher Fethullah Gülen. Following the failed coup attempt of July 15, 2016 indicted to be masterminded by Gülen, Bahçeli had a change of heart. The adoption of the rule of 50+1 percent of votes to be elected as President helped Bahçel to withdraw his objection against a "party-member President". Thus, Bahçeli and MHP were paving the way of having a say in executive powers without holding any responsibility. The results of the referendum on April 16, 2017, showed that without the support of Bahçeli, Erdogan could not be elected President.
Support to Soylu
In fact, Bahçeli's support to Interior Minister Süleyman Soylu, even before Erdoğan's decision on his minister's resignation, was not the first of such actions. Previously, in 2019, he had objected to criticisms raised from within the AKP towards Soylu and Minister of Justice Abdülhamit Gül, who are both AKP members, it was Bahçeli who gave full public support for them. Now on Apr. 12, 2020, he objected to Soylu's resignation and expressed his contentedness when Erdoğan declined the resignation. What else happened in those two hours? It'll come to light eventually, and we'll write about it. But at the end of the day, both Erdoğan and Soylu thanked him.
Discharge of crime leader
During amnesty discussions in 2018, Bahçeli had described Alaattin Çakıcı, who has been known as a mafia figure, leader of a crime organization, as a "victim of destiny, a patriotic, a nationalist comrade". He had visited him in prison hospital and expressed publicly that he wanted to see Çakıcı and company free. Çakıcı had been convicted of involvement in a large number of crimes including forced check debit collection as well as many murders and injuries including his wife (and daughter of another criminal leader Dündar Kılıç), Nuriye Uğur Kılıç. Furthermore, Çakıcı had a 10-month sentence for writing a letter full of insults and threats to President Erdogan, and not that kind of insults that was exaggerated by the prosecutors; real ones. But Çakıcı has been released on April 16, 2020.
Çakıcı goes out, Kavala stays in jail
Çakıcı, who has been involved with guns all his life, is discharged. Prominent civil society figure Osman Kavala, on the other hand, could not benefit from the new COVID-19 release law aimed at preventing the outbreak from spreading in jail houses. Politicians like Selahattin Demirtaş and Gültan Kışanak have also been left out of the new law's scope. Our journalist colleagues and I'm counting Barış Pehlivan, Barış Terkoğlu, Murat Ağırel, and Hakan Aygün to stand for all other as well, will possibly end up acquitted but are still kept imprisoned. This is happening despite Amnesty International's calling on world leaders to give priority to political prisoners. Yet when the European Parliament members says that "the Turkish government exposes its opponents to the danger of COVID-19", Erdoğan gets upset.
Bahçeli gets his way
Back to our subject. There are, of course, exceptions to the rule. It's not set in stone that any given thing won't happen if Bahçeli opposes to it. For example, he didn't want Mansur Yavaş to take Ankara, Zeydan Karalar to take Adana or Ekrem İmamoğlu to take Istanbul in the local election of March 31, 2019; all CHP candidates than and mayors now. He and Erdoğan objected to the Istanbul election and got it repeated. But İmamoğlu had a landslide victory, bringing the difference in votes from 13 thousand to 800 thousand. So yes, there were things that took place while Bahçeli didn't want them to happen. What are those things? Those things which he cannot control, like election results. That's why Bahçeli thinks he must keep himself and MHP close to the ruling parties one way or another. He has practically shackled Erdoğan with the 50+1 percent rule that he backed. There are instances where Erdoğan couldn't do whatever he pleased. But Bahçeli always gets his way.