And Turkish Eastern Front: Azerbaijan warning to Armenia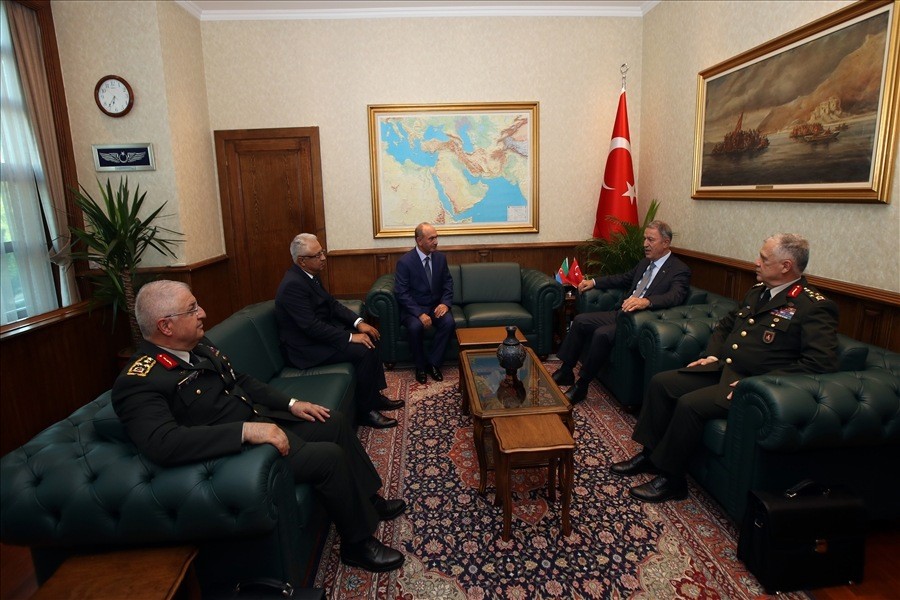 On the evening of July 16, the Turkish Grand National Assembly condemned Armenia for the attacks on the border with Azerbaijan with the joint statement of four-party groups and declared it was with Azerbaijan. A few hours ago, National Defense Minister Hulusi Akar, during a meeting with Azerbaijani Deputy Minister of Defense and Commander of the Air Force Ramiz Tahirov in Ankara, had said that Armenia would "pay for the conspiracy it has plotted." Two days before that, Turkish President Tayyip Erdogan had said that it was Turkey's "duty to accordingly mobilize" all of its political, diplomatic, and social" channels against Armenia's "reckless and systematic attacks" on "brother Azerbaijan". Thus, in addition to Turkish active military activity in Syria, Libya, Iraq and the Eastern Mediterranean, the recent attacks and following clashes have triggered Turkish messages implying military involvement along with diplomacy concerning its eastern borders.
How did it start?
Azerbaijan President İlham Aliyev's criticizing the Minsk Group because it is failing to find a political settlement to the ongoing Nagorno-Karabakh problem, also accusing Armenia of dragging its feet on July 6. Following that statement, there were reported troops build up along the border of the two Caucasian states. This tension turned into action on July 11-12, and a mutual artillery fire initiated by the Armenian troops in the Tovuz region have started, according to the statement of the Azerbaijani authorities.
In the clashes, Major General Polat Hashimov and Colonel Ilgar Mirzayev from the Azerbaijani army were killed along with 9 troopers. The statement by Baku that "more than a hundred" Armenian soldiers were killed by counter-fire was denied by Yerevan, who said that Major Garush Hambarjumyan and Captain Sos Elbakyan and two sergeants were killed.
Armenian troops occupied Azerbaijan's autonomous Nagorno-Karabakh region in the spring of 1993. Currently, one-fifth of Azerbaijan is under the occupation of Armenia; including regions other than Nagorno-Karabakh. To resolve this conflict, the United States, Russia, and France sponsored the Minsk Group (Turkey, Armenia, and Azerbaijan are also members), which so far couldn't come up with a solution. The reaction of the Prime Minister of Armenia, Nikol Pashinyan, to call Aliyev to negotiate with the self-declared "Atrash" administration established by the Armenians in the occupied Nagorno-Karabakh, caused the July 6 reaction of Aliyev.
Political tremors in Azerbaijan
Ankara describes the latest developments as "plots" and "provocations" of Armenia. Under these definitions lies the suspicion that Armenia wanted to see whether Turkey would refrain to enter a conflict in the Caucasus in addition to the conflicts that it has militarily involved in other fronts. Therefore, Ankara's ambivalence in helping Baku could have left Aliyev in a more difficult situation.
Aliyev, after Erdogan's message of support on July 14, gathered the council of ministers at the video conference on July 15 and criticized his long-time Foreign Minister Eldar Mammadyarov and the footage was were given to the media. Mammadyarov had to resign on July 16, and Ceyhun Bayramov was appointed instead. However, it is also known that Aliyev's deputy Hikmet Haciyev's influence on the foreign policy of Azerbaijan has been increasing. All of these names are from the generation after (İlham Aliyev's late father) Heydar Aliyev.
Sources suggest that Ilham Aliyev and his Vice President (and also wife) Mihriban Aliyeva also started using these developments as an opportunity to liquidate ministers and government officials from the time of Heydar Aliyev.
Russian President Putin wearing decorating Azerbaijan Vice President Aliyeva for her contribution to bilateral relations.

Photo: www.dikgazete.com
It is claimed that many senior civil servants were dismissed in Azerbaijan in recent months, and this process increased after Aliyeva met with Russian President Vladimir Putin in November 2019. Putin wore a medal to Aliyeva during their meeting for her contribution to Russia-Azerbaijan relations.
What's next?
At the moment the possibility of Turkey physically taking part in the conflict is very week. However, under the military cooperation agreements with Azerbaijan – may be similar to the case in Libya – there may be additional military advisory and material support. There are press reports that Turkish F-16s have started patrolling along its borders with Armenia and Azerbaijan
Russia-Turkey relations have an interesting situation here. Despite Turkey and Russia (together with Iran, also a neighbor of both Azerbaijan and Armenia) are members of the Astana Process in Syria, there have been serious confrontations as well. Erdogan and Putin are supporting opposite sides in Libya. It is also against the flow of life to assume that Moscow as the strongest supporter of Yerevan, was unaware of the recent move of Armenia on Azerbaijan. It is unthinkable to think that Turkey would remain neutral in a growing Azerbaijan-Armenia conflict, in the framework of the commonly used phrase "two states, one nation". On the other hand, such an escalation could bring Turkey, a member of the Western defense alliance NATO, confronting Russia on another front.
In any case, the tension along the border of Azerbaijan and Armenia forced Turkey to open a new diplomatic front. Let's hope the tension can be reduced and the conflict does not leap to the active military dimension on the Turkish Eastern Front.