A new perspective on Lebanon explosion amid conspiracies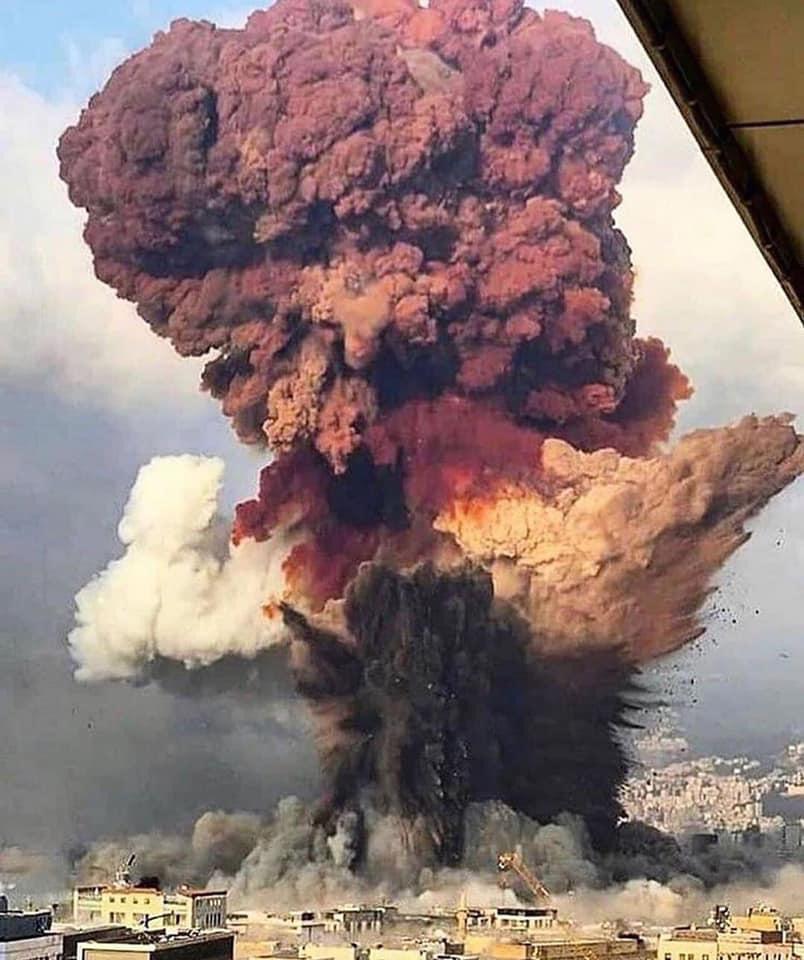 You have read news and many conspiracy theories since the Aug. 4 explosion in Beirut, the capital of Lebanon, including that Israeli or Chinese agents behind the explosion, Hezbollah weapons were stashed there or the fire started with rocket fire. I want to offer another perspective on what happened in Beirut.
Turkish Ambassador to Beirut Hakan Çakıl heard sirens in his apartment on the upper floors of a high building at around 6 p.m.
Looking through the window, he saw the fire in the port area, not very far, about 1 kilometer away. He didn't care much at the beginning, fire was not something uncommon in Beirut. But in a few minutes, the smoke turned reddish-brown and started to grow. Soon after, at 6.08 p.m., that terrible explosion took place. The ambassador's residence was damaged, he survived without injuries, but as late Aug. 7, 156 people died, more than 6 thousand people were injured, and 300 thousand people were displaced from their homes.
Fireworks factory triggered the explosion?
President Tayyip Erdogan said on Aug. 7 after the Friday prayers at Hagia Sophia that there was no evidence on the explosion. It was true. No evidence could be found. The warehouse where the explosion took place almost melted away, with the sea absorbing that part of the dock and creating a bay with a diameter of 100 meters. However, the latest information that reached Ankara gives weight to the scenario on fire in a fireworks factory (black fumes) in the port area reaching an ammonium nitrate storage (red-brown fumes). This scenario worked on by the Lebanese authorities, overlaps with the Turkish Ambassador's observation on black smoke turning into light, red-brown smoke. Of course, it can turn out that this might be a carefully planned sabotage, an attack, pretending to be an accident, but for the moment, the focus is on negligence. In other words, intended sabotage seems to be a remote possibility as negligence and carelessness seem more likely. It looks like we are watching live yet another example of what is described in Daron Acemoğlu's book "Why Nations Fail."
This scenario, if confirmed, will hit many conspiracy theories. One of these theories is that some 2,750 tons of ammonium nitrate there belonged to Hezbollah and learning about that, Israel detonated the warehouse.
Ammonium nitrate is an artificial fertilizer. It is used in agriculture. Only after certain chemical processes, it can be turned into a powerful bomb. Al-Qaeda used this material to make bombs in attacks on the Bet Israel and Neve Shalom synagogues in Istanbul on Nov. 15, 2003, and the HSBC building and the British Consulate-General on 20 Nov. 20, killing 59 people in total within five days and injuring more than 750.
So, for what other purposes could Lebanon, which is not considered an agricultural country and is de facto under the control of the pro-Iran Hezbollah, have stored 2,750 tons of fertilizer in the port of Beirut, which is dubbed as "Hezbol-port"? According to the latest information, Molodova flagged ship Rhosus, owned by Russian businessman Igor Greshukin, set off from the Batumi port in Georgia on Sept. 27, 2013, with ammonium nitrate on board. Its destination was Mozambique's Beira port. The ship berthed to the port of Beirut on Nov. 21, 2013, due to a technical breakdown. When it was understood that the ship could not sail in such a state, the cargo, which was considered as dangerous, was emptied and stored. Meanwhile, money problems arose between the buyer, seller and the agency, and both the cargo and the ship were abandoned. Since the beginning of 2014, ammonium nitrate has been held there without any measures.
Israel-Hezbollah-Iran-US
As soon as the explosion occurred, Israel said, "We didn't do it." Israel is a regime that prides itself on military attacks on its rivals. However, as if confirming Israel, Hezbollah said, "This was not an attack, we did not have weapons there."
However, this explosion -although not entirely clear in terms of its causes- seems to affect the political balances in the Middle East in terms of its consequences. First of all, Lebanon is almost completely under Iranian control through Hezbollah. Israel's attack in 2006 has a role in this. Hezbollah repelled the Israeli attack following the assassination of the Saudi-backed Lebanese Prime Minister Rafiq Hariri in Beirut a year ago. Since then, two seats in the Lebanese government have been reserved for Hezbollah.
The United States and France, which regards itself as Lebanon's guardian, force the Lebanese government to remove Hezbollah from the government and disarm it, overwhelming the country's economy, which is already in a bad situation, by sanctions threat.
However, this stance by U.S. politicians taken under the influence of the Israeli lobby ahead of the presidential elections in November does not have much meaning in the flow of life. Because the politicians in Lebanon do not have a sanctioning power over Hezbollah.
France's show of power
French President Emanuel Macron lost no time to travel to Beirut. He promised help, but also had a condition. He would come again on Sept. 1. It is the 100th anniversary of Lebanon's accepting the French mandate, breaking off from Turkey that was suffering under the Ottoman Dynasty rule at the time. Until then, Macron had been promising assistance and assuming the protection of the country if a moderate government capable of economic reforms and that could be accepted by the West could be founded. (In the meantime, let us remind that Bernard Emié, the head of the French intelligence agency DGSE, was the French ambassador to Beirut before he was the ambassador to Ankara.)
Macron's stance can be interpreted as "Form a government without Hezbollah." But it had little to do with the reality because even Prime Minister Hasan Diyab could keep his seat only with the support of Hezbollah. Eventually, Hezbollah leader Hassan Nasrallah reacted on Aug. 7, saying that "Thanks for the support from outside, but do not interfere with our business." It is seen that this explosion will shake Hezbollah and increase the pressure on it, and it will also squeeze Iran. Therefore, it is not realistic to expect that France, which sees Lebanon as the bridgehead in the Eastern Mediterranean and the Middle East, will easily abandon its claim.
Another war may break out
The explosion caught Lebanon not only in a political crisis but also an economic one. The hospitals which are currently trying to cure thousands of injured people have already been paralyzed due to the failure to pay doctors and nurses despite the Covid-19 outbreak. In Beirut, the city center is close to the port area, and the country's major business, finance, shopping, food and beverage centers have also been demolished. The grain storages in the port are destroyed by the explosion. Eyewitnesses say that the port cannot be used in this situation and has been damaged enough to be rebuilt.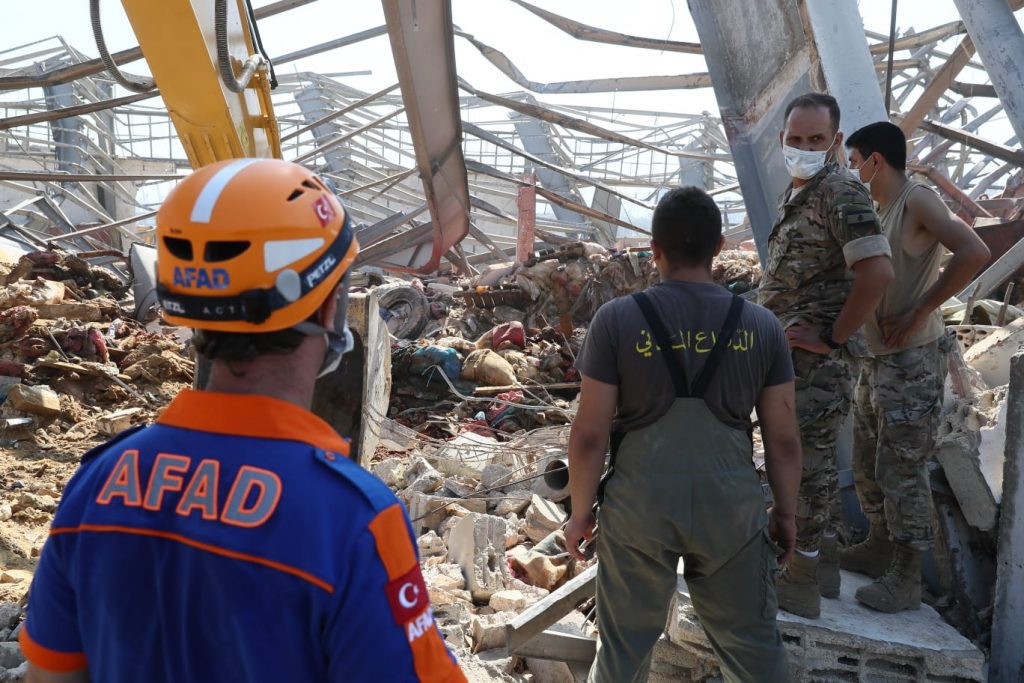 The extent of the damage is estimated at more than $10 billion. Visiting Lebanese President Mechel Avn on Aug. 8, Turkish Vice President Fuat Oktay and Foreign Minister Mevlüt Çavuşoğlu have offered the country to use Turkey's Mediterranean port of Mersin until the Beirut port could be used again. That's a helpful gesture, though carrying goods for Lebanon from Turkey through Syria by road could have complications. (*) It is not a good sign for the future of Lebanon that countries such as the U.S. and France require the cleansing of Hezbollah – which has become a reality of the country over the years – as a condition for aid. If this compulsion continues, we might witness yet another war in Lebanon.
(*) Updated on Aug. 8, 2020 at 17:54.