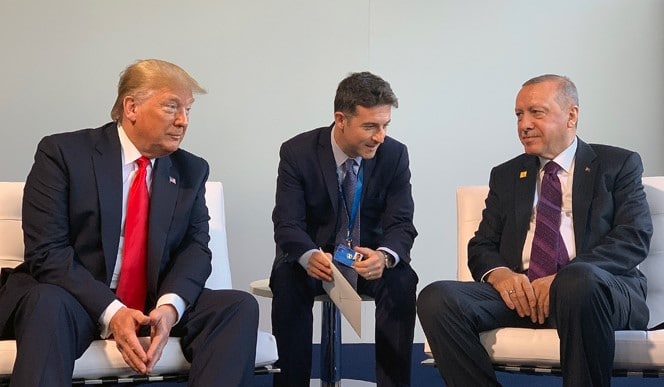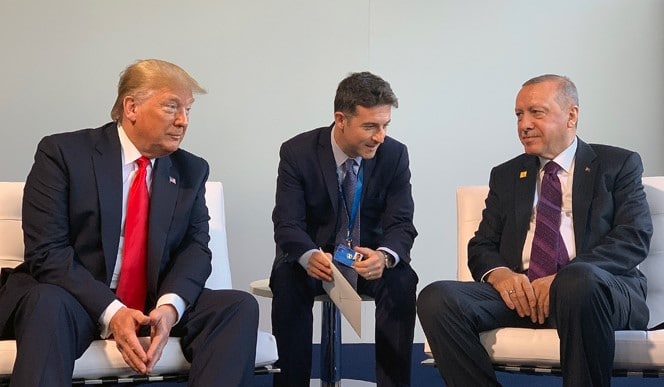 The recent book "Rage" by American journalist Bob Woodward, one of the two journalists who had exposed the famous Watergate scandal, wrote that U.S. President Donald Trump knew the terrible impact of the Covid-19 epidemic but hid it from the public under the pretext of "not demoralizing" the people. Trump, on the other hand, said Woodward had been interviewing him for a long time and although he told him about this at the beginning of the epidemic, he did not write about it and kept it for his book to increase the sales.
Some parts of the book are about Turkey and its President Tayyip Erdoğan. When asked by Woodward about how he made foreign policy decisions Trump says on Jan. 22, 2020:
• "I asked Trump about his decision making in foreign policy. He told me he was working with the Turkish leader on the war in Syria. 'I get along very well with Erdogan, even though you're not supposed to because everyone says 'What a horrible guy,' Trump said. President Recep Tayyip Erdoğan is a repressive leader with a terrible record on human rights. 'But for me it works out good. It's funny, the relationships I have, the tougher and meaner they are, the better I get along with them.'"
Trump doesn't like 'the easy ones'
According to Woodward, Trump continued as follows:
• "But maybe it's not a bad thing. The easy ones are the ones I maybe don't like as much or don't get along with as much."
Trump recently said this in different words, adding that some world leaders called him and told that Erdoğan would only listen to his words. How we have that word of "horrible."
Perhaps an emotional rhetorical viewpoint that has reached to the point of "one against all" from the precious loneliness" thesis of İbrahim Kalın, the Chief Advisor to Turkish President Recep Tayyip Erdoğan and Deputy Director of the Council on National Security and Foreign Policy, might fancy what I quoted above. That would please those who would conclude that way but I have to quote another section from the book, which is also problematic for Turkish foreign policy.
Woodward also spoke with Senator Dan Coats, who was the director of National Intelligence (not the CIA but the umbrella organization of the U.S. intelligence) from 2017 to 2019.
The journalist quotes him as saying:
• Key leaders such as [Russian leader] Putin, Xi of China and Erdoğan of Turkey would lie to Trump. They played Trump skillfully. They would roll out the red carpet for him, flatter him, then do what they wanted."
Bragging about what is 'horrible'
In these words of Coats, of course, lies his regret due to the fact that the U.S. can no longer have everyone do whatever it wants as in the 1980s and 90s. On the other hand, it is possible to say that what he said is partly true.
For example, Erdoğan did not step back from buying Russian S-400 missiles despite an unacceptably arrogant letter by Trump, who said "Don't be a tough guy" and "Don't be a fool" to him, and the fact that he seized Turkish F-35 fighter jets that were produced in the U.S. as part a project also contributed by Ankara.
Besides, in the face of Erdoğan's move to release U.S. pastor Andrew Brunson as part of political bargaining, Trump kept saying "I will wipe out his economy if … I've already done it once with Pastor Brunson." He continues to protect Fethullah Gülen, who is accused of being behind the coup attempt of 15 July 2016, in the U.S. On the Syrian issue, a safe zone agreement was made, but the PYD/YPG, the Syrian arm of the outlawed PKK, still controls a large region and is also in a flirting with Russia. In the Eastern Mediterranean, it is not only Greek Prime Minister Kyriakos Mitsotakis but also President Erdoğan who is seeking Trump's mediation.
Diplomacy with emotional rhetoric of domestic politics
So unfortunately Coats is not totally right about the level of "they do what they wanted."
Namık Tan, Turkey's former ambassador to Washington and Tel Aviv, penned a strong article titled "Loneliness diplomacy", listing the shortcomings of Turkish foreign politics in five items. He analyzes the consequences of conducting foreign policy, practiced in line with the needs of domestic politics and its emotional rhetoric, and by excluding the expertise of the Ministry of Foreign Affairs, I would advise that article to readers who are interested in the issue.