Reconciliation with Greece, EU good for Turkish economy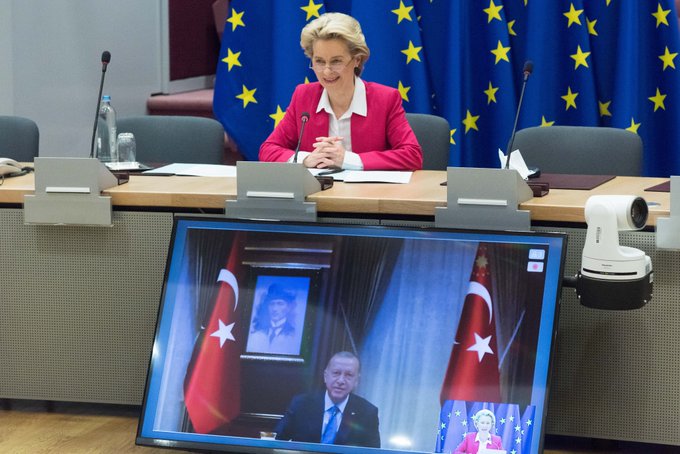 Easing relations with Greece and the European Union (EU) through diplomatic reconciliation would not heal an economy that is facing other serious problems, but consensus might give a sigh of relief if corrective steps are intended. The U.S. dollar trades over 7.7 per lira as the euro stands near 9 liras. The U.S. Ambassador to Ankara, David Satterfield, has warned Turkey that "If you do not pay your debts, our companies may stop sending medicines," a move that comes at a time of Covid-19 pandemic.
Under such conditions, the delay of the Sept. 24-25 EU summit where relations with Turkey would be discussed to Oct. 1-2 offers a unique window for diplomacy if it used correctly.
And we have witnessed intense diplomatic traffic in the last few days. This was possible after Turkey did not renew on Sept. 12 a Navtex issuance for the natural gas research activities of Oruç Reis drilling ship under the guidance of warships south of Cyprus. The drilling ship returned to the Antalya port. The contact between Turkish President Recep Tayyip Erdoğan and Spanish Prime Minister Pedro Sanchez on Sept. 11 might be seen as the start of this last diplomatic process.
Oruç Reis a turning point
Turkey and Spain are the two NATO members on both ends of the Mediterranean. They are partners in the U.S.' strategic Missile Shield project. Spain -along with Italy and Portugal- had stood against a decision to impose sanctions on Turkey at the Sept. 10 conference of the EU-member Mediterranean countries, leaving France, Greece and Greek Cyprus alone.
In fact, Ankara announced the decision to call back Oruç Reis – "for maintenance," according to Foreign Minister Mevlüt Çavuşoğlu only after the French initiative to impose sanctions on Turkey was prevented. After Greek President Katerina Sakellaropoulou did not cancel her visit to the Greek island of Kastelrosso (Meis) on Sept. 13, Turkish Defense Minister Hulusi Akar and other chief commanders went to Kaş across the island the same day. This was the peak of the tension. However, after Greek Prime Minister Kyriakos Mitsotakis said in an article published in The London Times, Frankfurter Allgemeine Zeitung and Le Monde newspapers that ""We do need dialogue, but not when held at gunpoint," Oruç Reis went under maintenance and did not sail again.
The first EU leader to call Erdoğan after that decision was Italian Prime Minister Giuseppe Conte on Sept. 15.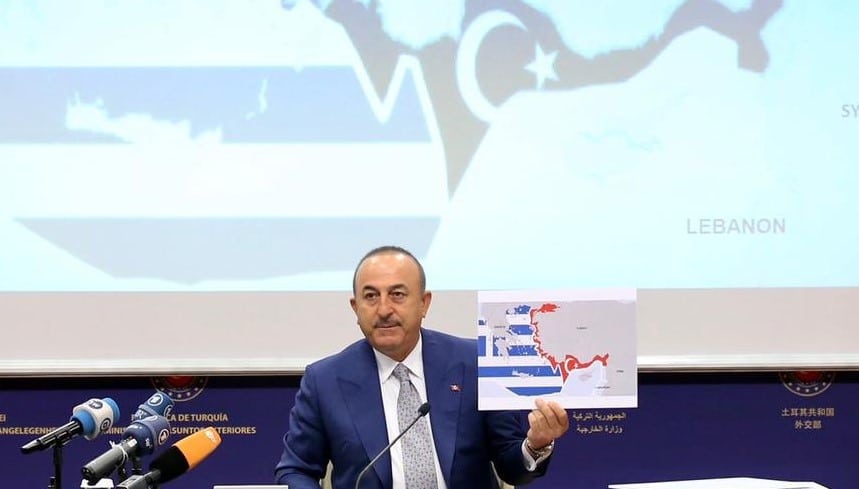 Accelerating diplomacy
The Italian prime minister was followed by German Chancellor Angela Merkel on Sept. 16, and Spanish Prime Minister Sanchez and European Council President Charles Michel on Sept. 17.
Meanwhile, the start of "technical talks" between Turkey and Greece on issues including the continental shelf –an issue previously rejected by Athens– was announced as an initiative by NATO Secretary-General Jens Stoltenberg.
After Erdoğan repeated on Sept. 19 that "We are open to dialogue," the diplomatic traffic jumped to a new level.
On Sept. 22, a triple video conference was held between Erdoğan, Michel and Merkel. In all of these talks, the Libya issue was also on the table as a matter of Eastern Mediterranean and migration. On Sept. 17, Libyan Prime Minister Feyiz al-Sarraj announced that he would resign to give space for a new compromise by the end of October. Developments in Libya, where Germany is the mediator, also played a role in Erdoğan's decision. The decision to postpone the Sept. 24-25 meeting of the European Council (on the grounds that one of Michel's security guards was Covid-19) was announced after the Michel-Merkel-Erdoğan talks on Sept. 22.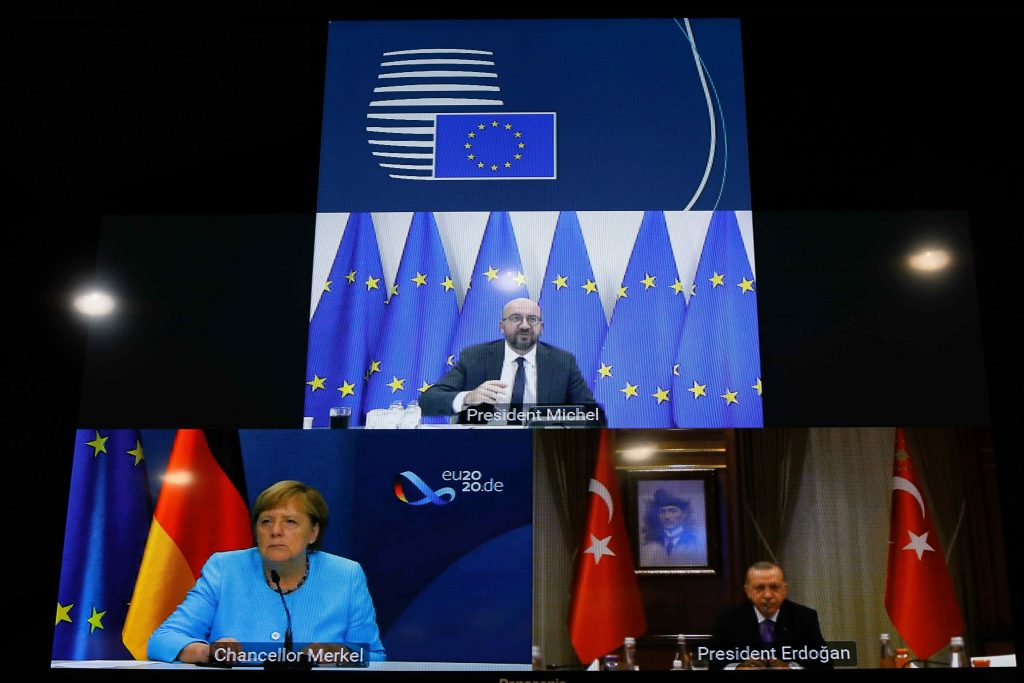 Signs of reconciliation
Erdoğan and Macron talked on the same day; this was the first contact since the start of the crisis. Despite a duel of words that amounted to mutual insults a week ago, the emphasis on dialogue came to the fore after this meeting.
On Sept. 23, Erdoğan had a video conference with European Commission President Ursula von der Leyen. Unlike the other talks, it was announced after this conference that beyond the Eastern Mediterranean and migration issues, strengthening EU-Turkey relations was on the agenda, which is an important development.
Still on Sept. 23, the NATO Secretary-General met Erdoğan. Following this meeting, it was announced that the "exploratory talks" between Turkey and Greece would restart after a four-year break.
YetkinReport readers are familiar to the opinion that the Turkey-Greece tensions would not amount to a conflict, which is contrary to what the pro-government media have been propagating. Still, tensions in the Eastern Mediterranean played a role in adding to Turkey's economic and financial difficulties.
It is not surprising that both Turkey's credit standing and the value of its currency depreciated as a result of the fact that European investors have avoided the country due to the constant conflicts with the EU in almost all key issues.
An opportunity not to be missed
Now there is a compromise opportunity. This might also be a turning point for a recently popular view that Turkey can only express itself with military power in even the issues that it is right, such as the Eastern Mediterranean issue. But such change is possible only if Erdoğan quits challenging seven nations constantly for the sake of domestic political gains.
The issue is no more about Turkey's accession to the EU, for Ankara, it is about keeping ties with the EU, so the Western democracies.
This is important for Turkey (and those who hope that the quality of political and economic democracy in Turkey will improve), as well as the EU, which faces a migration threat, and all the Eastern Mediterranean and Middle Eastern countries.
The withdrawal of Oruç Reis on the grounds of "maintenance" was criticized as a "compromise" by the main opposition Republican People's Party (CHP) and the other opposition parties. There is no consensus without compromise, the key point is avoiding a one-sided compromise and not harming the national interests.
Compromises are among the essential elements of a safe investment environment in international relations. For this reason, the latest reconciliation would not solve Turkey's economic problems but can offer some space. Otherwise, the economy has structural and severe problems that cannot be solved only by diplomatic consensus.