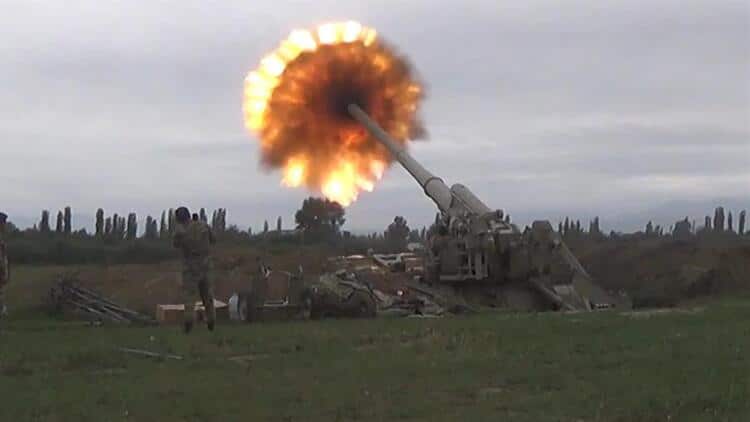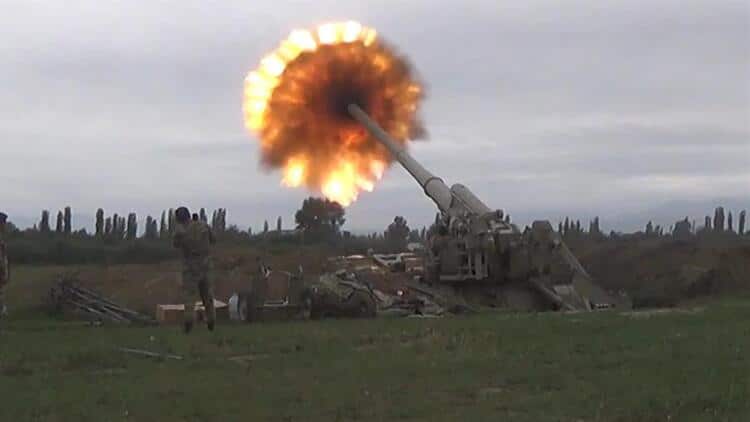 While the Azerbaijan-Armenia conflict worries all the countries in the region, calls for negotiations remain in the shadow of the news from the field.
On Sept. 30 he Azerbaijan Foreign Ministry claimed 2.300 casualties on the Armenian sides, also saying that it destroyed around 130 tanks and armored vehicles, more than 200 artillery and missile systems, approximately 25 air defense systems, six command management and observation zones, five ammunition depots, nearly 50 anti-tank weapons and 55 cars in the first four days of the clashes.
Neither of the two sides responded to the United Nations Security Council call to resume talks without preconditions.
What is more, the nature of a possible negotiation table is obscure. The Minsk Group, an OSCE initiative, has lost its credibility on both sides. Russia had ended the fighting in July but this time Moscow is not in a hurry, rather practicing a wait and see policy.
Why doesn't anyone come to the table?
Azerbaijani leader Ilham Aliyev said in a statement to a Russian channel that his country was in favor of talks, but that the Armenian side violated the process. Aliyev said on Sept. 29 that "The Armenian prime minister publicly declares that Karabakh is Armenia, period. In this case, what kind of negotiating process can we talk about?"
On Sept. 30, he said Baku's sole precondition to halt clashes was the withdrawal of the Armenian army.
Earlier today, Turkish Foreign Minister Mevlüt Çavuşoğlu said at a session with Turkey's Anadolu Agency editors that "Armenia is saying that it does not want the problem to be solved through diplomacy."
He also said that Turkey's support to Azerbaijan is real, and Ankara is carrying out diplomatic talks with related countries, including Russia. "We have said that if Azerbaijan wants to resolve the issue on the ground we will stand by it. If Azerbaijan asks for it, we will do what is necessary. Still, we see that it Azerbaijan has the ability to liberate its occupied lands by itself."
Armenian Prime Minister Nikol Pashinyan insists on defining the issue as a matter of "existence," claiming "self defense of the Armenian people."
All these statements show that neither of the fighting parties will take steps for a resolution on their own will.
Turkey's Çavuşoğlu questions the source of Armenia's courage. "We ask it to everyone, this is what we also asked" Lavrov, he said, referring to the Russian Defense Minister.
Kremlin spokesperson Dmitri Peskov, for his side, said "We call on all countries, especially our partners such as Turkey, to do everything to convince the opposing parties to cease fire," pointing to the need for a diplomatic resolution. It would not be far fetched to say that Turkey and Russia are facing new tensions over the issue and a deeper bargaining is going on between the two countries.
Jet-downing claim did not work
In such a tense environment, Armenia made a move to broaden its front by pushing Turkey in front of Russia by claiming that a Su-25 jet was downed by a Turkish F16. However, it failed to convince international news outlets in the lack of evidence.
Aliyev said Turkey is not involved in the fight and no Turkish F16 fighter jets were on the field.
Turkish Presidential Communications Director Fahrettin Altun denied the claim saying that "Armenia should immediately withdraw from territories it occupied instead of resorting to such cheap propaganda tricks."
This was followed by Azerbaijan claims that two Armenian fighter jets were down after they hit the mountains.
Armenia was also not insistent on the claim but further moves to pit Russia against Turkey may come if clashes linger.
In the statement by the U.N. Security Council, of which Russia is a permanent member, it was warned that the clashes "could spread beyond the region." However, today the parties are in the farthest possible position to the table.
Eastern Mediterranean letter to EU
And comes the Eastern Mediterranean letter of President Recep Tayyip Erdoğan to EU members excluding Greek Cyprus came under such circumstances.
"I would like to emphasize once again that we are ready for dialogue with Greece without any preconditions," read the letter, also underscoring that "Turkey has supported from the outset an initiative led by NATO Secretary-General Jens Stoltenberg for de-confliction among naval and air vessels to reduce tension."
Reducing tensions in both issues is in favor of Turkey's national interests. So is not confronting Russia yet in another issue.
Since it will take years to extract the natural gas finding in the Black Sea, which was announced by the government last month, and since the Eastern Mediterranean countries are still far from a deal for fair sharing of probable energy resources, peace on both issues is important for Turkey also in terms of energy security. 
On the one hand Russia is energy-dependent Turkey's dominant natural gas supplier, and on the one hand peace in Azerbaijan is more important than ever for Ankara due to the TANAP project that alternates the Russian resource with Caspian gas. Without affordable gas, "strong industries, strong production" that Treasury and Finance Minister Berat Albayrak prioritized to a stronger Turkish Lira after an economy program meeting on Sept 29 would be unachievable.
Thus, a positive outcome from the Nov. 1-2 European Council meeting where Eastern Mediterranean disputes are expected to top the agenda, is crucial for Turkey and Ankara seems to be aware that the opposite might trigger new risks against it.