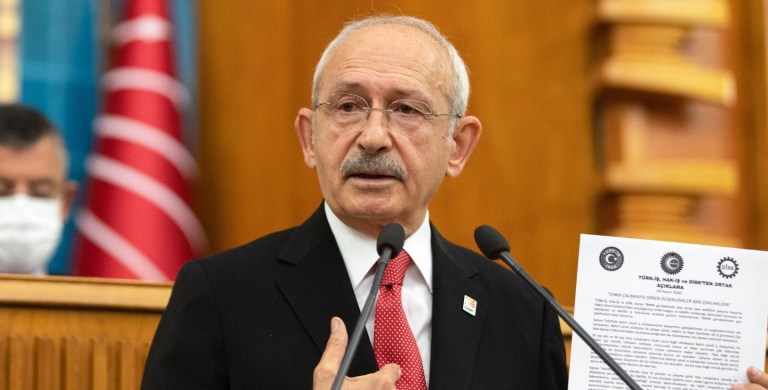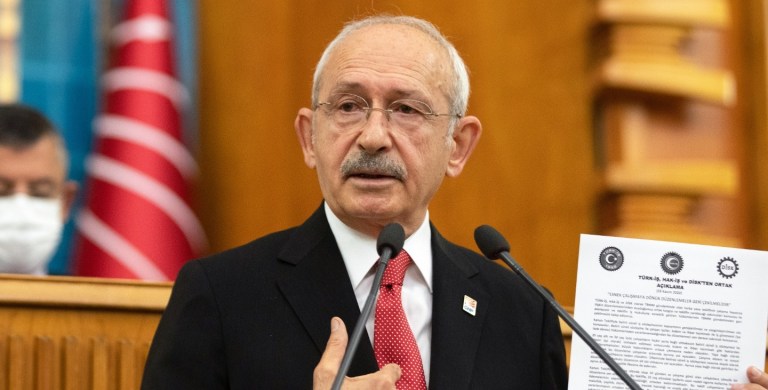 President Tayyip Erdogan's targeting of main opposition Republican People's Party (CHP) leader Kemal Kılıçdaroğlu has reached an alarming level. Erdoğan's efforts to expel Kılıçdaroğlu, his leading political rival, out of politics should not reach a level that would endanger his security.
And I'm not just talking about his silence to insults and threats of criminal organization leaders to the CHP leader. I am not just talking about his silence to the demand by the Nationalist Movement Party's (MHP), his ally, to leave Kılıçdaroğlu out of Parliament and imprison him. He uses every opportunity to turn Kılıçdaroğlu, the Turkish political leader who has suffered from physical attacks the most, into a hate figure at the expense of putting his life into danger. He's doing wrong.
Now, there are allegations that Kılıçdaroğlu will be killed and Istanbul Mayor Ekrem İmamoğlu will replace him. It is like we are reading passages from the psychological warfare handbook of the CIA from 1970s. Journalist Fikret Bila says in his article "The Politics of Extortion" that this is a systematic campaign. Kılıçdaroğlu told in an interview with Murat Sabuncu from T24 news portal on Dec. 4 that his and his family members' phones are being tapped and monitored, this shows the level of the danger.
 Bid to split Kılıçdaroğlu with the Kurdish voters?
Until recently, the ruling Justice and Development Party (CHP) and MHP's had a joint target: to disrupt the Nation Alliance of the CHP and İYİ Party. Because this alliance policy defeated the People's Alliance of the AKP and the MHP in the 2019 local elections. And MHP leader Devlet Bahçeli still gained in that election, increasing the number of mayors from his party ranks.
As the Nation's Alliance did not break, then the AKP started seeking cracks inside the CHP and İYİ Party separately, hoping to grow such cracks.
And it targeted the two parties' Istanbul branches, where the People's Alliance suffered the heaviest defeat. Is it a coincidence that the allegations about CHP İstanbul Provincial Chair Canan Kaftancıoğlu and İYİ Party İstanbul Provincial Chair, Buğra Kavuncu, in addition to İmamoğlu have been heated up? If there is a crime, it should of course be investigated, and whoever is guilty should be punished.
However, it is seen that Erdoğan, Bahceli and the media in line with them are pushing hard on the CHP and İYİ Party to draw the Peoples' Democratic Party (HDP) into the game. The suspicion grows that their real aim is to prevent the escape of the Kurdish voters from the AKP, since they were decisive in the Istanbul election.
If something happens to Kılıçdaroğlu …
Still, all these were within the boundaries of a harsh political game. But demonizing Kılıçdaroğlu and doing this by even bringing forth his Alevi roots, has become dangerous.
We live in a country with a large population of frustrated, unemployed and uneducated people. Whoever behind this recent campaign is doing wrong. And the recent security threats are way more serious than a Twitter campaign of nationalism at the start of the year.
President Erdoğan, who gathers all the executive power in his hands thanks to Bahçeli, is responsible for the safety of all of us. However, Kılıçdaroğlu should be the citizen he should pay the most attention in terms of life safety and well-being. Yes, this is important for maintaining the principles of pluralist democracy and the secular rule of law, but it is also important as an issue of national security. I think Defense Minister Hulusi Akar, National Intelligence Organization (MİT) chief Hakan Fidan and Interior Minister Süleyman Soylu should and will be sensitive in this regard.