And Biden era starts: what will his first act on Turkey be?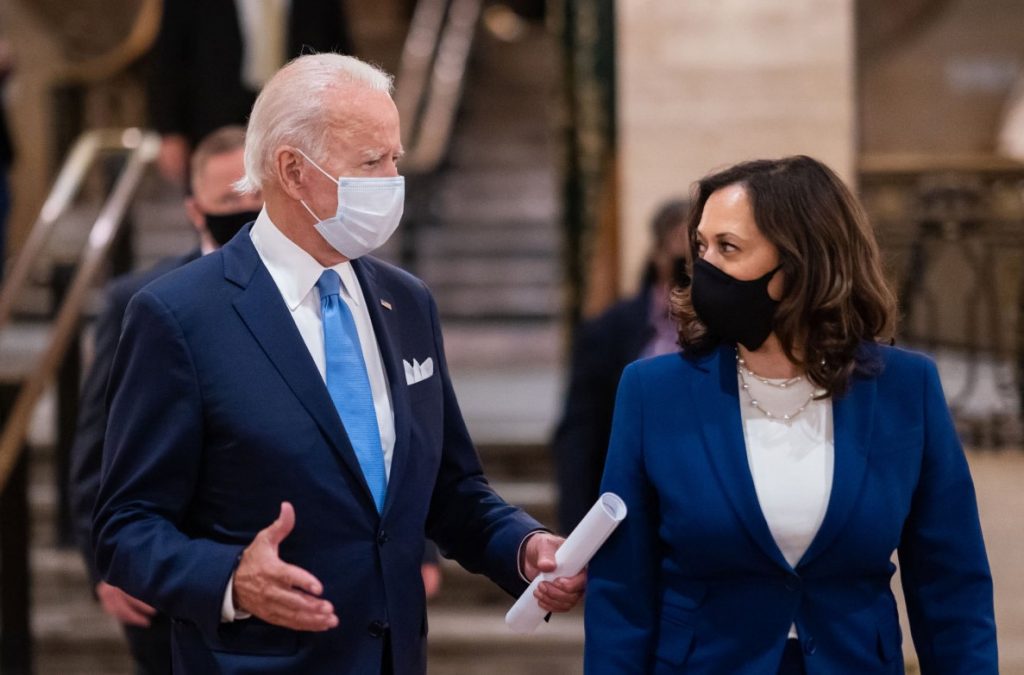 Joe Biden took office as the 46th president of the United States, at a ceremony a few hours after Donald Trump left the White House without attending the handover ceremony. Biden was calm and gave a calm speech, unlike the supporters of Trump who raided the Congress. Perhaps his sharpest expression was that he considered white racism as terrorism and promised to fight back. The happiness of Kamala Harris, the country the first woman and first black vice-president of the country who grew in economic troubles as a migrant child, while taking the oath as a troubled immigrant child. Biden's first act came a few minutes after the inauguration ceremony.
Biden sat down at his desk and began signing files one after another. His first signature was to stop the construction of the wall Trump started to build on the Mexican border. With his second signature, he lifted Trump's travel ban from Muslim countries. With his third signature, he returned to the Paris Climate Agreement, which Trump signed. He then took the United States back to the World Health Organization, updated the country's plan to combat Covid-19 pandemic, signed two decrees to ensure race and gender equality in government organizations, and stopped all last-minute decisions made by Trump.
Single sentence on foreign policy of Biden
The focal points of Biden's 17-article initial action list were public health, environmental health and steps to reinforce the sense of unity in society. In his election campaign, he had set his first goal as "renewing" democracy in the U.S. "We learned again that democracy is precious," he said in his speech, recalling the Congress raid.
In almost every country of the world, those who watched Biden's oath speech also wanted to hear something about U.S. foreign policy. However, in Biden's speech, there was only one message that directly touched on foreign policy: "We will repair our alliances."
This was actually an intense message. It was understood that Biden was aiming to regain allies offended by Trump in both the Europe-Middle East and the Pacific-Asia regions in his struggle with China and Russia. There is the ASEAN alliance in the Asia-Pacific region; the key U.S. allies in that region are Japan, South Korea and Australia. Half Indian (half Jamaican), Harris will try to bond more closely with India. It is no secret that Biden has been a "Europeanist" for all along, and when one says Europe, the NATO alliance comes to mind.
Turkey's positioning in strategy map of Biden
On Biden's strategy map, Turkey is holding place as a NATO member. Unlike Trump who despises NATO and its European allies at every opportunity, the new U.S. administration wants to strengthen relations with NATO. NATO was founded against the Soviet Union after World War II. Turkey was included in the Alliance in 1952 together with Greece in order to prevent Soviet Union to reach the Mediterranean Sea. The Soviets were formally disintegrated in early 1992, but Russia remained the main enemy for NATO.
Turkey is still considered as a balance weight against Russia in the region. It is possible to look at the examples of Syria, Libya, Azerbaijan and the Black Sea-Ukraine from this perspective. On the other hand, Turkey also has been in close cooperation with Russia. The U.S. Congress has taken Turkey within the scope of the CAATS sanctions for purchasing S-400 air defense missile systems from Russia. The biggest sanction was excluding Turkey from the F-35 fighter jet program and not delivering the jets that Turkey had already paid for.
It is natural for President Tayyip Erdoğan to think that Biden will continue to use the sanctions as a weapon against Turkey just like Trump did.
Troubled days are ahead
Ankara has taken a defensive position. "We want to return to the F-35 program, but we can not give back the S-400s," said Defense Minister Hulusi Akar recently, asking the U.S. administration to "understand" Turkey, which indicate the extent of the problem.
On the other hand, most key members of the team Biden knows Turkey closely, although not most of them are sympathetic to Turkey. And this includes Biden himself. State Secretary Tony Blinken said before taking the helm that Turkey is a "so-called strategic partner." National Security Adviser Jake Sullivan, Defense Secretary Lloyd Austin, the Middle East and North Africa Special Representative Brett McGurk are the leading members of the U.S. administration who have prejudice to the Erdogan administration.
One of the biggest problems might arise in administration philosophy and working methods. Erdoğan wants all key issues to be addressed at the leadership level, to be brought directly to him. Biden says he believes in a state of institutions, which means that he will give the initiative to his ministers and key team members. Both the S-400-F-35 issue and the differences in understanding of administration show that hard times are ahead of Turkey in relations with the U.S.
It is not a surprise if Biden's first act on Turkey will be on the S-400-F-35, which also concerns NATO.
This is a new era.