Good news for Erdoğan about Biden's call: At some point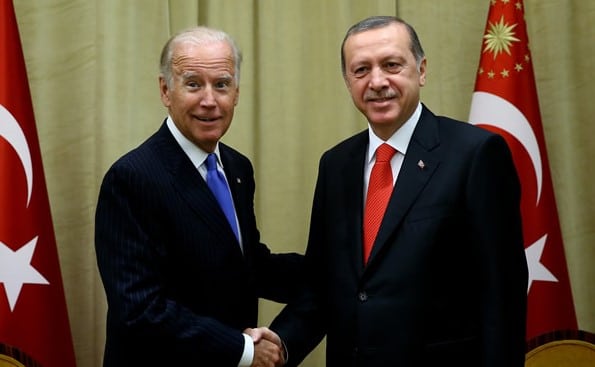 President Tayyip Erdoğan's expectation from U.S. President Joe Biden is not limited to a phone call as he actually wants to go back to the good old days when he was hosted by Donald Trump and make statements starting with "My friend Biden," as if there weren't any problems between the two countries. He wants to expand the issues over time, even if they are not resolved, by bargaining with the U.S. president, just like he used to do with Trump. But Biden has not even called him yet.
Fortunately, the anticipated good news came on March 5 when a journalist asked White House spokesperson Jen Psaki:
-It's interesting that the President, in all his calls to world leaders, has not called President Erdoğan yet. Does he plan to make a call like that, or is he going to operate with backchannels to Ankara?
– Certainly, the President has many global leaders — world leaders he still needs to call, and he will venture to do that in the coming weeks and months.
– So he will call President Erdoğan?
– I'm sure, at some point.

Although there was been no sound from Biden, his spokesperson finally spoke: He would call "when needed".
Leaders that Biden has called
Let's see who has Biden called since he took office on Jan. 20? The fact that his first contact was with U.N. Secretary-General Antonio Guterres, shows that Biden wants to attach importance to institutional relations on the contrary to Trump. His second call was to Tedros Ghebreyesus, the head of the World Health Organization, indicating that he eyes a return to the organization that Trump abandoned in the middle of the covid pandemic.
Then it was the world leader's turn to receive phone calls from Biden. It is natural that he prioritized Canadian leader Justin Trudeau and Mexica's Manuel Lopez Obrador, since they are neighbors.
Then the closest allies were lined up: British Prime Minister Boris Johnson, French President Emmanuel Macron, German Chancellor Angela Merkel. NATO Secretary-General Jens Stoltenberg, Russian President Vladimir Putin, Chinese Presidents Xi Jinping, Japanese Prime Minister Yoshihide Suga and European Commission President Ursula von der Leyen are also on the list. And others? South Korean leader Moon Jae-in, Israeli Prime Minister Binyamin Netanyahu, Saudi Arabian King Salman bin Abdulaziz. Then came calls to Iraqi Prime Minister Mustafa al-Hadimi, Kenyan President Uhuru Kenyatta, Guatemala Alejandro Falla…
So why isn't he calling? Is it because of the S-400s?
What is Biden waiting for to respond to Erdoğan's message, why does he not call?
As the U.S. House of Representatives members told Biden in a letter on Feb. 26, one reason is that a new policy on Turkey is yet to be determined.
Another reason is that "a need to call him" has not been felt yet as Psaki put it.
On the one hand Biden is under Senate and House of Representatives pressure to push Tiirkeye further, and his body language tells Erdoğan that "I have told you what I want, and it is your turn to speak."
The quality of democracy and human rights issues in Turkey has also been added to it but the real issue is about Ankara's purchase of Russian S-400 missile defense systems.
Moreover, Defense Minister Hulusi Akar had said Turkey wants to return to the F-35 program that it was expelled from due to the S-400 slit and that Ankara could negotiate the S-400 issue with the U.S. but later, the president's spokesperson İbrahim Kalın tried to ignore these words, saying that the statement was "distorted,"
Of course, these developments are closely monitored in all embassies in Ankara, especially in the U.S. and Russian embassies.
That is why the phone from Biden is important.
Turkey will not be ruined if Biden does not call Erdoğan. If would not hurt Erdoğan in domestic politics either since he has dedicated fans who believes in every word he says and he can make a difference only with a Twitter post. Still, tensions in Ankara keep rising as that phone call is delayed. And these political tensions are also reflected on the economy. Although Central Bank Governor Naci Ağbal tries to calm the investors, the fragilities ramain.
On March 5, on the same day with Psaki's remarks on Turkey, Bloomberg said "Hakan Atilla may resign as the head of the Borsa Istanbul." His official resignation was announced on May 8. This was only before hearings in the U.S. at which confessor Reza Zarrab will testify about Turkey again.
Hakan Atilla had come back to Turkey after serving time in the U.S. as part of the probe into Turkey's state-run Halkbank and appointed as the head of the stock exchange by then-Treasury and Finance Minister, Erdoğan's son-in-law Berat Albayrak. .
Do you think it is a coincidence?
'No more insults' to France
Moreover, the government today has less room to ignite quarrels with the West each time it faces problems in domestic politics. It is also not a coincidence that the text presented as the Human Rights Action Plan is received in skepticism both in the country and abroad.
Erdogan spoke on the phone with Macron late on March 2 (when the Human Rights Action Plan was introduced), some five months after their previous talk. Although Macron's eastern Mediterranean politics are considered to be stranded, the main issue there is about the EU. The statement by the Presidency cited examples from history, added that new cooperation opportunities were discussed in the talk. However, the next day, French Foreign Minister Jean-Yves le Drian said the following to the French parliament:
"There aren't any more insults and the language is more reassuring. (…)"
He also said the departure of Turkish drillships from the Cypriot waters in the Eastern Mediterranean and Ankara's desire to resume negotiations with Greece are positive signs. He said relations are fragile, "because the list of disagreements is very long, but we want a healthy relationship with Turkey," he said pointing to differences over Libya, Iraq and Nagorno-Karabakh.
"Actions are needed and we will be able to position ourselves when those actions are carried out. For now, it's just verbal action."
What does Merkel say?
If you look at the information by the Turkish Presidential Spokesperson Kalın, the dominant issues in the Erdogan-Merkel talk on March 5 were tourism after the pandemic and the renewal of the 2016 agreement on Syrian migrants.
About the latter, Erdoğan focuses on visa liberalization for Turkish businesspeople. It is said that the issues of the Eastern Mediterranean and Libya are also discussed.
According to the information by Stefan Seibert, the spokesperson of Merkel, the Eastern Mediterranean and Libya topped the agenda. Tourism is not mentioned in his statement. It is known that Merkel has advised German citizens to stay at home as much as possible this summer and not to go anywhere for vacation, due to the pandemic.