Opposition leader: "Erdoğan plans to flee Turkey"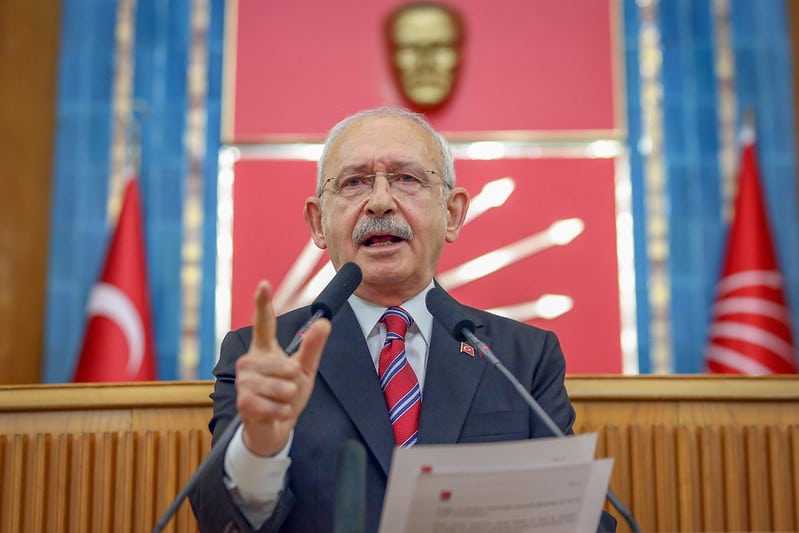 Main opposition Republican People's Party (CHP) leader Kemal Kılıçdaroğlu alleged that President Tayyip Erdoğan and his family members are transferring large sums of US Dollars to the United States through two pro-government foundations, Service for Youth and Education Foundation of Turkey (TÜRGEV) and ENSAR, claiming that the president is planning to escape the country in an event of a power change.
"They set up a front foundation. They put a US citizen on its head. But the real management of the foundation is the members of the Erdogan family. […] This front foundation needs money to gain the right to issue permits. Two foundations are selected from Turkey, foundations that they pretend to be for education: TURGEV and Ensar. These foundations are starting to send the money to an American citizen." Kılıçdaroğlu said in a video he posted on Twitter on May 24.
He claimed that the TURGEV and Ensar Foundations frequently transferred US Dollars in 10, 20 million US dollars settlements many times, stating that "the document that lists the transfers is endless." He added that the main opposition has "the transcript of all transactions."
His claims came after he accused President Erdoğan of planning to escape the country in an event of a power change, arguing that he and his close entourage are "setting up a scheme" to flee the country.
Speaking at his parliamentary group meeting on May 24, Kılıçdaroğlu said a "grand escape plan is in place," adding that he would detail his allegations from his social media account at 22:00 Istanbul time.
In an edited video posted on his official Twitter account at that hour, Kılıçdaroğlu alleged that the Erdoğan family used the TÜRGEV and Ensar foundations to transfer the U.S. Dollars to the USA.
"In other words, they want to flee to the USA to seek refuge in law from the country they destroyed unlawfully. They are after creating a new Pennsylvania for themselves," he said.
"They can hide behind the laws of America, there is rule of law," he added.
"Where did you get that money from, why are you constantly transferring this money to America? Why are you transferring these currencies to America," he asked.
TÜRGEV-Ensar Foundations have been at the centre of tax evasion and sexual assault claims.
In 2016 a sexual abuse case of students in Ensar Foundation made the headlines in Turkey. In 2020, the Turkish Red Crescent's money transfer to Ensar Foundation stirred a debate about tax evasion since the same amount of money, some 7 million US dollars, was donated to the Crescent by natural Gas Distribution Company Başkent Gaz, owned by a company with close ties with Erdoğan's Justice and Development Party (AKP). Since the donations to the Turkish Red Crescent are tax-deductible, the company reportedly made nearly 1.5 million dollars of tax advantage.
The TÜRKEN Foundation was established in the State of Delaware in 2014 under the name 'Turken Foundation Inc' in the USA, by the merger of Ensar and Türgev Foundations. The foundations has recently applied to the US Department of Justice and registered officially. The application was made by TÜRKEN Foundation President Behram Turan on May 18.