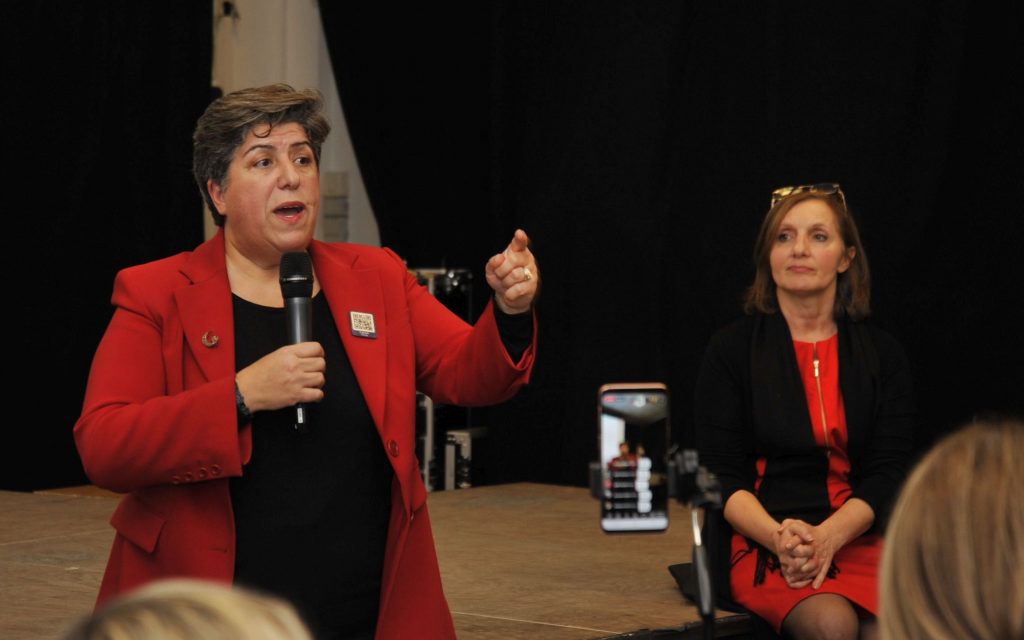 Canan Güllü, a prominent Turkish women rights activist, has been granted the "Women of Courage" by the Department of State of the U.S.
"Canan has been a steadfast champion of gender equality, working to promote women's participation in governance, labor force, and education," the U.S. State Department said in a March 7 social media post about the chair of Turkish Federation of Women's Associations (TKDF).
"Canan's activism has been critical to educating the public about the convention and reinforcing the need to combat gender-based violence," it said, highlighting her efforts for keeping Turkey as part of the Istanbul Convention, a key international agreement on women's rights and freedoms that the government considers abandoning.
Güllü, the chair of the Turkish Federation of Women's Associations (TKDF), said in an interview with Yetkin Report that she and her organization have faced threats and insults for raising their voice against gender inequalities along with sexual assault and incest cases.
"I think we have been granted this award for both talking about violence to prevent it and building bridges. For me, courage is maintaining stability and persistence," she said.
Güllü an activist and organizer for 31 years and heads the TKDF, an umbrella organization of women's NGOs; she leads186 branches and 52,500 members.
21 women across the word
The U.S. State Department recognized 21 women who have demonstrated leadership in advocating for human rights, gender equality and women's empowerment, honoring them at an "International Women of Courage Award" ceremony in Washington, D.C., on March 8.
The recipients of the award include "jailed Belarusian opposition figure Maria Kolesnikova, who has fought for the democratic movement in the aftermath of the disputed election; Chinese human rights lawyer Wang Yu, who was imprisoned and now remains in China under an exit ban; Iranian chess arbiter Shohreh Bayat, who chose to be a champion for women's rights after being accused of violating her country's strict Islamic dress code; Venezuelan labor rights advocate Ana Rosario Contreras, who has fought for the health care professionals; and Congolese human rights activist Julienne Lusenge, who has fought against gender-based violence," according to Voice of America.
Other Turkish women who recieved the title
In 2017, Turkish teacher Saadet Özkan was granted the award for her fight to reveal the abuse cases at the school she works for.
Şafak Pavey, a former Turkish lawmaker from the main opposition Republican People's Party (CHP) ranks, received the award in 2012 for promoting the rights of the physically disabled, women and minorities in the Middle East, South Asia and Africa.