Portrait of a female Turkish party leader: Meral Akşener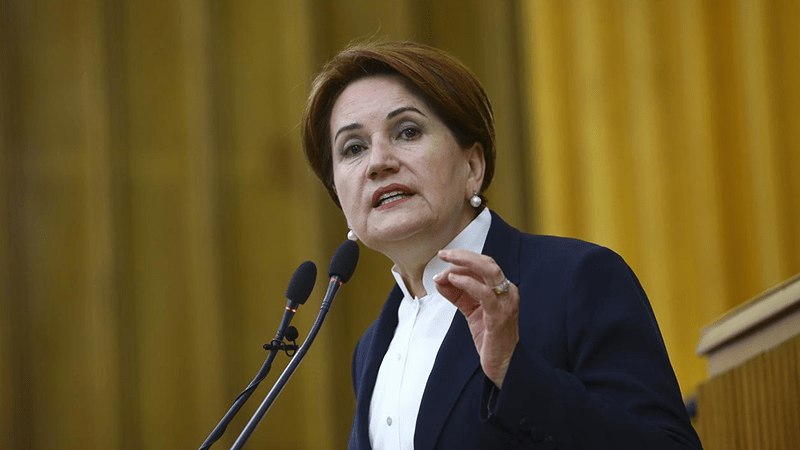 Good Party (İYİ Parti) leader Meral Akşener was threatened by President Recep Tayyip Erdoğan after her visit to Rize last month. "It is a terrible thing to be threatened by the President. I am not afraid of threats, but I am concerned about Turkey's image abroad," she said.
While the empowerment of women's leadership and their meaningful participation in decision-making processes around the world are at the center of the gender equality agenda, such a discourse on a female leader was strongly criticized by the majority.
The understanding of discrimination against women is the basis of the problems. More women need to take part in politics to solve these problems. Unfortunately, while women make up the majority of the world's population, they are represented in parliament with only 24 percent. This rate is 17 percent in our country.
However, acknowledging the achievements of women leaders is one of the keys to challenging the established mindset of women's political participation.
Today, Meral Akşener is the sole female leader with a potential to become a partner in power in Turkey. So how did she survive in politics for 27 years and each her current position?
Meral Akşener's political career
Meral Akşener was born in a village to a Balkan Turk family who had migrated from Thessaloniki, Greece to Kocaeli in northwestern Turkey. She was raised by her maternal grandmother as her mother worked in the fields. Her grandmother, who had suffered many times in the Balkan city of Drama, had lost her eyesight. She owes her patience to her grandmother.
She was very naughty as a child and often got into fights with the boys. She didn't have a doll, but she had her marbles. Her four years at a girls' boarding school, where she studied with children from different social classes, contributed to the formation of her personality. Her nickname in high school was "a mine of information" before they called her "Asena," a Turkic name used among nationalists.
It is known that Akşener, who is a historian with a master's and doctorate degrees, conducted field research in the East and Southeast while writing her doctoral thesis, and her language of politics was affected by this.
Although she could not be elected as Kocaeli Metropolitan Mayor from the True Path Party (DYP) in the 1994 local elections, even her candidacy can be seen as the realization of her most important dream until that time. She still says her real ideal at the time was becoming the Kocaeli mayor.
Her brother had a great impact on being a nationalist. In-depth studies on Turkish MPs reveal that men, especially the men in the family, play a critical role in the participation of women in politics. We can see that the conclusions that fathers, husbands, and siblings affect women's interest in politics and that male politicians generally include women into politics. This is also valid for Meral Akşener. In one of her interviews, she made a statement supporting this issue, saying, "When you are a woman, you define politics through the men in your family". On the other hand, she underlined that she insisted her husband change his left-leaning political views and only married after that.
Akşener in the establishment of AKP
Becoming the interior minister while she was a True Path Party (DYP) lawmaker was an important step for women in Turkey, but due to the political conjuncture of that time, she went through a very difficult process.
After a while, Akşener took an oppositional position within the DYP and then resigned from the DYP. She would be among the founders of the Justice and Development Party (AK Parti) along with Abdullah Gül and Recep Tayyip Erdogan. However, short after, she stated that she was disappointed: "They continue the National Vision line," she said, referring to the political roots of Erdoğan's AKP. She then left Erdoğan's movement and joined the Nationalist Movement Party (MHP).
In the 2004 local elections, she was a candidate for the Istanbul Metropolitan Municipality from the MHP but she could not be elected.
She was elected as MHP Istanbul deputy in 2007, 2011 and 2015 elections. She became one of the three women elected as the deputy spokesperson of Turkish parliament in the history of modern Turkey.
Legal challenges within the party
After the 2015 Turkish general elections, she ran for the MHP leadership. Being a candidate to head the male-dominated party was an example of great courage. However, the congress was not held on time and she was expelled from her party.
Akşener then founded the "Good Party (İYİ Parti)" in 2017 with the motto "Turkey Will Be Good".
First female presidential candidate
In the 2018 elections, Akşener was entitled to become a presidential candidate after the required number of 100 thousand voters nominated her. Thus, she went down in history as Turkey's first female presidential candidate, but she was not elected.
By taking part in the Nation Alliance in the March 31, 2019 elections, she had a share in the success of winning the mayors of Ankara and Istanbul from the Justice and Development Party (AK Parti).
Role models are very important in politics. The political aspirations of young people are related to and shaped by various experiences, characteristics, and activities in early life. Researchers in politics have found that women living in countries where there are successful, visible female politicians are more likely to be involved in politics. This shows that to increase the number of women in politics, it is necessary to increase the number of women in political office. In this respect, it is very important and valuable for Meral Akşener to be the leader of a party with a male-dominated image and to be a candidate for the Presidency. She admits that she was not successful in the 2018 general elections to bring more women to parliament. At this point, although Meral Akşener's support for women's participation in politics seems limited so far, today is the time to not leave Meral Akşener alone.
Sexist expressions and threats against Akşener that directly target her being a woman are unacceptable. The common struggle of women to ensure that these statements are not repeated is very important today and will shape the future. The policy that Akşener will follow against Erdoğan is also important and will be followed carefully for women who have to fight for equality in every field.
In a New York Times article on Asia's women leaders, American journalist Barbara Crossette claimed that "[these women] cannot be viewed, as they often are through Western feminist perspectives, as pioneers. More often than not they are throwbacks to the past in a region that has been short on enlightened leadership from whatever sex, rather than harbingers of a more egalitarian future." The political attitude of women politicians in Turkey today and in the future is also important in terms of demolishing this framework drawn for women politicians in Asia and showing that more egalitarian policies will be followed.