Although imperfect, Western Alliance still leads democracy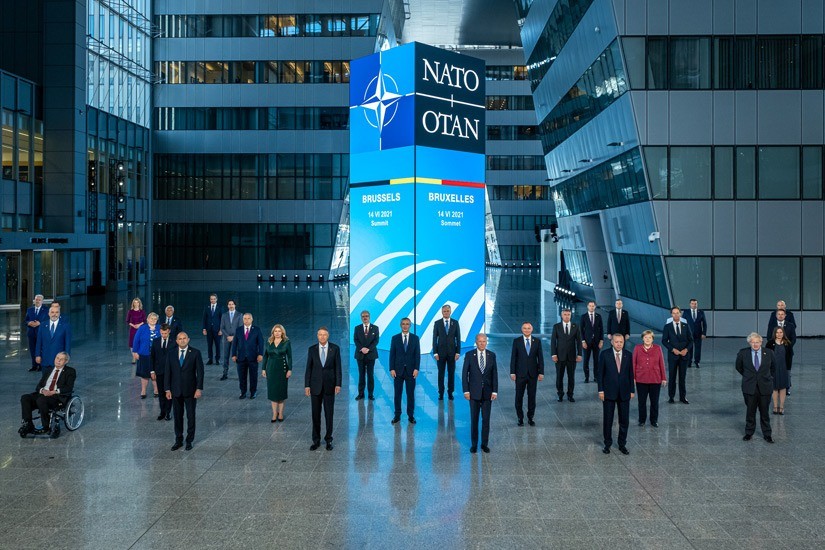 Nature does not accept emptiness. Those who are looking for an alternative because of America's mistakes may have started finding an answer in Russia or China. Like hunters, they are also baiting well. The secretary of the Russian Federation's Security Council since 2008, Nikolai Patrushev would have you believe that Russia is the answer to the problem of global conflict and insecurity.
"The current international situation is characterized by increased unpredictability, the breakdown of agreements in the field of arms control, the expansion of the practice of introducing illegitimate unilateral sanctions, the increase in conflict potential in various parts of the world," he said last week at the Shanghai Cooperation Organization (SCO). The next day at the Moscow international conference on security he offered a follow-up: "Russia offers all interested parties a simple doctrine of global stability," he said. "Its substance is crystal clear: a dialogue instead of accusations, cooperation instead of confrontation, goodwill instead of egotism and openness instead of double standards."
Interestingly, Ambassador Zhang Jun, China's permanent representative to the United Nations, said something remarkably similar about his own country while discussing the current global refugee situation with Filippo Grandi, the U.N. high commissioner for refugees. The world is going through two crises, he said: the COVID-19 pandemic and the crisis of multilateralism due to the impact of unilateralism. "The practices of power politics and bloc confrontation undertaken by some countries under the guise of multilateralism are resulting in more dangerous and destructive impact to the world," Zhang said. "All countries should join hands to uphold true multilateralism and oppose the politicization of humanitarian issues and unilateral sanctions." He went on to note that China will support the humanitarian operations of the UNHCR and other multilateral agencies to protect refugees and other vulnerable groups. 
Power-oriented political machines
Sounds great, doesn't it? But Russia's stronghold in the former Soviet Republics, whether through sanctions or military action (see Georgia, Ukraine and the annexation Crimea), and China's genocidal treatment of the Uyghurs, show astounding disrespect to human individualism. And deploying economic power through the Belt and Road Project gives neither any moral authority. They are power-oriented political machines with no desire to cultivate democracy or human rights.
American and European policies have influenced the world by holding up democracy and human rights as beacon of hope. And, yes, they have fallen from grace and as a result many of their citizens have little confidence in their lawmakers. All over the world, the silent majority has been left to the influence of populist propaganda, which time and again has poisoned political waters everywhere. We are being pushed to remember that we don't live in an ideal world.
The talk among big strategic thinkers is much the same in Western capitals like Washington, London, Paris and Berlin, as well as in Moscow, Beijing, Tel Aviv and Tehran. Continually refusing to acknowledge reality — and ginning up endless blame and accusations against "the other" only brings on a spiral of reaction backlash. It must end. Our leaders need to acknowledge that baiting one another will never bring about peace and prosperity. It will only result in destruction, as we've seen time and again in tactics employed in terrorism, armament, populism, nationalism and authoritarianism.
The world will never be completely at peace, but that doesn't mean we should demolish the tools that help us live in a civilized world. After the defeat of Israeli Prime Minister Netanyahu in 1999, Amos Oz — one of Israel's most accomplished writers — summarized his time in office with this striking metaphor: "On the day after the elections, the air compressor under my window stopped making a noise. All of a sudden, there was silence." We forgot that silence helps us coexist, even with all of our differences and contradictions. People are being dearly hurt by the confusion created by gaslighting and false information. 
Orwell's doublethink
This "doublethink," as portrayed in George Orwell's 1984, is confounding people's core values. They are being fooled by populist politicians who say one thing and yet only serve their own interests. Otto von Bismarck once said he could craft foreign policy by following conservative principles as easily as he could walk through a dense forest with a 12-foot pole between his teeth. Even with a principled approach, the principles become less and less clear. The world has built its alliances — and each actor operates from a place of wanting to do better.
The Western alliance, despite its many imperfections champions the principles of creating a better future through democracy, which honors individual dignity while preserving the sanctity of the state. Turkey knows well that reactionary backlash toward its Western partners won't win its favor in either the West or the East. Turkey is unique in falling so deeply into the pattern of reactionary backlash both domestically and with its Western allies and partners. Even Turkish President Recep Tayyip Erdoğan lately emphasizes that Turkey has no desire to leave NATO — but he can't give up his "doublethink" habit, and can't seem to keep himself from attempting to manipulate the political landscape to his advantage, regardless of the truth and corruption charges. 
Erdoğan likes to be in control of everything, which raises the question: Who is actually truly able to control things in the world? Can the U.S. really control everything that happens and think strategically about the next quarter-century? If it can, why is it leaving Afghanistan in defeat and being asked to withdraw its troops from Iraq? Collectively, we created a geopolitical mess — and we must find a way to clean it up. Everyone must decide what kind of world we want to live in, how we tell right from wrong and how we value human life. If politicians have taken us to this dark place, then surely the will of the people will bring us back to the light. U.S. President Joe Biden represents hope for turning the page from Donald Trump, and so is the magical eight-party coalition in Israel. People have brought change, and it is up to others to follow their lead to keep on the brighter path.