Five high risks of Afghan migration to Turkey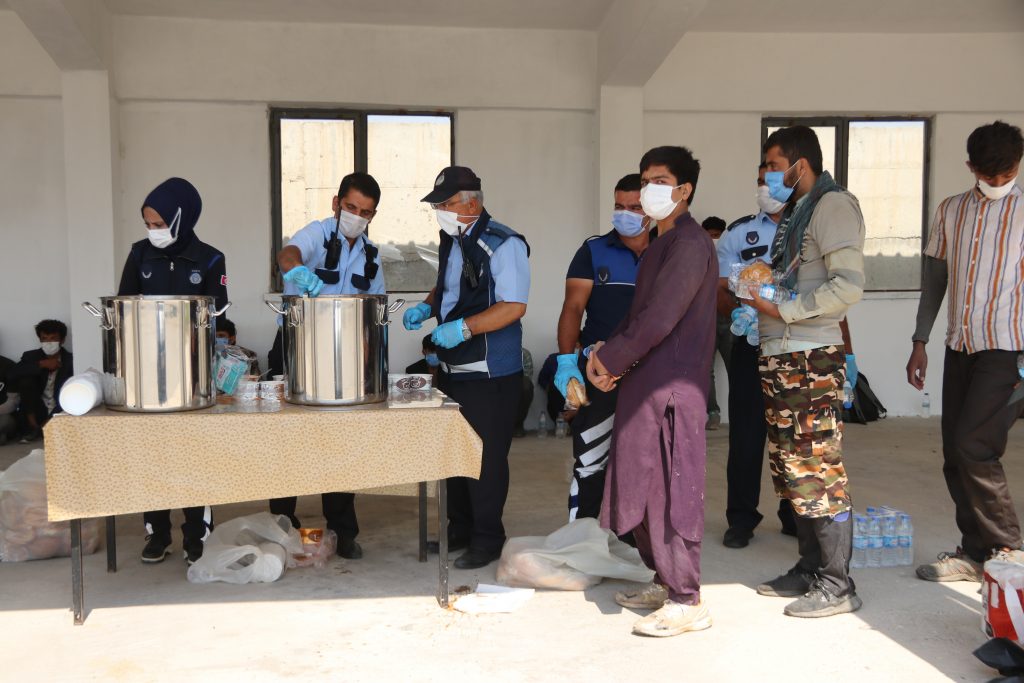 The Afghan immigration to Turkey increased after the U.S. decision to withdraw from the war-torn country and requested Ankara to keep its soldiers in Kabul. This situation bears risk that the unsuccessful and bloody U.S. campaign in Afghanistan that resulted in new cross-border terrorism troubles for the world may turn into Turkey's responsibility. But in this article, I will rather focus on the high risks introduced by the Afghan migration wave. The current debate on the matter in Turkey consists of two dimensions. One side says "we do not want refugees". The other side that focuses on the humanitarian aspects of the Afghan and Syrian migration accuses them of racism, and they are accused of acting in line with the US and EU interests. A recent debate on foreign funding to non-government media in Turkey was also triggered by a division on this issue. But a closer look into the matter shows that there are at least five dimensions of the recent development.
1- The humanitarian and political dimensions: You cannot turn your back to people away for their who flee their countries for their lives. It is true that there is a humanitarian duty to provide them with basic needs. Turkey has declared in international agreements that it will not grant "refugee" status to asylum seekers coming from the east in accordance with United Nations rules. Therefore, even after ten years have passed since the beginning of the Syrian migration, the number of asylum seekers who are still considered as "guests" has exceeded 4 million and has reached 5 percent of Turkey's population. If Syrian refugees are granted citizenship and the right to vote, they have reached the capacity to change the electoral balance, especially in the southern, southeastern and eastern provinces. In addition to economic reasons, this concern is one of the reasons why the Syrian migration, which is mostly welcomed by the citizens with humanitarian feelings, is gradually starting to cause friction in the society. This concern began to increase with the acceleration of Afghan immigration.
Can't the borders be guarded tighter?
2- International dimension: Iran does not make any effort to prevent the human flow from Afghanistan, even if it does not facilitate it. Refugees are being transported to the eastern borders of Turkey by trucks. The European Union countries, in particular Germany, the first choice for Asian and African asylum seekers, adopt an approach that basically says "Let us pay for it and you keep the migrants." However, as the Syrian migration demonstrated, EU countries want to see and control how the cash they send to Turkey is spent, but President Tayyip Erdoğan's cabinet says that Turkey is already spending money for the refugees and wants the direct flow of the EU funding to Turkey. Meanwhile, the opposition questions why the Turkish borders are not protected properly despite Interior Minister Süleyman Soylu's claim that Turkey is successful in border controls. Main opposition Republican People's Party (CHP) leader Kemal Kılıçdaroğlu has warned Erdoğan not to get involved into a new bargaining with the EU for the refugees, naming a possible new EU fund as a "second bribery package." This is really a situation with contradictions and requires a closer look.
3-Exploitation of cheap labor: A state official who spoke on condition of anonymity said something surprising: "Remove Afghan workers and half of agriculture and animal husbandry in this region will cease that day." According to the official, Syrian and now Afghan workers are being employed all over Turkey for cheaper wages in every field ranging from livestock breeding to greenhouse cultivation, from hazelnut and to cotton. "The labor of the refugees is exploited, but the labor of our unemployed citizens is also exploited."
A friend with knowledge of Turkish business world said such employment tactics are hard to practice in big industries, especially in those where international players are also active. "However, in small and medium-sized industrial and commercial enterprises, refugees provide a cheap labor resource with no troubles of unions or insurance," the source said.
The official unemployment in Turkey is 13.9 percent, but trade unions say the actual figure is more than 25 percent and state officials are turning a blind eye on the illegal employment of migrants.
It is understood that business owners, whether the ruling Justice and Development Party (AKP) supporters or not, see this cheap workforce with no insurance as an opportunity to ease the burden of the pandemic losses. This gives an idea that some of those who say that they fled to Turkey with the fear that the Taliban will seize power, actually escaped with their spouses and children from the brutality of the Taliban, and some of them are strong young men.
Health and terrorism concerns
4- Pandemic: During the Eid al-Adha, Turkish resorts were overflowed with domestic tourists. Tourism investors, who were hurt by the Covid-19 pandemic took a breath. There is information that a significant part of the staff in the tourist areas –not to mention the ones under the control of large, international chains– especially in the behind-the-doors parts of the restaurants are Syrian and Afghan refugees. The government has not felt the need to ask for vaccination, and even tests from tourists coming from countries where the pandemic is high, just for the sake of cash inflow. Refugees, on the other hand, come from countries with very poor sanitation, traveling thousands of kilometers in terrible conditions. They reside in unhealthy places and are employed at backstreet sweatshops in the textile industry, food factories, or restaurants that require testing for Turkish citizen employees. This is where the human dimension and health conditions, economic and political interests turn into a mess.
5- Security and terrorism: Turkey has experienced the terrorism dimension of Syrian migration by paying a great price. The Ankara train station bombing on Oct. 10, 2015, was the biggest terrorist attack in the country's history. At least 52 people died in the Reyhanlı massacre in southeastern Turkey in 2012. The Atatürk Airport raid in 2016, the Reina nightclub raid in 2017, the bombings in Ankara, Istanbul and Suruç added. Now it is questioned whether these young male refugees include jihadists or members of other terrorist groups. We are talking about geographies such as Afghanistan, Pakistan, Iran, where Taliban dominated or groups such as al-Qaeda or ISIL where born or grew.
Not only the humanitarian and political aspects, but also at least these all five aspects should be evaluated in the discussions about the Afghan migration and keeping Turkish soldiers in Afghanistan, where it is almost certain that the Taliban will take power once the U.S. withdrawal is completed, and Afghan immigration.
Veteran diplomat Ömer Önhon recently said in YetkinReport that recent developments may have started to dampen Erdoğan's enthusiasm for Afghanistan. I hope Önhon is right, Turkey does not take this dangerous risk.