Turkish politics heat up with claims over cabinet shift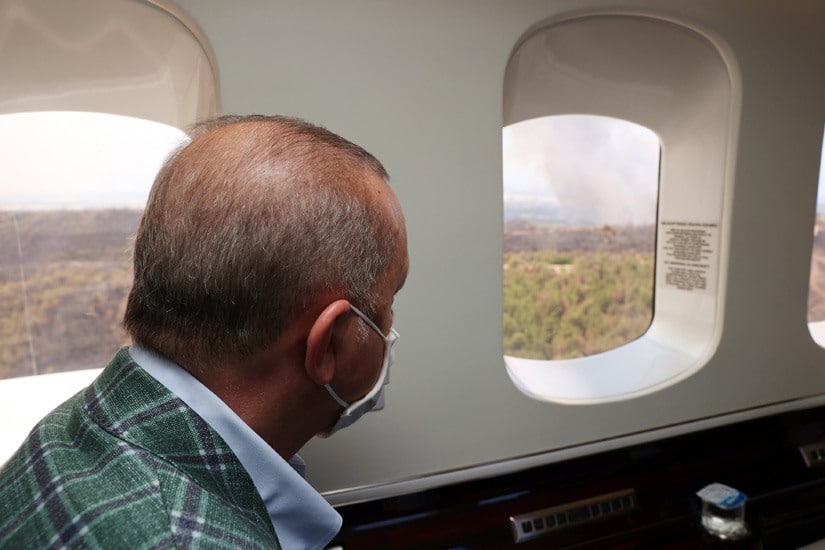 Wildfires have destroyed forests on the Aegean and Mediterranean coasts of Turkey, claiming at least eight lives. Yet, a political fire burns in Ankara, with debate on a cabinet shift heating up. President Tayyip Erdoğan netted reactions for distributing packages of tea to the fire victims in Marmaris and his motorcade keeping ambulances and fire trucks waiting in traffic so he might put the blame on particular cabinet ministers. A crucial cabinet meeting was scheduled for August 2, but it was postponed.
The rumors about the cabinet shift have already spread and this might help some ministers remain in their seats for some extra time, maybe until the end of September or early October. But it seems inevitable for Erdoğan to have some officials pay for consecutive shocks and failures.
One might ask what would a cabinet shift change since Erdoğan is making all decisions. This is right. Few believe that a cabinet reshuffle would lead to a change in Erdoğan's politics; only a small number of ministers can play a significant role. Still, such developments point to a change in power balances and trends.
What is more, the shift might be limited to cabinet ministers. Some deputy ministers and high bureaucrats might also lose their seats. Contradictions, or in other words, negotiations between the ruling Justice and Development Party (AKP) and its election partner Nationalist Movement Party (MHP) have become visible and tangible.
Claim: Minister has already resigned
Education Minister Ziya Selçuk has already shared with his close circle that he presented his resignation to President Erdoğan days ago and the president accepted it. The reason behind it is not that Selçuk has become totally unable to do the things he wants to. Although the minister said schools in Turkey will open on Sept. 6 but Erdoğan has not announced a decision yet. It is speculated the minister will leave his seat because he cannot overcome some obstacles set by religious sects and cults, and his efforts to inspect some corruption claims have caused discomfort inside the AKP.
Interior Minister Süleyman Soylu, targeted by fugitive mob leader Sedat Peker, who has raised serious allegations in his video allegations, seems to remain in his seat thanks to open support by MHP leader Devlet Bahçeli. But Health Minister Fahrettin Koca may pay for the rise in the number of new coronavirus cases after the Eid al-Adha, just like last year.
Another reliable source said Agriculture and Forestry Minister Bekir Pakdemirli might also be dismissed. "Now everyone will think that it is because of the forest fires but if the wildfires did not erupt, ha would have been gone by now," said the source. Almost everyone interested in Ankara politics thinks Pakdemirli will go. The cadre-building inside his ministry that he cannot prevent despite warnings and the allocation of some forest lands to particular businesses would harm Erdoğan more if he stayed.
The agriculture and forestry ministries were merged when Turkey moved on to the presidential system in 2018 from the previous parliamentary one. Now, sources say, they will be separated again. Pakdemirli cannot deal with both. No one can.
However, problems are not limited to the fields of forestry or agriculture.
Another separation in the pipeline may be the for the Treasury and Finance, a ministry formed by merging the two ministries under Erdoğan's son-in-law Berat Albayrak. There is speculation that current minister Lütfi Elvan will remain as the Treasury Minister, and Mehmet Muş, who was appointed by Erdoğan to replace Trade Minister Ruhsar Pekcan, might become the Finance Minister.
Culture, tourism, environment, urbanization
The Culture and Tourism Ministry will also be separated. There are rumors about whether current minister Mehmet Ersoy will remain as the Tourism Minister, who can now use the authority to permit constructions of buildings on forest lands, coasts, lakes, and plateaus following an Erdoğan decree last month.
The Environment and Urbanization, which has seen several changes, might be separated again. The fields of the two arms of these two fields already contradict each other.
So many changes in the cabinet mean several times more changes in the posts of deputy ministers, advisory staff, private clerk staff, ministry buildings, office cars, maybe office planes. But all these might also be considered as moves ahead of an election.
There is also a possibility that Turkey's last Prime Minister Binali Yıldırım, another politician mentioned in Sedat Peker's allegations and who is the AKP deputy chair today, will become the Vice President, along with current VP Fuat Oktay. The president's cabinet is not just made up of ministers in the new system.
Political balances
Bahçeli's outcry on Syrian refugees has been overshadowed by forest fires.
The experienced politician had spotted that the main opposition Republican People's Party (CHP) and IYI Party stance about the inflow of Syrian and Afghan migrants were welcomed by the voters and the AKP's Mehmet Özhaseki triggered reactions when he praised the migrants as "cheap labor."
Bahçeli said Syrians who went back to their countries for Eid al-Adha should not return, arguing that their visit showed that there were no security problems. He said migrants were "damaging the ethnic structure of Turkey." However, some of the AKP grassroots see the presence of Syrians not as demographic deterioration, but as enrichment in terms of increasing the already dominant Sunni population in the country.
Bahçeli's step should be followed yet another step to attract Erdoğan's attention and be perceived as a bargaining chip, I expected and I was not mistaken. The next day, Bahçeli said the Constitutional Court should not hide behind the excuse of "violation of rights" in order not to close the Kurdish issue-focused Peoples' Democratic Party (HDP). This is a balance that forces Erdoğan to make the right choice. Syria politics is on the one side and the Kurdish votes are on the other. And all these moves come ahead of Erdoğan's talks with Bahçeli over a new constitution.
Talking about Syria… You might ask if there were any backstage information about the Foreign Ministry at a time when key developments take place about Syria, Russia, the U.S., Afghanistan, Ukraine, Azerbaijan, Cyprus. You are right. There are rumors that there may be some surprises in that regard, but it will be more appropriate to share them after consulting a few more sources. That issue is far more critical.