Erdoğan hesitates about Kabul airport after ISIL attacks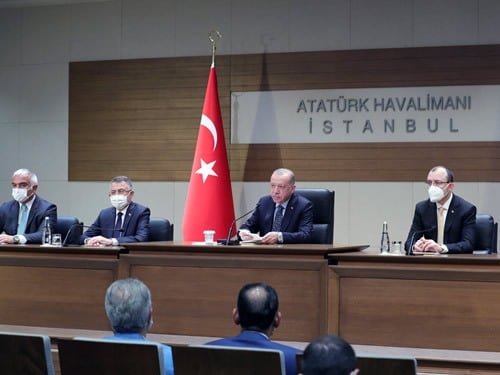 President Recep Tayyip Erdoğan chose to be more cautious about operating Hamid Karzai Airport following the deadly attacks in the Taliban-controlled Afghan capital.
Erdoğan confirmed in a press conference before leaving for Bosnia and Herzegovina and Montenegro on August 27 that Turkey held talks with the Taliban
"The Taliban have offers for us to operate the Kabul Airport. We have not yet made a decision on this matter. Any kind of death etc. can happen at any moment there," Erdoğan said.
His remarks came one day after at least 90 people, including 13 U.S. servicemen, were killed in suicide attacks as thousands of people waited around the Kabul airport for evacuation.
ISIL claimed responsibility for the attacks that according to some reports might be even heavier than assumed.
"If our name is mentioned there, if they say some 72 people died at the airport that is operated by Turkey, we cannot explain it. That's why we don't have a decision right now," Erdoğan said, referring to the toll at the time he spoke.
"Three-and-a-half-hour meeting"
Providing information about the Turkey-Taliban talks, Erdoğan said, "Our friends there under the supervision of our embassy continued the meeting with the Taliban, which lasted for 3 and a half hours. In the next period, if necessary, we will have the opportunity to hold such meetings here again," he said.
Before the U.S. withdrawal from Afghanistan, Turkey offered to secure the Kabul Hamid Karzai International Airport, but the Taliban declared that they were against it.
On August 15, the Taliban took control of Kabul and Afghanistan before the U.S. withdrawal was completed, and that plan was put on hold.
Answering a question about Turkish soldiers on August 24, Taliban Spokesperson Zabibullah Mujahid said "Turkey is a Muslim country. We want to develop good relations with the government and people of this country, but as soon as the problem at Kabul Airport is resolved, we will not need foreign troops."