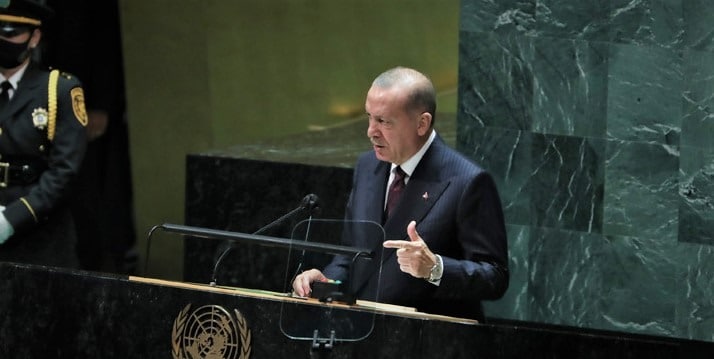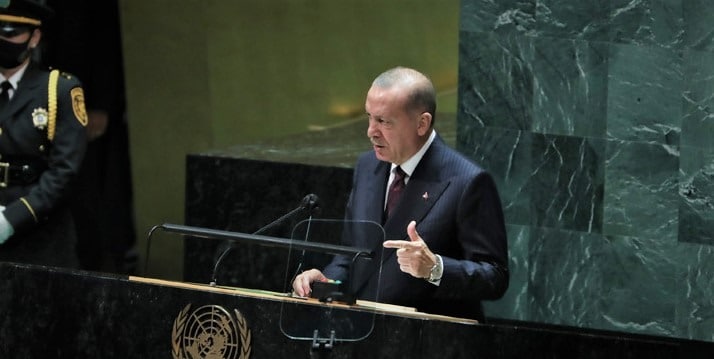 Turkish President Tayyip Erdoğan publicly admitted on September 24 that he has been deeply disappointed by US President Joe Biden's approach regarding Turkey and himself. "I have never been in such a position with a US leader before, but this is, unfortunately, our situation now," Erdoğan told reporters. It is also true that many Turks are also disappointed because they had never seen a Turkish leader publicly complaining that a US President is distanced from him.
After complaining that this should not be the way that two NATO allies behave each other, Erdogan said the Biden administration continues to help terrorists in Syria. He was implying the US partnership with Kurdish militant groups affiliated with the outlawed Kurdistan Workers Party (PKK) against ISIS whereas the PKK is in a bloody fight against Turkey since 1984.
"I worked well with President (George) Bush," Erdoğan said; "I worked well with (Barack) Obama, I worked well with (Donald) Trump. But I cannot say that we had a good start with President Biden." He said that "the state of affairs" between Turkey and the US "doesn't bode well."
Recalling the purchase of the Russian-made S400 air defense missiles, the number one issue for the US administration regarding relations with Turkey, Erdoğan repeated that if the Americans had sold Patriot systems to Turkey, he wouldn't have to knock on Moscow's door.
What has changed in four days?
Turkey's former ambassador to Washington DC, Namık Tan highlighted the change in Erdoğan's statements in four days. On September 20, the next day that Erdogan arrived in New York to attend the UN General Assembly, he said that they were in perfect harmony with Biden to enhance Turkish-US relations. Four days later, after returning to Turkey there was no US President worse than Biden.
It is not only the fact that Erdoğan wanted to meet Biden face-to-face and failed. He had no appointment with Biden even as he departed from Istanbul on September 19, after a weeks-long diplomatic effort to have the opportunity. Erdoğan publicly said in a press conference after meeting Biden in the premises of the NATO summit on June 14 that he wanted to meet him exclusively.
Rich Outzen, a military origin American diplomat and scholar working on Turkish issues, said in his Twitter account that the lack of a rendezvous with Biden was only one of four reasons why Erdoğan was disappointed. Outzen lists the possible reasons as 1) the months of no-call until he calls to inform of the Armenian genocide recognition 2) No Biden team Syria policy and no move away from YPG/PKK support 3) Turkey's supportive stance during flubbed Kabul drawdown 4) Erdogan's outreach during UNGA.
So, Erdoğan was disappointed not only because Biden did not set a rendezvous with him in the last four days when he was in the US.; it was perhaps the straw that broke the camel's back.
Praising an eagerly waiting Putin
In such a disappointment Erdoğan said that he had high expectations from his bilateral meeting with the Russian President Vladimir Putin, planned to take place in Sochi on September 29. Erdogan told reporters on September 22, before leaving New York that so far Putin never "made a mistake" against Turkey. It was Erdogan who flew to Moscow in March 2020 when 34 Turkish soldiers were killed in a jet attack near Idlib, northwest Syria to solve the crisis. Only last week, upon the new loss of Turkish soldiers there, it was the Defense Minister Hulusi Akar who told the press that Russia should respect the agreement in between, about the critical Idlib situation.
Russia suddenly started to return Turkish fresh vegetable and fruit exports from borders due to health reasons; an action Russians take whenever there is a problem with Turkey, like stopping touristic flights.
This time the problem is Crimea. During his address to UNGA, Erdogan said Turkey does not recognize the annexation of Ukrainian territory, Crimea where Turkic origin Muslim Tatars also live. Turkish Foreign Ministry criticized Russia because of having elections in the annexed Crimea as well. Russian Foreign Ministry and Kremlin reacted to that stance strongly. Speaking on the state TV Rossiya 24, Russian politicians raised the issue of using the" Kurdish card" against Turkey in return for its Crimean pose.
Can Putin pursue the Biden-disappointed Erdoğan to another deal in Syria, as the only country officially suggesting a Syria Federation (when the war is over) including a federal Kurdish entity? Can the YPG/PKK turn its face to its former protector, Damascus, after considering the US withdrawal from Afghanistan? Or any other form of "playing the Kurdish card"?
It is too early to say that, particularly before September 29. It seems it's only sent back tomatoes and fruits for now.