Opposition called Erdoğan for an early election: You cannot rule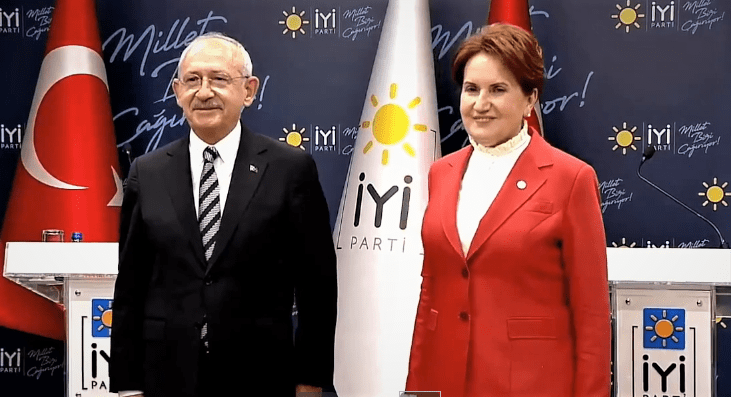 Opposition alliance Republican People's Party (CHP) and İYİ Party (İYİ Parti) leaders criticized the current economic state of Turkey, called out President Recep Tayyip Erdoğan to go for a snap election.
"You cannot rule the country. Do not put burden on this nation. People of this country cannot handle more burden. Turkey needs to go for an election," CHP leader Kemal Kılıçdaroğlu said on Nov. 17 after he and İYİ Party leader Meral Akşener meet because of the "urgency of the country's agenda," as announced from official CHP Twitter account.
"Go for an election at once. Let a new government rule the country properly," he added.
Taking the floor after Kılıçdaroğlu, Akşener criticized the economic conditions of Turkey, emphasizing that the general population is facing severe poverty and the financial management is dragging the country to hunger and deprivation.
"I agree with him (Kılıçdaroğlu) for urgent election. There is no other solution but the election," she said, adding, "the only way to tackle the problems are to go for a free and impartial election and respect whoever this country will choose."
The meeting came after a hasty day for Turkey's politics.
President Erdoğan announced at his party's parliamentary group meeting that he "keep battling interest rates," referring to Central Bank's Nov. 18 meeting to determine Turkey's interest rates. Meanwhile, Turkish Lira hit a historic low against US Dollar as 1 Dollar was priced 10,60 TL.
Following his speech, Erdoğan's alliance partner Nationalist Movement Party (MHP) leader Devlet Bahçeli went to the Presidential Palace to meet him. The political circles have been preoccupied with 50 per cent plus one rule, which stipulated in the 2017 constitutional amendment that a presidential candidate can only be elected if they receive at least fifty percent of the total votes.
Kılıçdaroğlu and Akşener's meeting came just after the ruling alliance leader's meeting in the palace.
%50+1 discussion
Erdoğan is under scrutiny with the 50+1 crisis, as conservative opposition Felicity Party (Saadet Partisi) leader Temel Karamollaoğlu told Gazete Duvar that Erdoğan expressed his discontent with the fifty per cent condition in their exclusive meeting on Nov. 10 at the presidential palace.
The SP leader's reveal of Erdoğan's discontent stirred a debate among politicians as Presidential High Advisory Board member and former AKP Deputy Prime Minister Cemil Çiçek said he "repeatedly said that 50+1 would make problems."
MHP leader Bahçeli lashed out at Çiçek, emphasising that they will defend the rule.
"The rule is the basis of this system's legitimacy," he said.
The discussion was then brought to Erdoğan's attention on Nov. 17 after his group meeting. Answering journalists questions, Erdoğan said the rule is stipulated by the constitution, and "only parliament has the power to change the constitution."