Turkey's inflation keeps soaring: 48 percent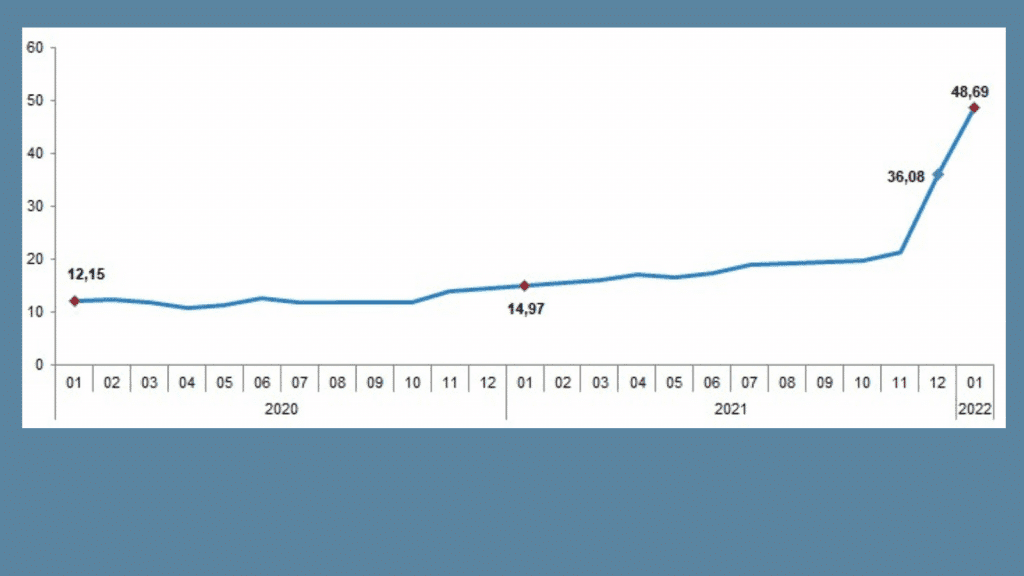 According to Turkish Statistical Institute (TÜİK) data, the Consumer Price Index (CPI) increased by 48.69 percent annually and 11.10 percent monthly in Turkey. Intependent groups on the other hand calculated the annual inflation increase as 114 percent annually.
TÜİK announced on February 3 that in January 2022, the CPI soared 11,10 percent compared to the previous month, 48,69 percent compared to the previous year. The domestic producer index (D-PPI) increased by 93.53 percent annually and 10,45 percent monthly.
December inflation rate was announced 36 percent in January, and it was already the highest since 2002.
On the other hand, according to an independent group of academics who calculate inflation using daily price data, ENAGroup, the E-CPI (their calculation of Consumer Price Index) increased by 15,52 percent in January. The increase rate of the last 12 months was recorded as 114,87 percent. The group publishes their calculation each month after TÜİK announced official inflation and uses different methodology.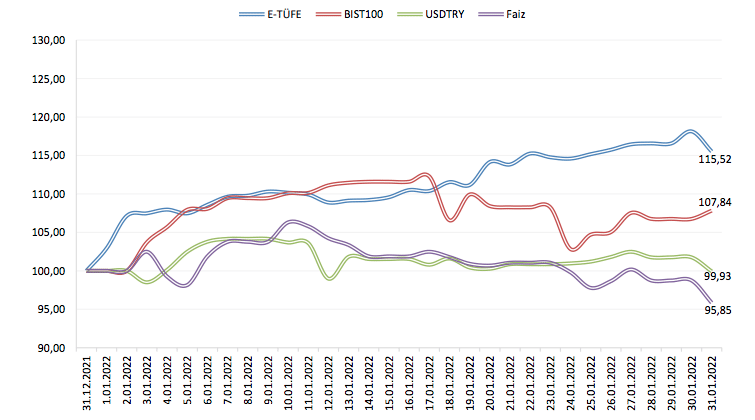 Minister: "we will not see 50 percent inflation"
Speaking to Japan news agency Nikkei Asia before TÜİK releases official inflation rates, Treasury and Finance Minister Nureddin Nebati stated that the ruling Justice and Development Party (AKP) government anticipates stabilization in the Turkish Lira in 2022.
"I do not think we will see 50 percent. I hope I am not wrong," he said in an exclusive interview with Nikkei Asia on January 3.
He said that Turkey has a "serious inflation problem ahead," adding "but the rest of the world is experiencing similar problems."
"We expect high inflation in January, and then it will keep its level for some time. In the summer, it will start to show recovery and will radically decline in December due to the base effect," he said.
"As the Lira significantly lost its value around 45 percent last year, we do not expect further negative developments in the Lira; hence we do not expect further depreciation. There will be no imbalance between the forex rate when I was appointed and the forex rate at the end of this year. To sum up, there will be no pessimism in Turkey regarding forex rates," he added.
Turkish Lira lost around 45 percent of its value last year amid President Recep Tayyip Erdoğan's insist on keeping policy interest rate cuts to boost export-led economic growth. Following the sharp drop of the value of the Turkish Lira in November and December, the President sought a cabinet change in Treasury and Finance Minister post and appointed Nebati.
On December 20, Erdoğan announced a new financial scheme to curb Lira's fall. Its main aim was to keep deposit account holders on the Turkish Lira as the currency fluctuation and depreciation started to reflect on price hikes and living conditions.
"We will tell our determination that there is no turning back from this policy and we have no rate hike in our agenda," Nebati said to Nikkei. "We will make sure they will hear this from the highest relevant authority. We will explain what kind of an economy will be welcoming them here in a transparent fashion."