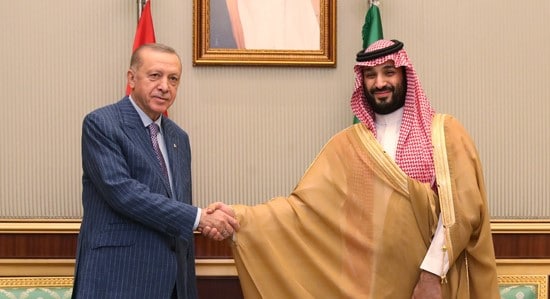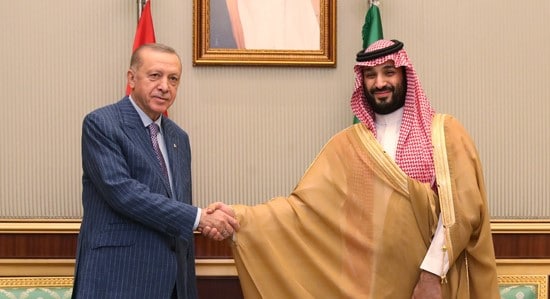 On January 6, 1955, Turkey's late Prime Minister Adnan Menderes, flew to Baghdad at the invitation of the Iraqi and Lebanese governments respectively. The visit was organized to reciprocate the state visit of Iraqi Prime Minister Nuri Said to Turkey in the fall of 1954. Nuri Said (Pasha) who graduated from an Ottoman military academy was no stranger to Turkey and enjoyed a close personal relationship with his counterpart, Prime Minister Adnan Menderes. The Baghdad Pact signed at that time symbolized the friendship between the two leaders. In fact, in 1958, the Democratic Party government ordered Turkish security forces to save Nuri Said Pasha and King Faisal from a coup d'état and a team was sent to Jordan for this purpose. They were too late; King Faisal and Prime Minister Said were killed by the forces of putschist General Kasım.
"The mosque does not go to the man; the man goes to the mosque"
Turkey, in close coordination with the United States and the United Kingdom, was trying hard to persuade its Arab neighbors to enter a Middle East Defense Pact that was being envisioned by its NATO allies. While Turkey generally ignored Arab countries back then, this effort demanded engaging them. Unfortunately, several prominent Arab countries, under Egyptian leadership, perceived Turkey's efforts as an attempt to revive the Ottoman Empire and were displeased. Egypt publicly antagonized Turkish efforts and successfully turned Arab public opinion against the Middle East Defense Pact.
When Prime Minister Menderes asked Said's opinion about Egypt's aforementioned discontent, Said said: "There is always conflict in the Arab world. We fight amongst ourselves all the time. When you grow closer with one of us, you'll end up offending another. You would be better off behaving like a mosque and staying away from all of us. Remember, the mosque does not go to the man, the man goes to the mosque."
Erdogan's visit to Saudi Arabia
President Tayyip Erdogan's recent visit to Saudi Arabia reminded me of this advice. Turkey suffered loneliness due to its mistaken policies. While the government has taken some remarkable steps to save Turkey from this self-imposed isolation, it did so by violating too many principles. Desperation caused by the economic recession and flawed monetary policies left this government with few choices. And the recent decline and subsequent rise in bilateral relations with Saudi Arabia is the most striking example of the government's lack of diplomatic aptitude and basic foreign policy skills. The government became a victim of its emotional policies and short-sightedness, exhibiting great inconsistency at a serious cost to its credibility.
Turkey's actions have attempted to legitimize the Saudi Crown Prince Mohammed Bin Salman (MBS) washing him clean from his principal role in the murder of Kemal Kashoggi. What is striking is that President Erdogan was the one leading this effort despite being the first leader to accuse him after revealing the details of the vicious murder.
Notwithstanding Turkish efforts, MBS remains far from regaining his lost reputation in the west, especially in the eyes of American President Joe Biden. As a matter of fact, one of the main reasons for the tension between Saudi Arabia and the U.S. in the context of the Ukraine crisis was American criticism of the Kashoggi murder and other human rights issues. Paradoxically, the biggest leverage our American ally enjoyed to apply pressure on MBS was the evidence provided by Turkey. Therefore, Turkish prosecutors throwing out the Kashoggi murder case has been a game-changer that caused confusion. While it is unclear whether Turkish efforts help regain Saudi Arabia's reputation, it is painfully clear that Turkey lost further prestige in the eyes of the United States and other western allies.
The lack of trust in Turkish rule of law was further aggravated by the recent conviction of activist entrepreneur Osman Kavala; a sentence that went against every principle of universal criminal law as evidenced by the ruling of the European Court of Human Rights that Turkey chooses to ignore. For the sake of rapprochement with Saudi Arabia, Turkey's leader chose to sacrifice his own principles as well as universal fundamental rights.
Sedat Peker and the Muslim Brotherhood
Repairing relations with Saudi Arabia may have some limited economic benefits for Turkey but will also come at significant political costs. There is an endless rivalry between Arab countries and it is a public secret that there is an internal conflict between the leader of the United Arab Emirates, Mohammed bin Zayed (MBZ) and the crown prince of Saudi Arabia, Mohammed bin Salman (MBS). Inevitably, President Erdogan now has become a part of this conflict by trying to reconcile himself with these two ambitious leaders. It should come as little surprise that Turkish mob boss-turned opposition influencer, Sedat Peker, who lives in forced exile in the UAE, reappeared out of thin air right after the infamous meeting with MBS.
It now seems likely that Turkey is also looking for ways to repair its relationship with Egypt. President Erdogan is likely to be seen embracing Egyptian President Abdulfettah Sisi, whom he used to heavily criticize. There most important indication of this upcoming development is the expulsion of Muslim Brotherhood (MB) constituents from Turkey; another is the termination of the activities of Mekamleen, the main MB-aligned TV station on the day of the visit to Saudi Arabia.
Predictability, consistency, reliability
While such a development would be good for Turkey and the regions, it is also inevitable that a country that exhibits such radical changes in its foreign policy will suffer challenges in terms of predictability, consistency and reliability in the eyes of its interlocutors. All of this is happening at the backdrop of the Ukrainian crisis with Turkey trying to follow a difficult policy of balance between the West and Russia. With Turkey having exhibited such major inconsistencies in its foreign policy principles, the international community is understandably doubtful about Turkish sincerity in the mediation attempts between the conflicting parties. Perhaps most saddening is Turkey's domestic policies with the government insisting on doubling down on authoritarian reflexes while displaying unprecedented pragmatism in its foreign relations. It is now clear that the government will opt to enter next year's existential election cycle with the rhetoric of saving the state to justify increased pressure on democracy and fundamental freedoms. Difficult days await…