Sweden and Finland rely on USA for NATO membership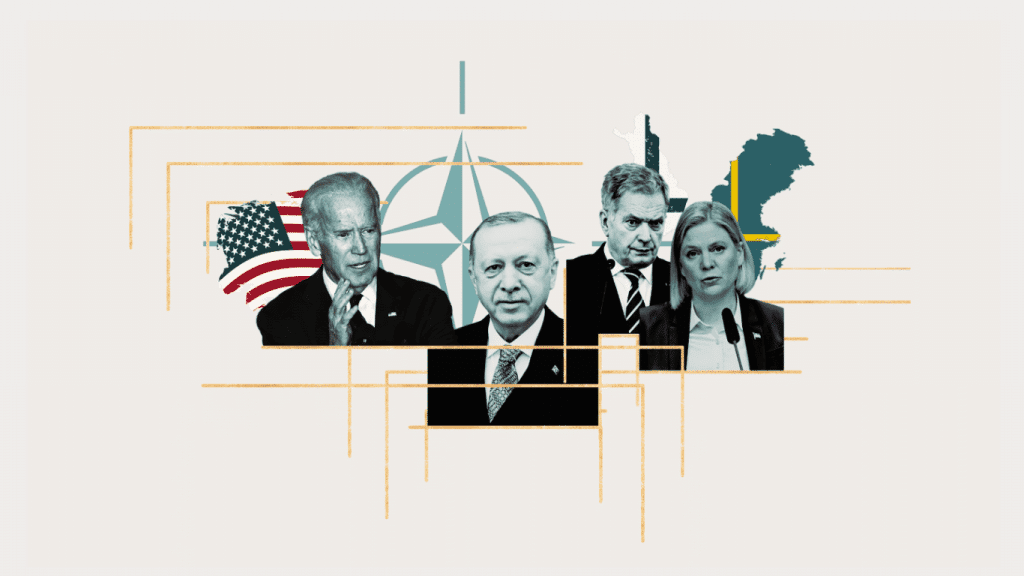 Sweden and Finland rely on the USA to make Turkey vote for thier NATO membership by putting pressure, and they do not change their tone. They act on the assumption that Turkey does not want to put NATO in a weak position against Russia, which continues its invasion operation in Ukraine, and they hope that the United States will make concessions on their behalf. Could that concession be to allow the sale of F-16s to Turkey, after giving the F-35s that were not given to Turkey to Greece, with the possibility of delaying after the 2023 elections? It's possible. Minister of National Defense Hulusi Akar keeps repeating that the arrival of new F-16s will be sufficient for air defence until the TF-X National Combat Aircraft is ready.
But it's as if both Stockholm and Helsinki are telling Washington, "If you want us in NATO against Russia, you convince Turkey." We can trace this back to the words of Finnish President Sauli Niinistö at the press conference where he said he was "confused" by President Tayyip Erdogan's statement "We may not approve". Niinistö pointed out that while Erdogan had given the positive signal "just a month ago", he is now saying the opposite.
Sweden and Finland play hard to get
However, according to the news of Anadolu Agency, Erdogan also asked for the removal of obstacles to the export of military equipment to Turkey in that phone call on April 4th. This embargo was placed after Turkey's operation against PKK targets in Syria in 2019, and was originally intended to block Bayraktar and other Turkish-made drones (UAVs), which have become symbols of Turkey's resistance to the Russian invasion of Ukraine.
Both Sweden and Finland have been refusing Turkey's extradition request for people who are sentenced in Turkey for being a member of the illegal PKK and Fethullah Gülen organization. There are several reasons for this. First, the open-door policy of both countries to political immigrants paves the way for real terrorists to exploit the circumstances. Second, is the belief that courts in Turkey do not give fair and impartial decisions under the political influence of the government as Turkey has fallen to 117th place among 139 countries in the "Rule of Law Index" in 2021. Third, although they regard the PKK as a terrorist organization, especially the USA, it is not only Sweden and Finland that have established contacts and support links through its Syrian extension, the SDF.
Can the US be a fair and impartial mediator?
Raymond Thomas, the Commander of the US Special Forces, had already announced that the SDF is a front organization established by the USA in order to avoid forming direct relations with the PKK. The USA has been cooperating with the SDF, which it had made the PKK establish, since 2014, against ISIS in Syria, but this cooperation is not limited to the fight against ISIS. For example, the USA recently announced to American investors that it would exclude SDF-controlled areas from Syrian sanctions. This was interpreted in Ankara as an effort by the US to establish a Kurdish region in Syria under PKK control. Erdogan added the decision of the United States to expand its bases in Greece to this.
It is very difficult for Ankara to see the United States as a fair and impartial mediator on the PKK issue. Maybe that's why Erdogan said on May 16, when asked by a journalist, "If they're coming to convince us, don't you even bother" about the NATO membership applications of the Swedish and Finnish delegations. While saying this, he said that Turkey is not against the enlargement of NATO, but that it has the right to expect a clear stance against terrorism from countries that want to enter the same security umbrella as Turkey.
Examples from Greece, UAE and Saudi Arabia
Perhaps this is why Erdogan, in his speech, asked for concrete guarantees from the powerful countries of NATO, notably the USA, as well as Sweden and Finland. In doing so, he pointed at the unkept promises made after the military coup of September 12, 1980, in return for Turkey's permission for Greece to return to the military wing of NATO, from which Greece left during the 1974 Cyprus Crisis. When Greece got permission from Turkey, it returned to the military wing of NATO and was then admitted to the European Union. "It won't be the case this time," Erdoğan said in his first statement.
Will Erdogan really not support NATO membership without making concrete concessions from Sweden and Finland in the fight against terrorism, in the face of pressure from the USA, Germany, England, and France? Or will the end of this sortie be like the moves in Saudi Arabia and the United Arab Emirates?
Will it really not happen?
This is not a foreign policy but a domestic policy question in Turkey, which is going through the 2023 elections within severe economic crisis.
Hasn't it been Erdogan who embraced Saudi Arabia, whom he held responsible for the murder of Jamal Khashoggi and regarded as an adversary, and the UAE, which he declared as a supporter of the 15 July 2016 coup attempt, as if nothing had happened, and made calls for investment?
Let's see if Erdogan can keep what he says and get promises that will result in concrete steps. Or, if he can't, will he present it in the domestic politics as if he had made them take these steps? Even so, what will he do when those promises are not kept? Because once you permit to enter NATO, there is no going back.
Turkey has the right to meet the requirements of real politics, this includes bargaining. But politics isn't just about making hard moves, it's about getting more results. Let's see if he can get it.