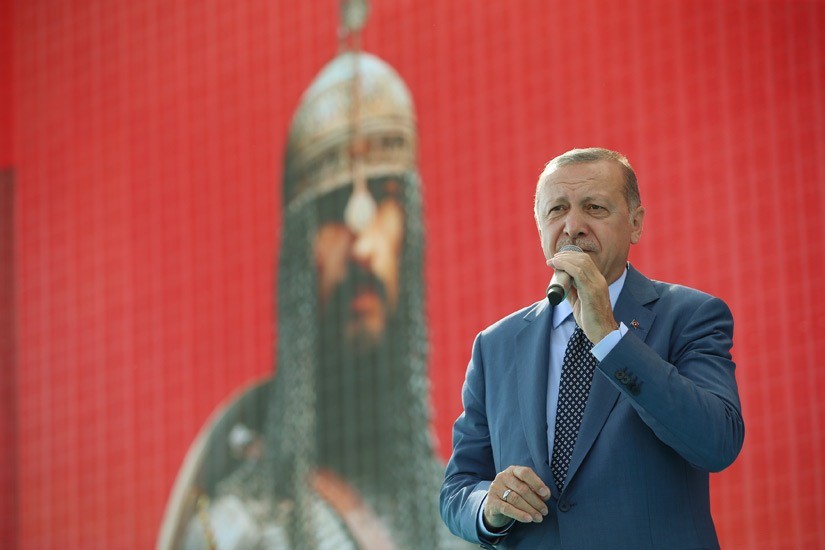 Turkey's President Recep Tayyip Erdoğan reiterated Ankara's determination to follow a cross-border military operation into Syria, following statements from Russian, Iranian and American officials against it. 
"I declare to the whole world that our struggle will not end until we secure our southern borders with a 30 km deep corridor from one end to the other," Erdoğan said on Aug. 25 at an event marking the 951st anniversary of Manziert (Malazgirt) Victory; an historical event that was regarded as Turks entry to Anatolia. 
"We are aware of the hypocrisy of those who tell us 'don't you dare' by shaking their fingers on us while launching an operation whenever and wherever they want. We never take these insincere statements into an account," he added. 
His statement came after Russian Foreign Minister Sergey Lavrov said on Aug. 23 following his meeting with his Syrian counterpart Faisal Miqtat that "they oppose any military operation into Syria."
President Erdogan has been signaling an operation into Syria since May, to "form a secure corridor 30 km into the Syrian border" to Turkey against PKK affiliated Kurdish groups in the country. 
After his statement, Erdoğan has met Russian President Vladimir Putin and Iranian President Ebraham Raisi on two different occasions in Russia's Sochi and Iran's Tehran. In both meetings the leaders pointed at the Damascus government as a means to a solution, after which Ankara has signaled dialogue with the Syrian administration. 
The United States also opposed possible operation in several statements, quoting that the presence of Kurdish forces in the region is vital in fight against radical Islamist groups. 
Erdoğan on Aug 25, reiterated the ruling government's determination after Lavrov's statement, stating that Ankara "will continue these operations according to the country's security priorities."
"Our difference from others is that we have no eyes for anyone's land, unity and territorial integrity. We work for our own safety and the peace of our friends. No country whose past is full of colonial and massacre stains has the right to have a say in this principled and just struggle of Turkey," he added.