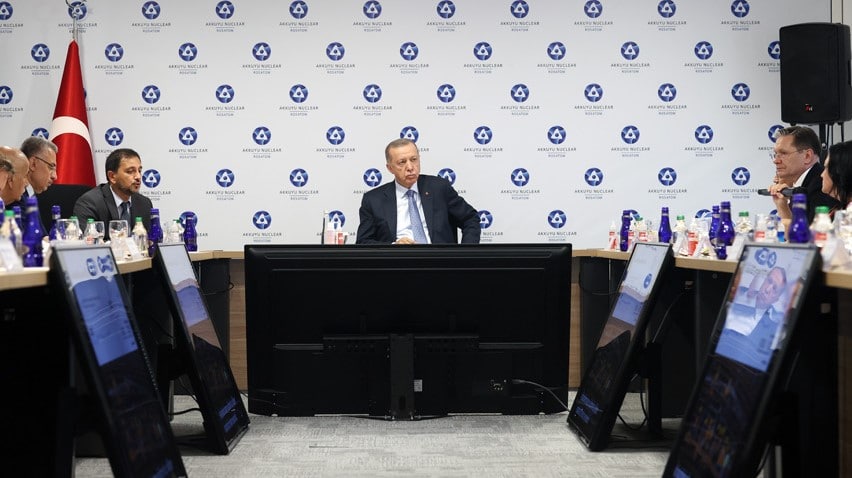 When the construction of Akkuyu Nuclear Power Plant, which the Russians were building in Turkey, came to a standstill, the issue came to the table during the meeting of President Recep Tayyip Erdoğan with Russian President Vladimir Putin at their August-5 Sochi meeting, but it could not be resolved.
Erdoğan met with the officials of both Russian atomic energy company Rosatom and Akkuyu Company in Akkuyu on August 9. At the end of the meeting, he gave an arbitral committee consisting of Turkish and Russian officials a week to prepare a joint report.
In fact, when Akkuyu's Russian CEO Anastasia Zoteeva said, "This does not be over in a week and I won't wait for a week," Erdogan snapped at her saying "Remember that you are talking to the President of the country you are in". After this meeting, some clips from Energy Minister Fatih Dönmez's interview to state-run Anadolu Agency were omitted where he said that the power plant belongs to the Russians even though it is in Turkey, and that the problems could not be tackled with.
As a matter of fact, the report that Erdogan asked for in a week has not come out after almost a month. However, at the backstage, it is said that the Russians are slowing things down due to resource exchange negotiations with the Treasury and Finance Ministry.
Akkuyu is lagging
At first, the plan was to have one Turkish and one Russian reporter and two reports to be combined afterwards. The appointees at the helm of this plan were Deputy Minister of Energy Alpaslan Bayraktar on the Turkish side and Maxim Oreshkin, Putin's Economic Advisor on the Russian side. The meeting of the delegations in Moscow in mid-August did not yield any results. It is reported that Bayraktar has completed his report, but there has been no response from Moscow.
The issue was also taken up in the phone call between Erdogan and Putin on September 3. The main topic of the meeting was the grain and food corridor from Ukraine and whether Turkey could undertake a similar facilitating function for the U.N. control of Zaporizhia, the Ukrainian nuclear power plant under Russian occupation. Erdoğan brought up the issue that the report hadn't come out yet as well. The Akkuyu project was lagging. Erdogan, on the other hand, promised publicly that the first two units would be commissioned in March 2023, just as the election process to begin.
As a result, it was discussed that the delegations would meet again on September 9, possibly in Istanbul, and that the issue be concluded at the Shanghai Cooperation Summit to be held in Samarkand on September 15-16.
İÇTAŞ went to arbitration
An energy source, who did not want to be named, told YetkinReport that the Turkish side completed all the work, but the Russian side displayed an "unjust and unprepared" attitude.
Rosatom announced on August 29 that the contract of Turkish contractor İÇTAŞ, Akkuyu AŞ's Turkish contractor, had been terminated with a sudden decision and that it had signed a contract with TSM Energy, of which the Russian Contractor Titan-2 is also a partner. At the same time, it was said that 2.1 billion dollars had entered banks in Turkey from Russia, and this was the first part of the 6.9 billion resource transfer. This situation was interpreted as Russia now wants to work with Russian companies completely on the project and is ready to pay the price.
However, upon these developments, İÇTAŞ made two separate applications about Titan-2 on 19 August to the Court of Arbitration in Geneva, to seek its rights, as it has said before. (*) A company official, who did not want to be named, said that they resorted to this method in order to protect their legal rights arising from the contract, although he did not give details.
Akkuyu and increased dependency
When the Akkuyu Nuclear Power Plant agreement was signed in 2010, then Prime Minister Erdoğan declared it as the largest investment ever made in Turkey with a capital of 20 billion dollars. Putin had declared Akkuyu the first Russian nuclear power plant outside of Russia's own territory.
Modeled after Rosatom's Kalininskaya atomic power plant, Akkuyu will have 4 reactors, each of which will produce 1400 megawatts of electricity when completed. It is expected to meet 10 percent of Turkey's electricity needs. According to the contract, Turkey has undertaken to buy 70 percent of the electricity produced by the first two reactors and 30 percent of the electricity produced by the 3rd and 4th reactors for 15 years at 12.35 US dollars/cents per kilowatt hour; which is about 2,25 liras at today's exchange rate.
Turkey imports 99.6 percent of its natural gas consumption, which reaches 60 billion cubic meters per year, and 45 percent of this comes from Russia. The share of natural gas in electricity production is 33 percent. CHP leader Kemal Kılıçdaroğlu says that after the government's acknowledgement of the fact that Akkuyu belongs to Russia, Turkey has become increasingly dependent on Russia for energy.
Energy, Treasury and Albayrak coincidence
Russian natural gas, which is transported directly to Europe after Russia shuts down Nord Stream, goes through Turkey, via the Turkish Stream pipeline. Therefore, Erdogan has to keep energy dependency in the back of his mind in all his relations with Putin. One thing he has to keep in mind is the foreign capital he needs to face the economic crisis.
The perception in the economic circles is that Russia wants to have full say and authority over Akkuyu by transferring resources to Turkey. It is said that Russia will transfer a total of 15 billion dollars in this way. It was reported that the first 2 billion dollars of this was sold to the market in order to keep the dollar under 18 liras in those days. Until now, the information that the Russian resource entering the banking system through Gazprombank is 5 billion dollars has not been confirmed yet. The dollar exceeded 18 liras.
A financial source, who did not want to be named, attributes Russia's delaying Akkuyu to the meeting of a separate Russian delegation with the Ministry of Treasury and Finance.
Coincidentally, the Minister of Energy, Dönmez, was the Undersecretary of Berat Albayrak when he was the Minister of Energy. Nurettin Nebati, Minister of Treasury and Finance, was also Albayrak's assistant when he was Minister of Treasury and Finance.
We can't connect the dots yet, but we need to be prepared for other news that will increase Turkey's energy dependency.