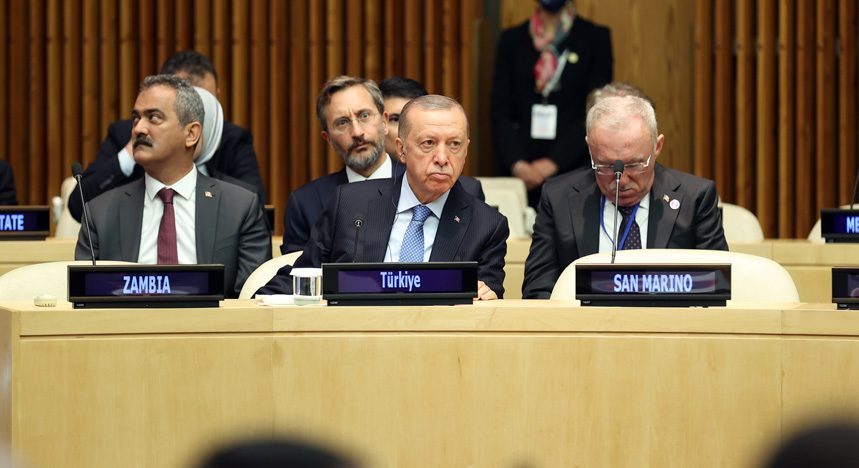 An old mentor of mine taught me that proper diplomacy must be consistent and one cannot play a different tune every day. He must be turning in his grave watching Turkey swinging from one side to another like a ship caught in a perfect storm.
Our foreign policy seems to be indexed to our domestic politics where societal polarization reaches a new peak every day. Basic principles of governance such as rule of law have become as meaningless as the institutions in charge to uphold them. In the meantime, the economy is plummeting as fast as the average expectation that a better future awaits our beloved country.
In this environment, it has become increasingly difficult to predict what Turkey wants to achieve on the international arena and what her next steps will be. While experts are contemplating the rise of a new western security infrastructure, Turkey insists on behaving against the morals of the West which it once agreed to exchange wedding vows with. Today, under the flag of a "multi-faceted foreign policy", it is flirting with the East while refusing to accept a divorce with the West.
Flirting with the East while keeping the West's attention
The government of Turkey is trying to rally its domestic base by leveraging foreign policy in a way that disregards any form of traditional diplomatic aptitude. The last example was its very public attendance of the recent Shanghai Co-operation Organization (SCO) summit held in Uzbekistan. The SCO is effectively the embodiment of the old Eastern Bloc and while even the Chinese and Indian leaders tried to downplay their presence, it was painfully clear that President Erdogan wanted the West to know that he is flirting with the idea of membership.
Is Putin trying to leverage Turkey as his Trojan horse?
President Erdogan has largely received what he was asking for. He had a prominent meeting with Putin and managed to manouvre him into making certain representations about energy supply to Turkey; a very critical issue in election season. While creating much needed photo opportunities for domestic consumption, he also showed the West how comfortable he was mingling with their adversaries.
So while Putin failed to leverage his relationship with China and India, he compensated for it by showing off his relationship with Turkey, turning NATO into a cuckold that is now wondering whether their decades-old wife is in fact a Trojan horse.
What did Turkey gain from all this?
The answer is nothing. In fact, President Erdogan's behavior has benefited his ego but has gained him very little as well. And the Republic of Turkey? Before Erdoğan's aircraft touched Turkish soil again, his compatriots were already reading about congressional pressure on the Biden administration to cancel the arms ambargo on one of Turkey's most important adversaries, the Greek Republic of Southern Cyprus. Similarly, Speaker of the U.S. House of Representatives, Ms. Nancy Pelosi, personally traveled to Armenia to provoke Azerbaijan and Turkey.
And while Erdogan pretends not to care about his image in the West, and failed to represent Turkey during the funeral of late Queen Elisabeth II, he is trying hard to repair that image during the United Nations General Assembly meetings in New York where he hopes to secure a meeting with President Biden. Will he manage to score such a photo opportunity? Perhaps if he is willing to promise that Turkish parliament will vote in favor of Swedish and Finnish membership into NATO. And why not? After all, we are playing a different tune every day now!