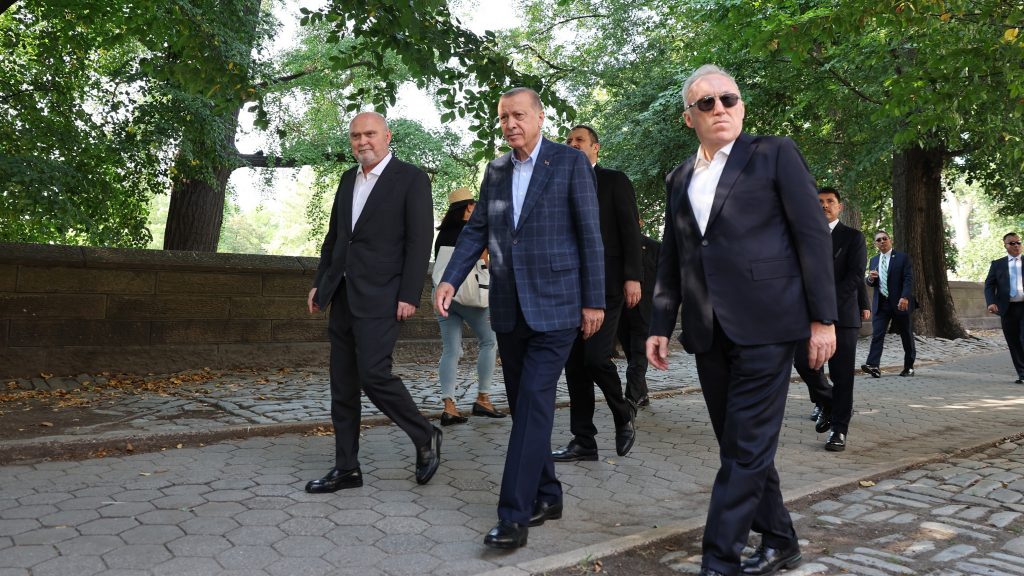 The funeral of the United Kingdom's late Queen Elizabeth II will be held in London on September 19. According to the news agencies, some 500 high-level politicians from different countries of the world including the heads of state or government of many that have a say in world politics will be there to pay respects. 
The presidents of Germany, France, and Italy, the Kings, Queens and government leaders of all the European countries governed by a parliamentary monarchy, Spain, the Netherlands, Sweden, Norway, Denmark, and Belgium are already in London; so was Emperor Naruhito of Japan. Even though US President Joe Biden will host the UN General Assembly that will start on September 19, he flew to London the day before in order not to violate the travel restriction imposed by the British government.
However, Turkey is represented at the ministerial level by Minister of Foreign Affairs Mevlüt Çavuşoğlu. Why does President Tayyip Erdogan not attend the funeral? 
Worried about the loss of reputation?
The British government asked the leaders not to come with official planes, official vehicle convoys, bodyguard armies and crowded delegations to accompany them due to the expected high number of attendees to the funeral. The leaders are to go to the ceremony area by bus together.
Is this why Erdogan does not attend the funeral of the Queen of a country with which Turkey has strategic relations including the defense industry, to an event that many world leaders attend?
These days, we are making the final preparations for a book I wrote on Turkey's former President Turgut Özal. I think both Özal and Süleyman Demirel who have marked Turkey's politics through the 70s, 80s and 90s would want to go to London just to be on that bus with the other leaders.
Is it a disgrace for Erdogan to be treated the same as other leaders in London, without convoys, bodyguards and delegations?
The question is legitimate because although our President had previously announced that he would attend the UN Climate Change Conference held in Glasgow last year, he did not on the grounds that his crowded escorts and bodyguards were not granted permission.
Does being on the same level as other leaders not fit for the image of the "world leader" that his fans have been expressing? Or was there another governmental task somewhere else that has more strategic importance for Turkey's interests?
Not in London, alone in New York
The President is in New York. According to the program, he flew from the Shanghai Summit in Uzbekistan to New York to participate in the UN General Assembly. Other leaders to join the UN General Assembly are not yet in New York. Most of them are in London. But our President is in New York.
The images and videos of him walking in New York's well-known Central Park early in the morning of September 18 are shared by presidential social media accounts all day. He is accompanied by Turkey's Permanent Representative to the UN Feridun Sinirlioğlu and Turkey's Ambassador to Washington Murat Mercan. He is alone figuratively, in the sense that he is not with other heads of the states. 
Who will he meet until the rulers of other states complete their duties in London and move to New York? He is going to meet with "Turkish organization representatives" including the TÜRKEN Foundation affiliated with the Ensar Foundation and Jewish organization representatives. Representatives from the Jewish community in Turkey would also attend this meeting. Journalists summoned to Erdogan's plane underline that Erdogan will meet with Israeli Prime Minister Yair Lapid. After all, Israel is represented by President Isaac Herzog in London.
Sharif's contribution to the image of the "world leader"
President Erdoğan is under the influence of the "world leader" rhetoric that his close circle and the media outlets, whose existence is attached to him, have been producing. 
Most recently Erdoğan's photo with the leaders attending the Shanghai Summit in Samarkand (especially Russian President Vladimir Putin) listening to him attentively, was immediately circulated with the caption "the eyes of the world are on Erdogan". The photo was impressive, but it soon became clear that it was a picture of a short moment. Erdoğan had already mentioned it on the road from Samarkand to New York road without exaggerating it that much. On the same evening, Pakistani Prime Minister Shehbaz Sharif posted on the government's Twitter account a pose of a group of Shanghai leaders, including Erdoğan and Putin, while listening to him, with the caption "The eyes of the world are on Pakistan".
Yet it works for many supporters of Erdoğan; it is music to their ears. Erdoğan may also think like that. 
Will Biden agree to a meeting?
But there is something else Erdoğan is waiting for in New York. Despite a lot of effort last year, a meeting with Biden could not be arranged despite him being in the USA on several occasions. The reason was the Covid-19 outbreak. There are no Covid-19 restrictions this year. In my opinion, after this point, it doesn't make much difference whether Biden talks with Erdoğan like he did at NATO summits or even if he accepts a face-to-face meeting in Washington. But Erdogan obviously thinks that even a photo with Biden will help the economic crisis.
Would it have helped if Erdogan had attended the ceremony in London? I'm not sure about that either, but let's see if Biden will include Erdogan in the list of leaders who want to meet with him at the UN summit on his return from London.
If he does, I'm sure the parasitic structures around Erdoğan will try to link it to the Samarkand photo and spin it with the caption "He had to meet with him". But let us remind you that it's been two years since attempts to arrange a meeting with Biden have been going on. 
As I said, in my opinion, it doesn't matter at this moment whether he meets with Biden, whose political priority is to get out of the congressional elections on November 8 with the least damage. But it seems that it is a matter for Erdoğan.