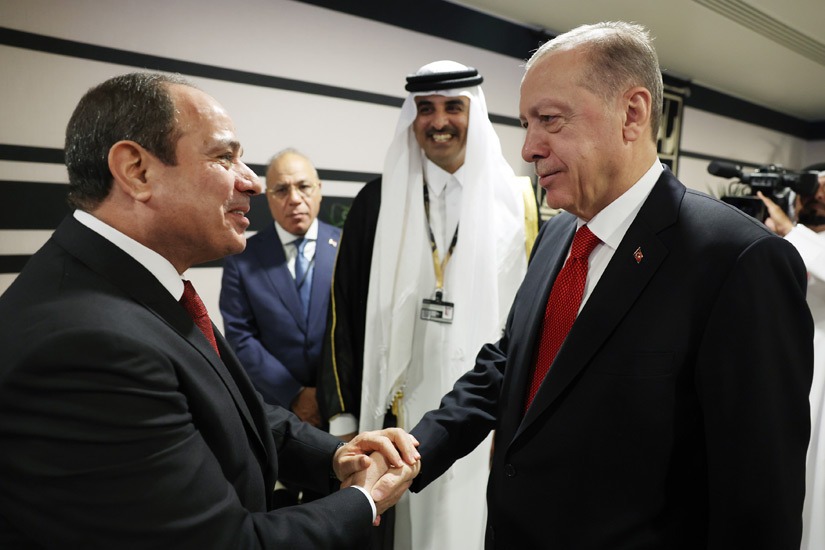 When the Emir of Qatar, Sheikh Tamim bin Hamad Al Thani, stepped in and asked President Tayyip Erdoğan, Turkish President could not refuse the Sheikh's wish and made peace with Egyptian President Abdul Fattah Sisi without further ado, even though for a short period of time before he was calling the Egyptian president "putschist" and "murderer." Erdoğan also reconciled with Saudi Arabian Crown Prince Mohammed bin Salman, whom he accuses of being the murderer of journalist Jamal Khashoggi, who was recently killed in Istanbul. So as with Muhammed Bin Zayed, the President of the United Arab Emirates, whom he accused of being behind the July 15, 2016, coup attempt.
Sisi was a putschist, it's true; he overthrew Muslim Brotherhood member and President Mohammed Morsi in 2013 in a US and Saudi-backed coup. Morsi fell ill and died in the courtroom shortly after he was sentenced to death in 2019.
"There are those who want to reconcile. (We will) never," Erdogan said that year.
According to Erdoğan, voting for Ekrem İmamoğlu in the Istanbul Metropolitan election in 2019 meant "voting for Sisi", it was how much the opposite he positioned him. The people ignored what he said and chose İmamoğlu in that election anyway.
Also that year, Erdoğan did not sit at Donald Trump's table during the UN General Assembly because Sisi was also invited to that dinner. He did not attend the dinner.
However, when it was the Qatari Emir who asked for reconciliation, nothing seemed more important.
Now it is Sisi; when will it be Assad?
Recently, a journalist asked the Turkish president if he would meet with Syrian President Bashar Assad. Before the civil war in 2011, Erdoğan used to say, "My brother Assad." Then he changed his discourse to "Murderer Assad." He supported the jihadist armed groups (along with Qatar) to overthrow him, talking about performing the victory prayer at the Umayyad Mosque in Damascus.
According to official figures, close to 5 million Syrians sought refuge in Turkey. The ruling Justice and Development Party (AKP) is pleased to say that there are 3.5 million refugees currently in Turkey, as some of them have turned back to their country. Especially after the economic crisis hit, anti-refugee sentiment, especially against Syrian refugees, has been on the rise. The strength of the sentiment can be seen in the rapid rise of the newly formed Victory Party, led by Ümit Özdağ, who built his entire political campaign on the promise of returning Syrians to their countries.
When CHP leader Kemal Kılıçdaroğlu's promise to talk to the Assad regime about the safe return of refugees if they come to power had a certain resonance in the AKP base, Erdoğan had to say, "I will also."
Why not now, but after the election?
What Erdoğan had in mind was not to talk to Assad now but after June, when the critical presidential and parliamentary elections were to be held.
It is the most natural for both Kılıçdaroğlu and Özdağ to touch upon the issue as election promises, because they are not in power. However, Erdogan has been in power for 20 years. If he believes that meeting with "Murderer Assad" on the subject of the return of the Syrian refugees will benefit both the AKP in the elections and Türkiye, then he can meet immediately. There is no need to wait for the election.
He might not want to alienate political Islamist sects and communities by meeting with Assad. As you know, Assad is an Alewite.
Or is President Erdoğan waiting for the Emir of Qatar to make a request to reconcile with Assad, like he did with Sisi?
By the way, let's not forget Israel. Israel was "a terror state." Can the relations, which were on the path of "normalization" in the economic crisis environment, before Benjamin Netanyahu became the Prime Minister again, become tense again? I don't think it will. I think reconciliation with Netanyahu is on the way, and it would be a good reason for Netanyahu to offer his condolences after the terrorist attack on Istiklal Street.
As you know, the opposition is accused of treason when they propose a dialogue with neighbors, and every u-turn of those in power is considered statesmanship.
Putin's request for Assad
Of course, the opposition is having its time. Kılıçdaroğlu immediately took to Twitter to say, "We embraced Sisi today. However, we raised our four fingers and shouted "Rabiaaaaa" for days. Assad is next; wait."
As for Rabia, it means "four" in Arabic. It was used as a symbol of the resistance of the Muslim Brotherhood (Ikhwan Muslim) organisation against the Sisi coup in Egypt. Erdogan took it from there and localised it as "one state, one nation." Will he still use it? I think he will.
In his statement to BBC Turkish, the Ikhwan's Turkey Spokesperson Ali Hamed said that they would be pleased with the improvement of Turkey-Egypt relations but that they would continue their struggle against the Sisi regime.
So, is it bad to improve relations with Egypt, Israel, and Syria?
No, it's not bad. What was bad was the deterioration of relations. The problem was that foreign policy was used to fill the need for an enemy in domestic political discourse.
The "precious loneliness" theory was shattered by the economic crisis. Now, ways are being sought to return to the discourse of "zero problems with neighbors," as in the Russia-Ukraine crisis.
I think Erdogan can accept the reconciliation proposal of Russian President Vladimir Putin and choose the path of reconciliation with Bashar Assad without leaving the job to the Emir of Qatar.