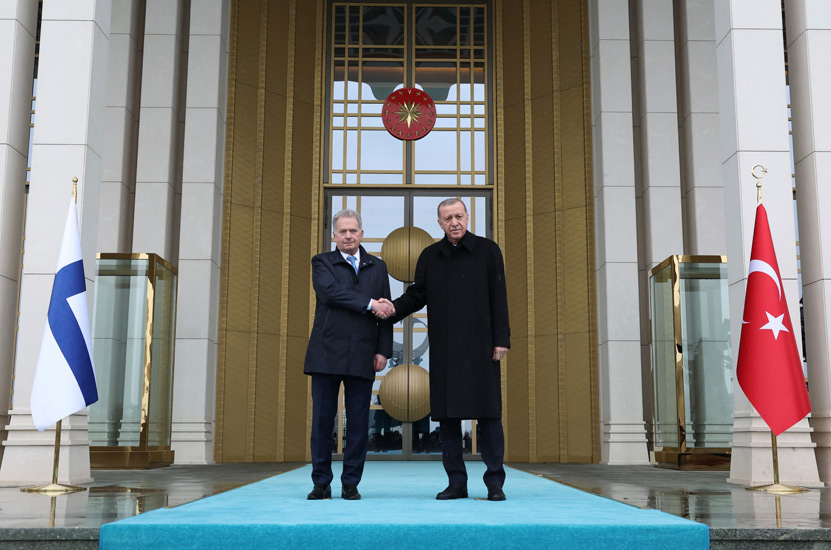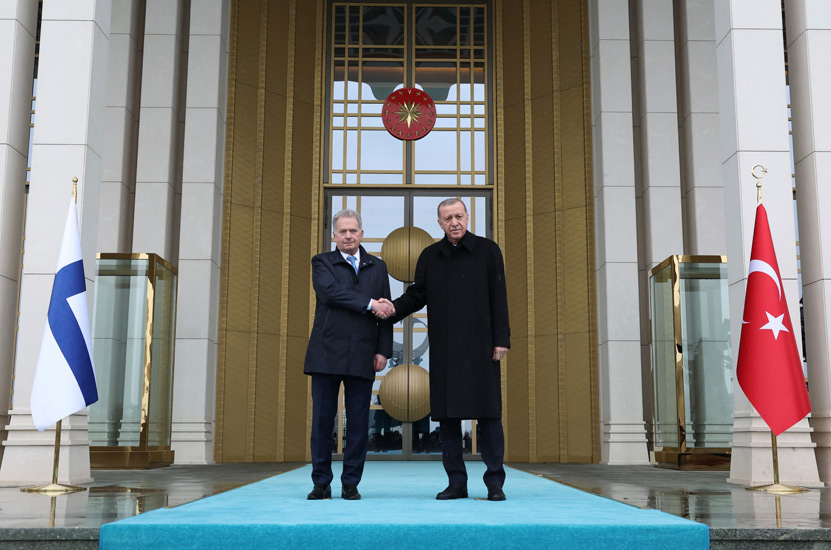 Turkish President Recep Tayyip Erdoğan stated that Ankara will start the process to ratify Finland's NATO membership as the country "has taken authentic and concrete steps."
"Given the sensitivity and progress made in adressing our country's security concerns, we have decided to initiate the ratification process of Finland's accession protocol to NATO in our parliament," Erdoğan said at a press conference alongside his Finnish counterpart Sauli Niinisto on March 17 in Ankara.
Stating that Ankara had given a red light to Sweden and Finland's NATO accession in Madrid memorandum signed in July, Erdoğan said the decision over Finland's accession protocol has given after Ankara "has seen that Finland has taken sincere and concrete steps to fulfill its commitments in the trilateral memorandum."
Finland's NATO application will "most likely" be approved by the Turkish Parliament in mid-April, two Turkish officials told Reuters.
After Russia's attack on Ukraine in February 2022, Finland and Sweden jointly applied to be NATO members to get protection against Russia's aggression.
Two countries faced Türkiye's veto, as Ankara cited the countries' support for terrorist organizations, stating that it wanted to see concrete and permanent steps taken on issues such as "prevention of the activities of terrorist organizations," "extradition of people wanted or convicted of terrorism," and "the removal of restrictions on the export of defense industry products."
Finland to be a member before Sweden
In Madrid, three countries signed a trilateral memorandum of understanding, but talks with Sweden broke down when far-right politician Rasmus Paludan burned the Quran in front of the Turkish Embassy in Stockholm. Erdoğan since hinting that Ankara might assess the membership bid of Finland separately from Sweden.
On March 1, the Finnish parliament passed a bill allowing the country to join NATO, paving the way for Helsinki to join the alliance separately from Sweden.
Sweden's Prime Minister Ulf Kristersson, said on March 14 that Sweden and Finland could become NATO members at different stages.
In response to a question on March 16, about whether Finland and Sweden would pursue NATO membership separately, Niinistö said:
"We are not going it alone, but it looks like we can become members. Because Finland has done everything that was expected. It applied for NATO membership and we had negotiations with the Turkish government that started in Madrid. I think we have done everything necessary and now we are waiting for approval."
With Ankara's green light Finland's NATO accession agreement will be voted on by the Turkish Parliament.