Main opposition leader accused Erdoğan of tender fraud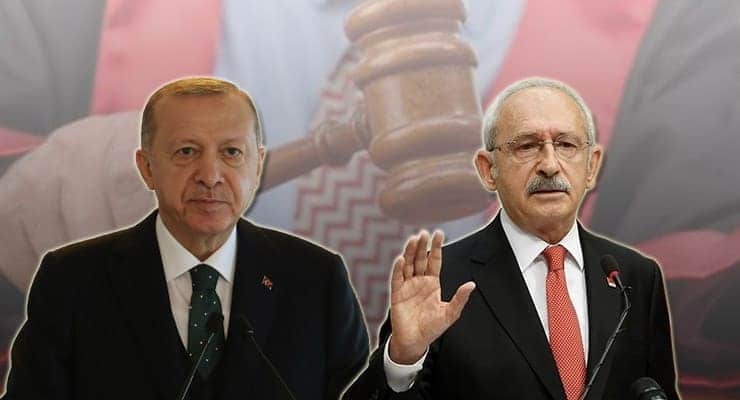 I had a hard time writing the title of this post. For example, the title could have been "Erdoğan took a step back, Sezen Aksu won". Or a title like "Has the second İmralı process started with Öcalan?" would also be appropriate for what President Recep Tayyip Erdoğan said on the NTV-Star joint broadcast on the night of January 26. However, what struck me as more important than these headlines was that opposition Republican People's Party (CHP) leader Kemal Kılıçdaroğlu accused President Tayyip Erdoğan of tender fraud.
I will come back to the issues about outlawed Kurdistan Worker's Party (PKK) leader Öcalan and pop icon Sezen Aksu, but first, let's address this corruption accusation. It is also a precaution against the possibility of being banned from broadcasting at jet speed; I know that many people archive such news in case of an access ban decision from the Turkish courts.
It was not the first instance of an opposition leader accusing the government of corruption. But this time Kılıçdaroğlu was talking about a cancellation of a tender, waving a document he said was sent to him by "honest bureaucrats". Kılıçdaroğlu claimed that the Presidency cancelled the tender, and after a while, it was given to a partner company which proposed nearly four times the price it was originally proposed. He asked Erdoğan "what the difference was between the two proposals".
Timing: Sabotaging Erdoğan's broadcast
The timing of Kılıçdaroğlu's statement of this claim also intended to sabotage Erdoğan. The President's television program was scheduled to be broadcasted at 22:00, and Kılıçdaroğlu announced that he would give important information on Twitter at 22:00. I don't know how many people watched it, but by the morning, 28,500 people shared it on Twitter, and 114,000 people liked the 5 minutes and 10 seconds video he shot at home. But, certainly, journalists and politicians did not miss it.
Kılıçdaroğlu called out the journalists who are interviewing the President to ask Erdoğan about this. Then he posted another tweet saying, "You hesitated to ask, if you want, I can ask about the Billions if you put me on-air". He reminded that Parliament Speaker Mustafa Şentop and Minister of Transportation Adil Karaismailoğlu was put on air while he was giving a live tv interview on Habertürk TV broadcast.
It is understood that Kılıçdaroğlu formed his propaganda team and developed new tactics. From now on, he seems to make a similar debut in every broadcast of Erdoğan.
Which tender was cancelled and given to whom?
The tender, which was subject to Kılıçdaroğlu's claim "6 billion Turkish Liras tender was given to the 'gang of five' with a single signature," was related to the Ministry of Transport. The tender for the 201 kilometres railway line between Bandırma-Bursa-Yenişehir-Osmaneli was concluded on April 3, 2018, for 2.5 billion liras, but was cancelled due to some irregularities. The same project was given to Kalyon İnşaat for 9.4 billion liras on August 22, 2020. I say given because this time, article 21/B of the tender law, which should only be used for "war, epidemic disease and special works", was put into effect, and the company got the tender without competition.
Lütfü Türkkan from the IYI Party asked Minister Karaismailoğlu why the tender price was increased nearly four times, despite the fact that the US Dollars had increased by two times in the intervening period.
Kalyon İnşaat, where the railway construction was given, is among the companies that built and operated the Istanbul Airport, which failed in the last snowstorm. He is the Sabah broadcasting group owner, which is in line with the ruling Justice and Development (AKP) government. It is among the companies that have received the most public tenders globally. Five of the top ten companies are from Turkey. Others are Limak, MNG, Cengiz, Kolin. When Kılıçdaroğlu says "gang of five" he means these companies. This situation puts Turkey first in the corruption allegations league, followed by China in the second.
One can think of the cancellation of the tender for Kalamış Marina, which was won by the Koç group, and the claims that it will be given to Abu Dhabi Development Holding, which is considered the wealth fund of the United Arab Emirates.
The railroad construction, on the other hand, has not been completed in ten years.
If Erdoğan did not mean Sezen Aksu, then to whom he referred?
After a return-to-caliphate-defender imam targeted singer Sezen Aksu for "insulting our Mother Eve" in a song, President Erdoğan talked about "cutting the tongues that mention His Holiness Adam" at the Çamlica Mosque. Thereupon, Sezen Aksu also published a poem in response and wrote, "You can't oppress my tongue, you can't kill me".
These words received reactions from all segments of society. Even in the AKP administration, there were those who dared to say that this was "too much". Thereupon, Erdogan said, "Okay, but don't let go of Sedef Kabaş," a journalist who was arrested last week for insulting the President.
In the broadcast on January 26, Erdoğan said that the addressee of those words was not Sezen Aksu. The love of Sezen Aksu and the injustice made the mighty President take a step back. But if not Sezen Aksu, who did Erdogan refer to when he threatened to cut their tongue off? Was it Kemal Kılıçdaroğlu, Ekrem İmamoğlu or Selahattin Demirtaş?
Has the Second İmralı process started?
It became apparent with the broadcast that Erdoğan was quite afraid of İmamoğlu and Demirtaş. Erdoğan, who did not talk about the collapse of Istanbul Airport, which was opened only three and a half years ago, and the closure of Ankara-Istanbul highway due to the heavy snowfall, targeted Imamoglu, who also gave Erdoğan enough ammunition.
Erdoğan targetted former co-chair of the Kurdish-issue focused Democratic People's Party (HDP) Selahattin Demirtaş, who has been imprisoned for five years. But this time, he went a little further than his recent argument, in which he hinted that there is a conflict between Demirtaş and Abdullah Öcalan, the leader of the outlawed PKK, sentenced to life in prison.
"It is a fact that Öcalan is disturbed by the messages Demirtaş gives," he said.
Well, who told Erdoğan the "fact" that Öcalan was uncomfortable with Demirtaş's messages? It is known that those who come into contact with Öcalan in the İmralı Island prison are the National Intelligence Organization (MIT), apart from the prison personnel affiliated with the Ministry of Justice. While Turkey is heading towards the elections, the question arises whether Erdogan has started or will start a new PKK dialogue process through Öcalan.
The centre-right opposition IYI Party leader, Meral Akşener, published a Twitter message, hinting at her disapproval of any dialogue with the outlawed PKK leader.
Will Kurdish voters get angry with Demirtaş and choose Erdoğan?
I wonder what AKP's People Alliance partner Nationalist Movement Party (MHP) leader Devlet Bahceli thinks about this issue. He has been trying to drive a wedge between CHP and İYİ Party by hinting that CHP's is in alliance with HDP and outlawed PKK.
I also wonder if there will be a message of support for Erdoğan from Öcalan soon?
Would HDP voters vote for Erdoğan's Presidency in the elections by following Öcalan's support? Or at least boycott the election and get Erdogan to win?
Scenarios, scenarios…
It is really sad that the President has to complain about Demirtaş to Öcalan in order to tempt the Kurdish voters who are alienated from him due to reasons such as the AKP's alliance with the MHP.