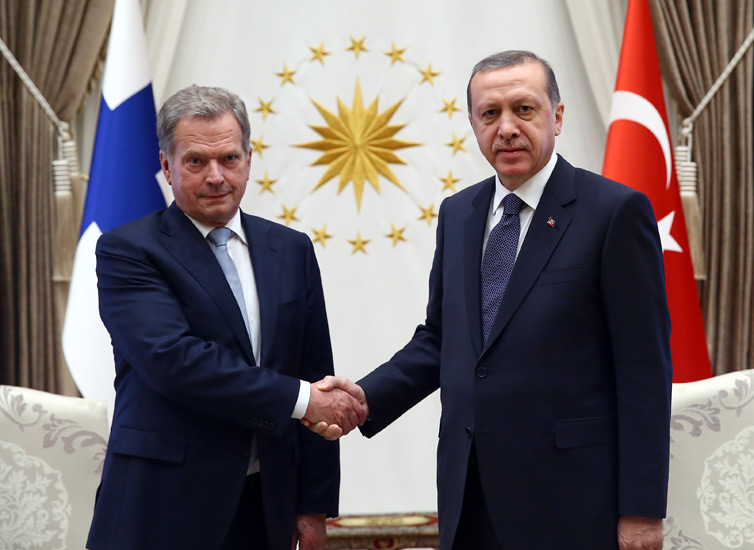 Turkish President Recep Tayyip Erdoğan said Ankara would approve Finland's NATO membership as Finnish President Sauli Niinistö is expected to visit Türkiye.
"We will keep our promise. After meeting with the President (Niinistö) upon his visit on Friday, we will keep our promise we made," Erdoğan said on March 15, answering a question about Finland's NATO application, a day before the Finnish President Niinistö's expected visit to Türkiye.
Finland's NATO application will "most likely" be approved by the Turkish Parliament in mid-April, two Turkish officials told Reuters. 
After Russia's attack on Ukraine in February 2022, Finland and Sweden both tried to join NATO to get protection against Russia's aggression.
Two countries faced Türkiye's veto, as Ankara cited the countries' support for terrorist organizations, stating that it wanted to see concrete and permanent steps taken on issues such as "prevention of the activities of terrorist organizations," "extradition of people wanted or convicted of terrorism," and "the removal of restrictions on the export of defense industry products."
In Madrid, three countries signed a trilateral memorandum of understanding, but talks with Sweden broke down when far-right politician Rasmus Paludan burned the Quran in front of the Turkish Embassy in Stockholm. Erdoğan since hinting that Ankara might assess the membership bid of Finland separately from Sweden.
Sweden's Prime Minister Ulf Kristersson, said on March 14 that Sweden and Finland could become NATO members at different stages.
The Finnish President, Sauli Niinistö, is expected to arrive in Turkey on March 16 for talks with President Erdoğan, and two Turkish officials said it was "highly likely" that Parliament would approve Finland's application for NATO membership before elections on May 14.
Stoltenberg-Blinken NATO traffic
Murat Yetkin wrote on YetkinReport on March 2 that during NATO Secretary General Jens Stoltenberg's Turkey visit on February 16  the membership of Sweden and Finland were discussed and that his goal was for the two countries to become members at the NATO Summit in July.
On February 16, Stoltenberg left Ankara for Munich to attend the Munich Security Conference from February 17–19. US Secretary of State Antony Blinken was there, and they met. At the January 19 meeting between Blinken and Turkish Foreing Minister Mevlüt Cavusoglu, Türkiye's F-16 purchase request and the Sweden-Finland issue were also on the agenda.
According to Stoltenberg, the US also had a role to play, especially in Sweden's membership. Blinken thus came to Türkiye on February 19 and 20 with both earthquake condolences and NATO lockdown on his plate. This was his first visit to Türkiye since taking office in January 2021.
According to information obtained by YetkinReport from diplomatic sources, Blinken mentioned the need for Sweden and Finland to become members of NATO together in order for NATO to stand firm against Russia as the first anniversary of the Ukraine war approached. Erdoğan said, as Cavusoglu had earlier, that there was not much of a problem with Finland, but that Sweden had not kept its word. He reminded the US of its F-16 responsibility if NATO is to be strengthened.
According to the US, this should be done by the NATO Summit in Vilnius, Lithuania, on July 11-12. The imposition of such a date allowed Sweden to make no concessions. But if Sweden accepts Türkiye's demands at the March 9 meeting, would Türkiye give the parliamentary approval it needs for membership?" Yetkin asked.
According to diplomatic sources, Blinken asked when it would be held, to see if Sweden and Finland's NATO membership would be ready in time for the Vilnius summit. This was an assurance to both the US and NATO that the elections in Türkiye would be held ahead of schedule and would not be postponed until after the NATO summit.