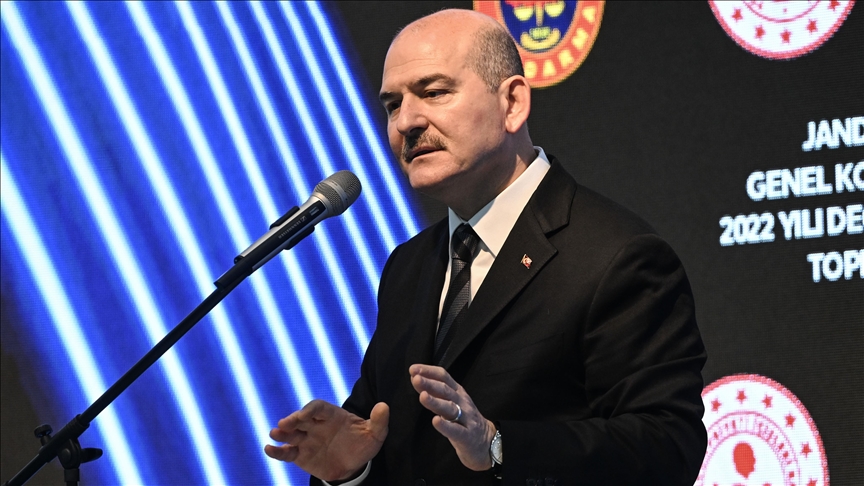 Turkish Interior Minister Süleyman Soylu said that the recent decision of several western countries to close their consulates as a precaution against a possible terror attack, aims at "starting a new psychological warfare in Türkiye," adding that "it is an international operation against Türkiye."
"The ambassadors who wanted to carry out a legal operation against Türkiye are now trying to carry out a terror operation. It is very clear. We are facing an international operation," Soylu said on February 2 at an event in Ankara.
Germany, the UK, France, the Netherlands, and Switzerland announced they would temporarily close their consulates in Istanbul, citing security reasons while the US, Italy, Spain, Sweden and Germany issued a travel warning to their citizens about a possible terrorist attack.
Warning for Beyoğlu, Galata, Taksim
The first warning on a terror attack came from the US on January 27, warning its citizens of a "possible retaliatory attack, particularly in the Beyoğlu, Galata, Taksim and Istiklal districts."
The US statement was followed by France, which repeated the warning about "places where Westerners are in the majority." Italy, Spain, Sweden, and Germany also issued warnings and included Türkiye on their "risky countries" list.
"There is currently a heightened threat of terrorist attacks against churches, synagogues, Embassies/Consulates and other places frequented by Westerners in Istanbul," the British Foreign Office said in a Foreign Travel Advice announcement.
"The British Consulate General in Istanbul is currently not open to the public as a precaution. The Turkish authorities are investigating," the ministry said.
Diplomatic sources: "Reliable intelligence"
Following the first US announcement, Türkiye on January 28 warned its citizens who wished to travel to the United States against anti-foreigner protests.
Turkish statements implied that the western consulates' decisions were a result of Türkiye's diplomatic tensions with Sweden, and rising anti-Islamic protests.
Diplomatic sources told YetkinReport that the consulate's decision was based on "reliable and specific intelligence."
The sources said they were cooperating with the Turkish authorities, that Türkiye was working meticulously, and that the source of this intelligence was being investigated.
Soylu: "An international operation"
Since January 27, the Ministry of Interior has been criticized for not making any statement about the terror threats or the intelligence received on this issue.
The first official statement came from Interior Minister Süleyman Soylu on February 2.
"America and the West do not want us to be independent and free in this geography. On the day we set a 60 million tourist target, they are on the verge of launching a new psychological warfare in Türkiye," he said.
" The ambassadors who signed the text when they could not get the people they wanted out of jail; the ambassadors who wanted to carry out a legal operation in Türkiye, are now trying to carry out a terror operation in Türkiye. It is very clear. We are facing an international operation," he added.
Soylu said, "If you knew so much, why didn't you inform Türkiye about the attack on Istiklal Street by the PKK and YPG? Why didn't you share with Türkiye the Istiklal Street explosion that you organized and were behind?"
Protests in Sweden and Denmark
Rasmus Paludan, a far-right politician who has recently become a Swedish citizen, burned the Holy Quran in front of the Turkish Embassy in Stockholm last week, prompting a harsh reaction from Türkiye.
Following Türkiye's statements, trilateral talks on Sweden and Finland's NATO membership applications were suspended.
President Erdoğan said on February 1 that Ankara could consider Finland's membership separately from Sweden's.
On the same day, the Ankara Chief Public Prosecutor's Office launched an ex officio investigation against Rasmus Paludan and Edwin Wagensveld, the leader of the far-right Pegida organization, who staged a similar protest in the Netherlands.
"ISIS militant entered the country"
According to a report by Seyhan Avşar from Halk TV, Bedros Şirinoğlu, President of the Armenian Foundations Union (ERVAP) and Surp Pırgiç Armenian Hospital Foundation, said in a text message to a group of Armenian community leaders, that there is a ISIS threat against their community.
"I don't want to demoralize you, but I have to inform you of the rumors I have received. Three ISIS militants with military training have entered the country," he stated in the message, adding that "Their aim is to assassinate spiritual and civic leaders."
"It would be beneficial for us to suspend events that concern congregations for up to 2-3 months. For this reason, I am canceling our meeting on February 6. During this time, I advise you not to carry out all association activities until the people are caught," he wrote.
Şirinoğlu said that Turkish police have increased the number of guards they employed for his protection.
"I have four different bodyguards now. I am not worried. Our state has taken the necessary precautions," he said.