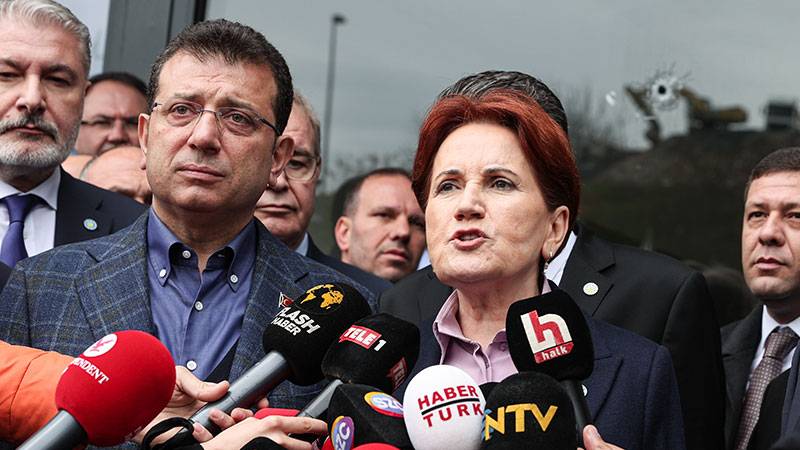 Türkiye's opposition İYİ Party's Istanbul branch headquarters was attacked with gunshots in the morning hours of March 31.
According to the statement made by the party officials, the attack occurred at around 10:30 a.m. as unknown individuals fired gunshots at İYİ Party's Zeytinburnu headquarters.
Two bullets hit the building's windows and a chair in the cafeteria, no one was harmed.
Interior Minister Süleyman Soylu stated that the suspect of the attack was apprehended.
Minister condemned the attack on the party
The Istanbul Governorship confirmed that an incident was reported to them at 11:00 a.m. and stated that they promptly dispatched the police to investigate.
Party leader Meral Akşener stated that the attack was a result of President Recep Tayyip Erdoğan's recent aggressive rhetoric against her and her party.
In his initial statement, Interior Minister Soylu condemned the attack and called it a "provocation."
He stated that the police were investigating the incident, but it would be wrong to direct hostility towards anyone until the motive of the attack is identified. He also warned against "taking advantage of the attack for political gain".
"Directing hostility without determining the cause of the incident is both a provocation and spreading political opportunism over this heinous incident," he said.
Akşener: Erdoğan's words behind the attack
The party's leader, Meral Akşener, visited the party's headquarters after the incident and claimed that the attack came as a result of Erdoğan's aggressive words towards her during recent speeches.
Akşener had criticized Erdoğan during a group meeting of her party on March 27th, and he responded with harsh words during a TV broadcast on March 28th. He had warned Akşener "to be careful with her words".
Akşener addressed the media and stated that this was the third threat that she had received from Erdoğan, and she believes that this attack was a result of his words.
"Our party was shot upon Recep Bey's third threat," she said, referring to President Erdoğan as "Recep Bey," adding, "I am not calling him a president because presidents protect their citizens."
She added that she is not intimidated and will continue to stand up against the ruling party.
Kılıçdaroğlu visited
The incident has sparked outrage among opposition parties and human rights organisations, which are calling for an impartial investigation into the attack.
The İYİ Party is a part of a six-party coalition that formed an alliance against President Erdoğan in the upcoming elections. Party is a vocal critic of Erdoğan's AKP government.
Türkiye is set to have critical presidential and parliamentary elections on May 14, as the parties has already started election campaigns.
Six party coalition's presidential candidate and main opposition leader Kemal Kılıçdaroğlu visited İYİ Party and condemned the attack. He also thanked the security forces for finding the perpetrator.
Criticizing the President Erdoğan, Kılıçdaroğlu said "a president should be more careful with their words. Nobody can intimidate Akşener."