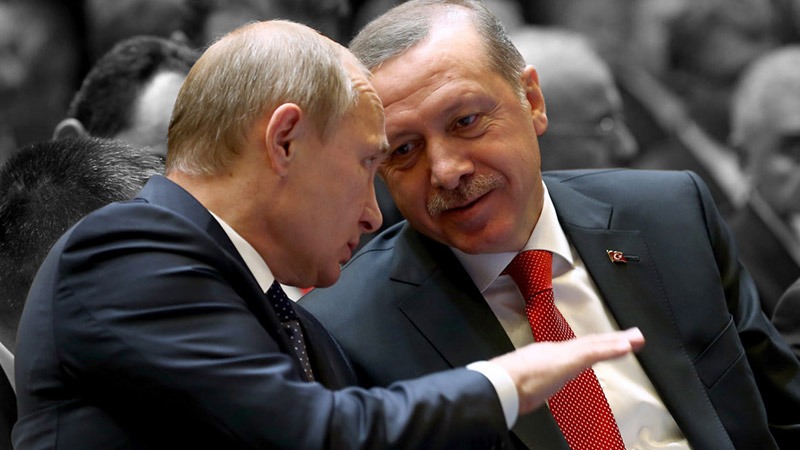 Following a two-day contraversy over his health condition after falling ill during a live television broadcast, Turkish President Recep Tayyip Erdoğan appeared on a video conference for the inauguration ceremony of the Akkuyu Nuclear Power Plant on April 27, resolving the rumours that he was gravely ill or even hospitalised.
Russian President Vladimir Putin was on a split screen with the Turkish President, marking the initial nuclear fuel transfer to the power plant.
Erdoğan wished Putin would attend the ceremony, maybe to have a friend by his side ahead of the May 14 elections, which are a crossroad for Türkiye in determining its second century. In this way, it would also be possible to spite the United States. But Putin also attended via video.
"With the delivery of the nuclear fuel to our power plant by air and sea, Akkuyu has now officially become a nuclear facility. Thus, our country has risen to the league of nuclear power countries in the world, albeit after a 60-year delay," Erdoğan said through the screen, adding, "I hope to meet you in person," ambiguous if he meant Putin or the people.
A crossroad: Russia's first plant abroad
Stating that the Akkuyu Nuclear Power Plant is the biggest project between Turkey and Russia, Russian President Putin said, "I congratulate everyone for reaching this point in the Akkuyu Nuclear Power Plant facility. Our relations in the fields of economy and energy will develop further."
"We are building the largest nuclear power plant in the world," he added.
Here is the crossroad: Russia's first nuclear power plant outside its territory is expected to start generating electricity in Turkey within 6 to 7 months.
Perhaps Putin would like to visit Türkiye in person in the fall for the real inauguration of the Akkuyu plant when it starts generating electricity.
But as the country heads towards a presidential election, nobody knows if Erdoğan or the opposition's candidate, CHP leader Kemal Kılıçdaroğlu, will be in the top seat.
Does it make a difference for Russia?
For a long time, the Putin administration did not hide its preference for Erdogan to remain in power through rhetoric or body language.
Some time ago, when we journalists asked the Russian Ambassador to Ankara Alexei Yerhov, about the elections in Turkey, we got a surprising answer: "There are military-technical issues".
Türkiye's purchase of the S-400 not only demonstrated distrust of the United States. It also meant an opportunity for Russia to create a rift within NATO, which was seized through Türkiye thanks to the July 15, 2016 coup attempt.
The statements from the main opposition Republican People's Party (CHP), if not from Kılıçdaroğlu, that the S-400s would be returned or kept in a warehouse if they win the election signalled that a change of government could be a crossroad in Türkiye-Russia relations. AKP circles have also been fueling this Russian concern.
But even the ambassador's ambivalent response showed that Moscow was taking into account the possibility that "Erdoğan could also lose", a possibility that was just emerging in Western countries.
Indeed, when Russian Foreign Minister Sergey Lavrov arrived in Ankara on April 7 as the guest of Foreign Minister Mevlüt Çavuşoğlu, he replied, whether you believe it or not, "It is none of our business".
Ukraine-Syria affairs
Putin's support for Erdogan could have become an explicit one. For this, there was one thing he wanted from Erdogan even before he declared war on Ukraine: to reconcile with Syrian President Bashar al-Assad.
So much so that Russian diplomacy, which is a stickler for details, extended the Ukrainian grain deal by two months, not four, and set its expiry date for May 18, after the May 14 elections.
The National Intelligence Organisation (MIT) director, Hakan Fidan, and the Turkish defence minister, Hulusi Akar, met with their Iranian and Syrian counterparts in Moscow just two days ago, on April 25. Again, there was no result. Speaking at SETA on April 26, Presidential Spokesperson İbrahim Kalın summarised the situation.
"God willing, there will be new meetings after the elections. (…) For the negotiations to continue, these meetings must continue without preconditions. We continue our efforts to ensure both our border security and the security of life and property of refugees," Kalın said, referring to Syria's condition of "withdrawal of troops."
Ukraine after the elections, Syria after the elections… This is natural.
However, 17 days before the election, is the clock ticking in favour of Türkiye or Russia? Or in favour of or against Erdogan?
A crossroad for the CHP
At this very moment, Kılıçdaroğlu made a statement aimed at appeasing Russia.
According to a column in T24 by Hakan Aksay, who has been a journalist in Moscow for years and has worked on Turkish-Russian relations, Kılıçdaroğlu sent a message to a meeting held in Moscow on April 26 titled "Turkey before the elections". It is a long message, but I will quote a few sentences that I find important:
"I would like to address the reports in the world press that under my presidency and the Millet Alliance rule, Türkiye-Russia relations will take a different course from the current situation. In our government, we will always defend Türkiye's interests. It is in Türkiye's interests to maintain healthy and respectable relations with Russia.

"In the short term, our priority will be to end the conflict in Ukraine and ensure the safe continuation of the grain corridor agreement. We will continue to play a facilitating role in ending the conflict between our two neighbours.

"We will continue the full implementation of the Montreux Convention. I believe that we can not only strengthen our existing cooperation but also improve it in many areas, especially in the fight against terrorism.
In his previous speech, Kılıçdaroğlu denied the allegations that defence industry projects, especially UAVs, would be terminated if he wins the elections and defended his continuity and this time he denies the allegation that he will break relations with Russia. This is a balanced message of continuity; therefore, it can be considered a crossroad for the CHP and the Millet Alliance's foreign policy approach.
Even though the attention is now on Erdoğan's health, something seems to be seriously changing.